When it comes to design trends, one idea that's constantly topping the charts in the modern world is 'minimalism'. This is now a lifestyle of many that focuses on living in clean, decluttered spaces. The main idea behind this is that less is more.
Based on functionality and simplicity, minimalistic design is a favorite of celebrities, influencers, and countless other homeowners across the world. The Kardashian house in LA is a prime example of minimalistic design, and is even known as the 'minimal monastery.' Designed with simplicity, their $60 million houses are the embodiment of sophistication. 
If you want to jump on the minimalist bandwagon, it's best to start outdoors. Having a yard that's tidy and purposefully decorated won't only enlighten your mood but can also transform your outlook towards life.
A minimalist outdoor space typically has limited design elements. It elicits a simple elegant and relaxing vibe. This is perfect for those who don't have the time or energy for extra maintenance.
Here are some landscaping design ideas for your minimal house: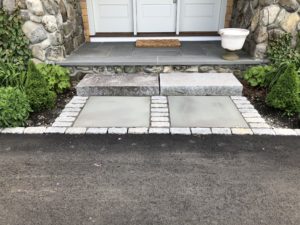 1. Allocate Different Spaces
First things first, take out some time to divide your yard into different sections. You can do this by drawing a plan on paper or making a digital diagram with the help of professional landscapers. You will need to decide on the different sections you want to include and their exact locations. For example, you'll need space for the patio, the pool, the fireplace, the barbecue stand, planters, and so on. If you have a small space, you might have to reconsider what elements you want to include. Keep in mind, the place should look clean and spaced out. The minimal design focuses on avoiding excessive decoration and furniture. 
2. Set Some Boundaries
Once you have a clear picture of what your outdoor space will look like, it's time to add walls or fences to define each area. Minimalism is based on restriction, which is why boundaries are an important design feature. Stonewalls or smooth surface walls will be your best bet as they have a natural look and aren't something that's too striking.
Build a wall around the patio area, a separate wall for the plants, and even a partition for the fire pit. Remember, neutral colors and textures are key as they are calming and work well in minimalistic design. You can paint the stonewall a clean white, or grey hue if you're looking for something more structured.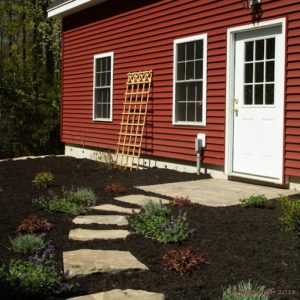 3. Keep the Décor Simple
Let's face it when it comes to designing it's easy to go overboard and add contrasting décor elements. But when it comes to minimalism, it's important to stay focused on the main idea. You have to create clean, straight, and simple lines that are soothing and appealing. Instead of opting for bulky couches, choose foldable chairs and a table. A small rug with vertical designs will also work wonders.
Avoid using colorful planters and choose a similar kind and shade to maintain uniformity. Choose colors that have a deep, sandy, and clean shade. You don't have to resort to white or beige; there are plenty other muted colors like grey and pastels. Your main focus should be to avoid dramatic tones; the colors you choose should blend seamlessly into the background.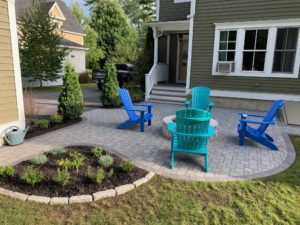 4. Make Sure the Exterior Works In Line with the Architecture
When designing your outdoor space you also need to consider the overall architecture of your house. After all, the outdoor space is an extension of the indoor space. The design, colors, and textures you choose should complement the building structure and work in line with the indoor décor. 
You won't want to walk through a minimalist garden only to enter a colorful contemporary indoor space. Most of the time, you'll look at the outdoors from inside; this is why synchronization is key.
Professional Landscaping Contractors
Landscaping is an important feature of every house that can significantly increase your property's value. If you're looking to spruce up your outdoor space in South Portland, reach out to us! Our experts at South Solutions Maine offer premium landscaping services including stonework and custom fireplace installations.
Whether you're looking to spruce up your outdoor spaces or indoor spaces, we've got all the solutions for you. We're a trusted name in Maine and are known for our landscaping services. We can help you install a patio or a fireplace, in Saco South Portland, Falmouth, Cape Elizabeth, Scarborough, Yarmouth, Arundel, Cumberland, and Freeport.
What are you waiting for? Contact us today to learn more about our services.