Maintaining and upgrading the appearance of your outdoor spaces is just as important as the indoors. It's what makes your house look more inviting and adds to the value of your property. 
You might think you can handle landscaping by yourself, but we're here to give you some reasons why hiring a professional is the right option for your property and landscaping needs.
They bring valuable experience and knowledge
Sure, you can plant a tree or two or get involved in the gardening process, but landscaping is much more than that. 
Knowing where to install everything correctly and what hard and soft scapes work best for your space depends on your knowledge or lack thereof. Only a professional landscaper can adequately assess your outdoor space, and depending on what is feasible, they'll plan your landscape. 
 An experienced landscape contractor has many projects under their belt with the necessary tools, knowledge, and skills to do a good job. After all, it's their profession, and they excel at it.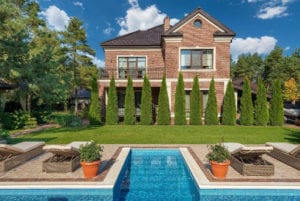 Save your time
Designing and planning a good landscaping plan can be time-consuming. Add your lack of skills into the mix, and you're looking at an extensive project with many mistakes.
Hiring a landscaping contractor will save you time and effort. They generally have a team of experts, all skilled to handle their respective tasks making your landscaping project's duration shorter. They work with deadlines and know how to finish the job in the expected time frame.
Cost-effective
You might be under the impression that hiring a professional will cost you a lot, but you can't be further from the truth. 
A professional landscaper will keep your available budget in mind when planning and designing your space. Most of your charges will depend on the features and extra designing you want for your landscape, and a contractor will provide you the best alternatives. 
If you were to do this job on your own, you'd have to purchase all the equipment and tools, significantly increasing the cost of your project.
They take care of ordering all the required materials
Talking about purchasing and your lack of knowledge, you probably won't know anything about landscaping materials, whether it's the suitable types of plants for your area or your hardscaping features. 
Your landscaping contractor will know everything there is to know about the material needed for your project and take care of ordering and acquiring the materials.
Offer advice and maintenance tips
Once your contractor is done with the job, he'll recommend maintenance tips and advice on how you can sustain and nourish your landscape and keep the hardscaping running smoothly.
Uphold quality and standards
When hiring a professional, you know you're paying for the high-quality planning and installations they offer. They won't deliver you sub-par services and call it a day. They're running a business, and keeping their customers satisfied is good for their reputation.
Are you looking for a landscaping professional in Saco to turn your outdoor space dreams into a reality? Get in touch with us!
At Stone Solutions Maine, we offer quality hardscaping and landscaping services to help enhance the look of your property.