Our Projects
Each landscape provides a unique opportunity to create a masterpiece and environment to be enjoyed. 
Below are some of our many projects around Southern Maine and possibly in your neighborhood! We hope you will take a look and find some outdoorliving insparation!
This custom stone fireplace crafted with stones from the fields of Maine, repurposed antiqued granite is the focal point of the prestigious island home. Located on Cousins Island, Yarmouth, Maine
Scarborough, ME
Outdoor Fire Place
Seating
Patio
Hardcaping
This magnificent project required hard work and dedication to the landscape. Its grand elegance demanded precision and attention to detail as shown in the design and stature. This outdoor fireplace inlaid with fire brick, granite wood boxes, great ventilation, and detailed design is truly a masterpiece. It sits on top of a paver patio surrounded by custom-built granite bench seating.  
Scarborough, ME 
Hardscaping
Design Ideas
Fire Pit 
Pavers

Patio
This concrete paver patio accompanies this back yard with its unique design of curves and straight edges. The round fire pit and variated blues of the surrounding adirondack chairs make for a wonderful outdoor living space. 
Higgins Beach, ME
Walkway
Patio
Hardscape
Landscape 
Edging 
Fence Collaboration
This fun project really shows what you can do with a small space. With the much-loved bluestone patio the curved brick leading to a fireplace. The loose stone wrap-around perfect for their use of storing their kayaks and grill. The stones in the garden were repurposed from the yard's original state. Landscaping, sod, irrigation, and plants all add to the beauty of this project! Call us about your backyard landscaping ideas!   
Scarborough, ME 
Fire Pit                        
Stairs
Patio
Hardscape
For this project, it required excavating, leveling the land by gravel infill compaction, layer by layer. Getting the pitch right for water runoff was a factor that was carefully considered. The granite stairs and concrete pad create a nice landing space for their hot tub. The stone patio with edging leading to the stone firepit inlaid with cobblestones
Scarborough, ME 
Walkway
Hardscaping
Granite Pillars 
Rock wall 
With this project we were able to incorporate many different features. Granite steps, walkway with pavers with a running block design laid toward the house with a cut curve to support the flow of the landscape. Edging for a beautiful finish, a rock wall near the road and granite pillars to support outdoor lighting.
Gray, ME
Simple Walkway 
Stone Wall
Hardscaping
Concrete Pavers
This project is clean cut with a simple design, incorporating concrete pavers by Gagne, leading to granite steps to the doorway. We built a rock wall along side the house and finished edging to give it the complete look. 
Higgins Beach, ME
When building stone driveawys they must be percice in the pitch and with the material that you use. We make sure the pavers used are proper strength and that we do our due diligence for prep work making sure the foundation is deep enough and compact. This project we lined the driveway with a granite retaining wall.
Driveway
Retaining wall
Pavers
Prepwork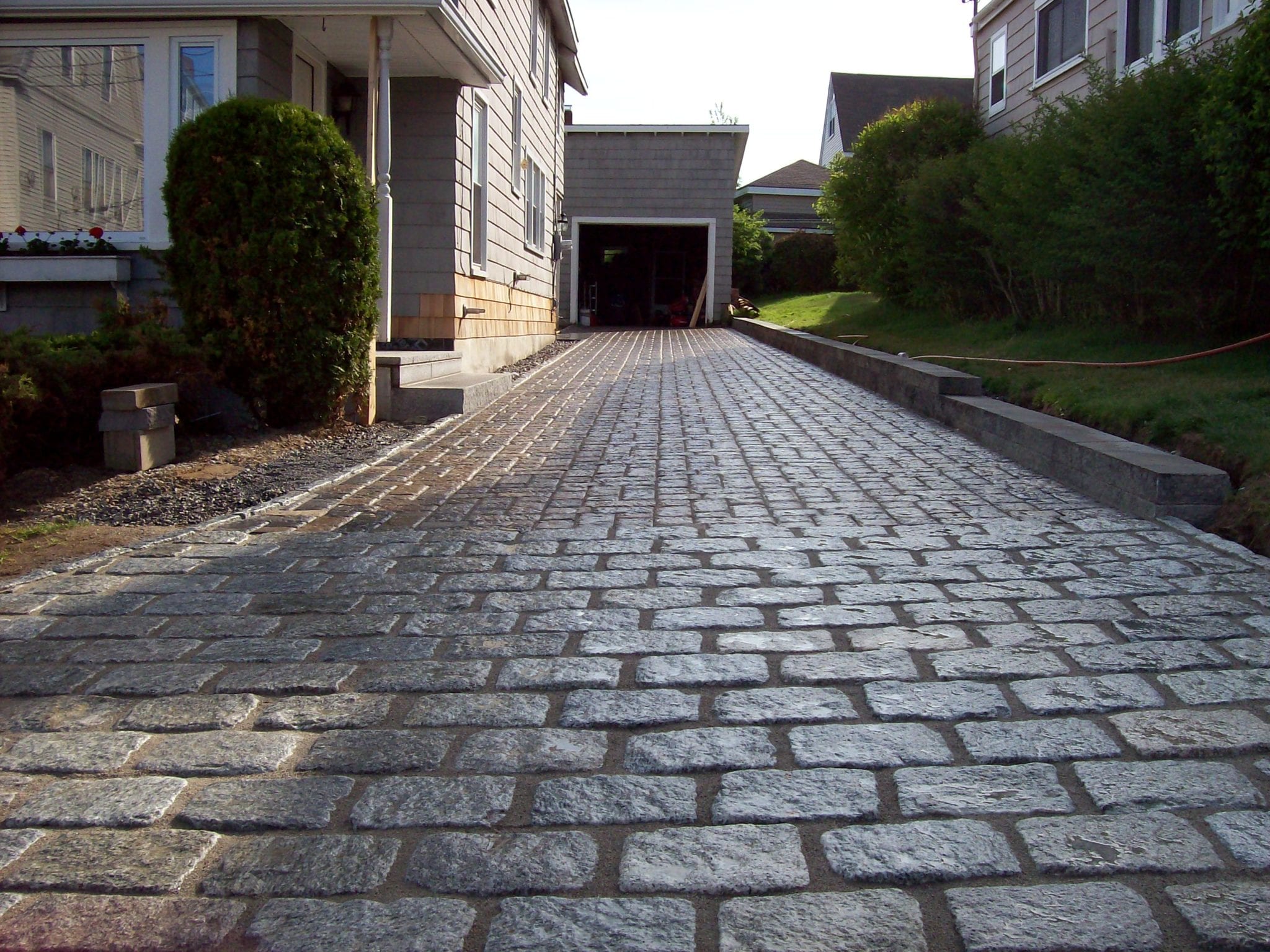 Cape Elizabeth, ME 
Patio
Steps
Edging 
Natural Stone Placement
This ocean front property is a gem. A curved patio of pavers and granite makes this a perfect place to over look the ocean. Can you imagine the view? We used natural stone to line the graden beds and tie in all elements of this property. This was a great collaboration with Chris Folland at Casco Bay Stone Works.
"We are so happy with our new fireplace and patio built by Stone Solutions of Maine. They were professional, trustworthy and have exceptional craftsmanship. The contract/quote was detailed and owner Rob was transparent with any potential additional cost. I would highly recommend their service and have full intentions for using them for future projects." 
– June Hamlin
Message Us
Get In touch below.
Ask us a question. Start a free consultation or find out about partnership opportunities!
Open Hours
M-F: 7am - 5pm
Saturday By Appointment