Your garden and outdoor space is your own little breath of fresh air right at your doorstep. Whenever you're stressed or just want to enjoy the beauty of nature, you can walk out of your house.
Having a welcoming garden is excellent for hosting parties and get-togethers with your friends and family. 
But how do you transform your garden space without spending a lot of money? Here are some of our affordable tips to help you remodel your outdoor space.
Plan your desired look
First things first, before you start ripping out greenery or planting, you need to have a plan or image of the look you're trying to achieve.
Having a proper plan will help you execute the transformation and make all your hard work worth it. 
Utilize plantations and flowers
One of the cheapest ways to change the look of your dull and gloomy garden space is by adding colorful flowers and greenery. Not only is this good for the appearance of your home, but it's also beneficial for the environment. 
Use kitchen scraps or leftovers to plant vegetables and fruits around your garden. Consider planting your vegetation in the fall season, so by the time spring and summer roll around, most of the gardening job is done.
Soft landscaping can make your garden look inviting without much effort or cost.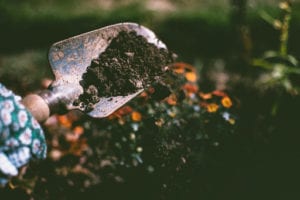 Upcycle old furniture
Planning on discarding some old furniture that no longer looks good inside your house? Well, bring it out into your garden space and create an outdoor sitting area you and your family can enjoy. 
You can also use old and used up dining chairs or wooden sofas to display your beautiful flowers and plants. They add character and a personal touch to your garden without costing you a hefty penny.
Let there be light
String or fairy lights are a fun and inexpensive way to bring warmth and life to your garden. 
You can hang them around your big trees and plants or keep them close to the sitting area. Both options will allow you and your family to enjoy the space even at night. Opting for solar-powered lights to reduce any utility bills and stay eco-friendly.
Be creative with your planters and pots
When trying to transform the look of your garden, you don't have to rely on pretty flowers and plants to bring in all the colors. 
You can add hand-painted pots and vases out there for a personal touch that'll make the entire space feel like your own. 
If you're not a fan of the traditional pots and clay planters, you can upcycle old containers and bottles around your home for the same effect.
Hire a landscaping service company
Transforming a garden or outdoor space is not a walk in the park; above mentioned ways are definitely affordable, but their efficacy depends on your skills and DIY abilities. 
Hiring a landscaping company may seem expensive, but it's going to be worth it in the long term.
If you're looking for landscaping services in Saco, reach out to us!
At Stone Solutions Maine, we strive to provide you with great service and help you build the perfect outdoor space at a reasonable rate.