When it comes to patio designs, bigger isn't always better. You don't need a huge space to create an attractive spot. Professionals can help make your small space a visually appealing and practical retreat. If you have a small space, don't sacrifice style, simply follow these tips and tricks to enhance the look and grandeur of your outdoor space:
Like all areas of your house, your patio also requires routine spruce-ups. Whether you're adding new furniture or accessories, a well-designed patio isn't only great for outdoor relaxing but also adds to the overall look and feel of your property. 
1.  Add a Fence 
First things first, your patio is a private space for you and your house members to relax, unwind and soak up all nature has to offer. The last thing you'll want is intruders or sneaky neighbors disturbing you. This is why we recommended adding a fence to your selected area for that secluded feeling. You can choose any type of fence you like, but ensure that the design works in line with your overall house décor. For example, if you have a vintage vibe going on inside, then fences with Victorian-style details will be something that will tie the entire theme together. For a minimalist style, you can choose clean, white fences.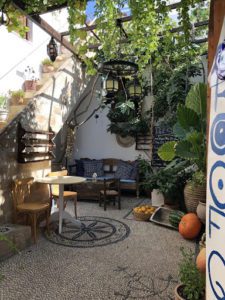 2. 
Consider The Lighting 
Whether you have a big space or a small one, lighting is key. Although the sun will be a great companion during the day, you need to ensure that you can enjoy your patio after sunset as well. Consider the type of exterior lighting that will fit your space well. Some options include string lights that can be draped around the trees, or stretched across diagonally. However, if you're looking for something more firm, a single pendant light will be ideal. You can also opt for solar lights for maximum efficiency and practicality. The bigger your space is, the bigger and more spacious it'll look. Be sure to add some lights in all dark corners so everything is well lit and visible during the day and night.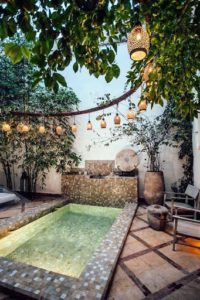 3.
Choose Foldable Furniture
When it comes to smaller spaces, efficiency is an important factor to consider. Avoid adding bulky furniture and opt for foldable ones. For example, a foldable umbrella is a great way to add color, and personality to your space. You can easily fold it and store it away when not in use. Other foldable furniture options include chairs, stools, and even a table. This way you can fix them only when needed, giving you more space when entertaining guests.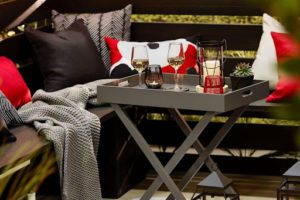 4. 
Consider Smart Storage Options 
The patio is a great place to enjoy a chilled drink during a sunny afternoon. You don't have to skip cool storage when you have limited space but simply think of more practical ways to use it. Choose small storage that can easily fit about 12-14 bottles at a time. When not in use, you can use the top as a side table to keep glasses, food trays, or other items. This will avoid the need for extra tables, giving you ample space to move around. 
5. Multi-Functionality Is Important 
Another important key term in small space design is multi-functionality. When choosing a table, consider options that have built-in drawers or ones that can fit in stools underneath it. This way you can store all gardening tools, cutlery, or other patio essentials in the drawers, and use the top as a table whenever needed. Add a fancy tablecloth, some decorative pieces, or some flowers and you'll have a table that'll fit its purpose and the overall vibe.
6. Plant Vertically
If you're running out of yard space, start planting vertically! Add some cans to your fence and plant some flowers in them. This won't only give your fence a fresh look, but will also add to the vibrancy and color of your space. If you're looking to inject more character, you can paint and design the cans based on your patio theme. 
Spruce Up Your Outdoor Space This Summer
Looking for design solutions for your small patio space? Stone Solutions Maine is the one for you! They're a renowned landscaping company that has been providing exemplary services and customized solutions to spruce up outdoor spaces. They're a trusted name in Maine and are known for their landscaping services. Whether it's installing a patio or outdoor fireplaces, they offer several landscaping services in Saco, South Portland, Falmouth, Cape Elizabeth, Scarborough, Yarmouth, Arundel, Cumberland, and Freeport. 
What are you waiting for? Let them help you upgrade your outdoor space. Contact them today to learn more about their services.