This summer, make the most of your outdoor living area by upgrading your patio. With a few simple and cost-effective additions, you can make your outdoor living space more comfortable and enhance its visual appeal. 
Here are some patio upgrades to consider: 
Work on the hardscaping
Add some new elements to the hardscaping of the backyard this summer. Incorporate natural stones for a more customized look. Stones could be used to create some permanent seating, particularly around the fire pit. You can always add cushions whenever you're using the patio. 
Pergolas 
Pergolas are the perfect addition to a deck and patio for the summer. A free-standing one with a seating area beneath and grass all around, in particular, looks very stylish and is a great place to hang out on a hot summer's day. 
Have an outdoor kitchen added 
Summers are the perfect time for hosting barbecues and getting some much-needed rays. Whether you like to host brunches for friends or just cook up a quick meal on the grill whenever you have the time, having a well-planned outdoor kitchen can make things more convenient. You won't have to move around your patio furniture and plants to make room for the grill, nor have to roll out the grill and smoker from the garage. With an outdoor kitchen, all appliances have their particular place, along with countertop space for you to prepare meals. Consider having an outdoor pizza oven built as well. It's very useful for baking a variety of foods and keeps your barbecued items warm too.
Louvered Porch
A louvered porch is similar to a patio cover and pergola; however, this gives you the option to have a ceiling over the patio or open up the louvers to let in the sunlight or moonlight. This can be attached to your home or installed free-standing, depending on your preference. A louvered porch is more aesthetically pleasing and allows better control of the ambiance of your deck and patio.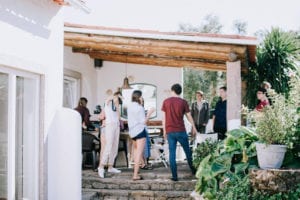 Firepit or outdoor fireplace 
Once you're done with the structure and placement of all the elements of the patio, consider having a fire element added. Fire pits or outdoor fireplaces can make a big difference. These add a cozy element to your outdoor living space and are very useful when you're entertaining guests or when you just want to unwind under the stars. Despite being summer, it can get quite chilly at night, so having a fire pit or a more elaborate outdoor fireplace is a great addition. 
Upgrade your patio furniture 
Many homeowners are yet to make the most of the outdoor living space they have on their properties. They have a few chairs on their patio to enjoy the sunset, but with the right patio furniture, you can make the most of your days in the sun and your nights under the stars. 
With better patio furniture now available at an affordable price, consider upgrading. An outdoor couch with a table and some comfortable patio chairs or loungers would be ideal. Add a patio umbrella for some added shade too. 
Make sure the patio furniture you choose works with the weather of the area. If you live in a hot and dry place, wooden furniture is bound to dry out and crack. Similarly, if you live somewhere windy, lightweight aluminum patio furniture will fly away with a strong gust of wind. Opt for materials that are long-lasting, in addition to weatherproof fabrics for the upholstery. 
Add a water feature 
To truly make your backyard an oasis, considering adding a water feature. A spa or cocktail pool is ideal for small backyards and for homeowners who don't want to spend too much on a pool and its maintenance. A cocktail pool or spa is a place you can relax after a long day or on the weekends, while in the comfort and privacy of your own home. For spas, jets and heaters make for an authentic spa experience. 
Have your home's deck and hardscaping upgraded by the experts at Stone Solutions Maine. We are a company leading in landscaping services in Saco. Our team uses high-quality materials to complete a client's projects and we help residents achieve the perfect outdoor living space while enhancing the curb appeal of their properties too. No matter what your vision, we are able to help you achieve it. Our services include fire pit and fireplace building, stonewalls and veneers, patios and driveways, and landscaping. Give us a call today!