The patio is the perfect place to entertain guests and give you the outdoor living space that you desire. With the popularity of social media, many homeowners are looking to add a unique touch or modernize their patio for 2021. 
This article will discuss a few gorgeous outdoor patio design ideas for your home—ranging from traditional to modern.
1. Hanging pots
Hang pots and plants from hooks for a unique look; there's no way this won't help keep mosquitoes away too! Hang them up high enough so that they can grow and still get sunshine. 
2. Hanging chairs
If you want to add some elegance and luxury to your outdoor area, hanging chairs are just what you need! Their various patterns also help you create any kind of aesthetic you want for your outdoor living space.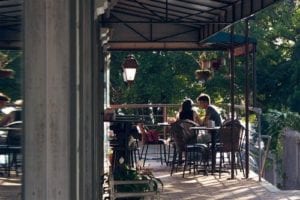 3. Lattice and flower trellis
A beautiful example of an outdoor patio design that will create a romantic, Mediterranean feel—the kind you would expect from a vacation home is by adding lattice and flower trellis for portioning your patio.
4. Bricks on the wall
Bricks are simple, and they're a great way to bring the beauty of nature into your outdoor area. You can get them painted, repainted, or just leave them bare—either way, they look fantastic!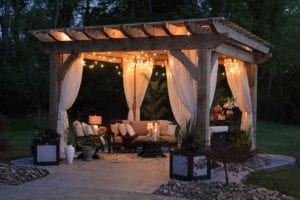 5. Benches with Storage
If your patio is large enough, storage benches will come in very handy! Not only they look gorgeous, but they also offer you a lot of storage place for tools and brooms lying around on the patio
6. Folding Chairs
You can buy some folding chairs. They're great for small spaces because they're portable. They come in handy when your guests exceed the expected number, and you can seat them on the beautiful folding chairs.
7. Pillars with lights
Pillar LED lights give a great ambiance to your patio at night. 
8. Terracotta planters
Buy some terracotta planters with a rustic appearance with single-colored clay pots! They're perfect for tropical areas and all-year-round use and add great aesthetics to your patio.
9. Garden bench
 A garden bench is perfect for all those who want to add some character to their home. There are various colors available—so you can pick the one that best suits your outdoor area and match it with the overall theme of your outdoor space! 
10. Pallet bench
Pallets make for excellent patio furniture and fantastic garden furniture that can be recycled. So, it's not only suitable for your patio but also the environment.
11. Garden tents
These are a fantastic way of bringing nature into your yard. You can throw in some wooden outdoor furniture under the tent, and voila, you've got a nice place to hang out in the shed on a sunny afternoon.
12. Coffee Table with Umbrella
Coffee tables make great outdoor patio designs, too—especially with a lovely umbrella that allows you to read your book and enjoy coffee on a rainy day.
13. Minimalist space
Here is an excellent idea for minimal space, but with an air of elegance. A small seating area can be arranged hidden behind lattice-covered glass doors, and the rest of the space can be adorned with green succulents and small trees to give it a natural look. 
This design makes the best use of the space in a way that allows you to maximize your outdoor area.
Combine Them All 
You can even combine all your favorite elements into one beautiful piece of furniture. A picnic table, fire pit, and seating area are all set in this Victorian garden setting. This design is simple, elegant, and perfect for those who want to enjoy the outdoors but are not looking to invest too much money into their small outdoor space!
Get Professional Outdoor Landscaping Services
These patio ideas come in handy when you've got a tiny budget and want to make minor improvements. But if you're thinking of getting a patio that stands out and adds real value to your home, hire our top-quality outdoor landscaping services. 
We offer gorgeous outdoor landscaping in Saco; you can have your outdoor living space upgraded by Stone Solutions Maine. Our highly trained professionals will know what your outdoor space needs, whether its to upgrade your patio or add an outdoor fireplace.
Our landscaping services also include stonewalls and veneers, firepit and fireplace building, landscaping, and more. We also offer our services in South Portland, Falmouth, and Yarmouth, ME.
Contact us today to upgrade your outdoor space.