Let's face it, no matter where you go, there's no place like home. You work, play, chill, relax, cook and rest in your safe space. It's important to focus on your interior design and settings. The theme you choose sets the tone of your home and is a reflection of your personal style as well.  If you've been thinking about improving the comfortable feel of your home, you might be wondering if you should install a fireplace.
Moving from an era of vintage design to contemporary, nowadays, modern style is trending. Modern architecture focuses on functionality and ensures that every space fulfills a certain purpose. Dating back to the late 19th century, modern design is all about a sleek and uncluttered style. It's based on a simple yet functional approach to life. One popular feature that's seen in most modern homes is a beautifully designed fireplace. Known for its aesthetics and practicality, a fireplace can bring in the much-needed light and warmth. If you're still unsure about whether a fireplace is right for you, here are some factors that will help you make the right choice: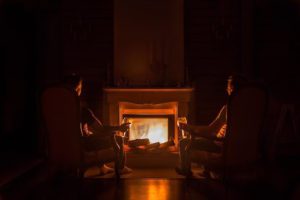 A Fireplace Brings in a Cozy Vibe 
While the cool winter breeze whistles through the windows, a fireplace will keep you and your family warm. This is a perfect spot to gather around with a cup of rich hot chocolate and a cozy blanket with your favorite book. You can play some board games here to just daze out while admiring those golden flames. A fireplace elicits soothing, comfortable vibes that are perfect to enjoy after a long, stressful day at work. All you have to do is cuddle on your couch and let the warmth and light gently embrace you. You can add a fur rug, some fluffy cushions, and even get a portable speaker to play some songs. Whether you're chilling with your friends, or need some time alone the fireplace will always be your go-to spot!
Welcoming Toasty Scent
If you're a fan of scented candles, you've probably noticed that campfire and toasty aromas are usually the hot sellers. This is because it reminds people about the good, memorable times they spent around the fireplace with their loved ones. If you have an actual fireplace in your living room, you can enjoy the natural, toasty scent and won't need to settle for candles. The fireplace will give off a warm aroma that adds to the cozy vibe of your space. Friends, family, neighbors, and guests will want to stop by often after being welcomed with that heavenly aroma. Make sure you're stocked up on hot cocoa because you'll be entertaining often!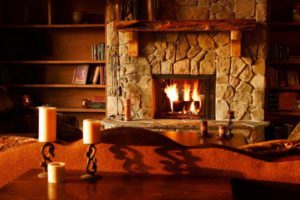 Practical Heating Option
When the chilly winter hits, everyone quickly turns on their electrical heater to keep the place warm. This can lead to a significant spike in the utility bill. A fireplace is a practical and cost-effective way of keeping your place warm during the winter season. You don't have to worry about extra costs, or shutting it off on time, but simply enjoy the warmth it offers. 
Adds to the Overall Design 
When setting up a living room, you always need a focal point that all your furniture is pointing at. In a modern home, a fireplace will be the perfect focal point. It doesn't only tie the whole design together, but also adds to the grandeur and style of the room. Whether summer, spring, autumn, or winter, you can enjoy the fireplace in all seasons. When the holiday months approach, use the mantelpiece to hang all your décor.
They Increase Your Property Value
Your place should be welcoming for potential owners to see themselves living there. A fireplace can significantly increase your home's market value. Buyers are on the lookout for functional additions to the house, this is why a fireplace will be your greatest selling point.
Professional Landscaping Contractors
Fireplaces are a family favorite; it's a place where everyone gets together and enjoys the warmth and coziness it offers. If you're looking to add a fireplace to your home in South Portland Reach out to us! Our experts at South Solutions Maine offer premium stonework and custom fireplace installations. Whether you're looking to spruce up your outdoor spaces or indoor spaces, we've got all the solutions for you. We're a trusted name in Maine and are known for our landscaping services. We can help you install a patio or fireplace, in Saco, South Portland, Falmouth, Cape Elizabeth, Scarborough, Yarmouth, Arundel, Cumberland, and Freeport. 
What are you waiting for? Contact us today to learn more about our services.