Although many people don't see eye to eye when it comes to the perfect fireplace, most would agree that a few mistakes must be avoided. 
This article will discuss some common mistakes people often make when installing their fireplaces and offer some tips for avoiding them effectively.
Installing without Permission
In neighborhoods that share access to one chimney, you shouldn't install an unauthorized fireplace chimney that disrupts airflow in and out of everyone's vents. 
If you're unsure about your housing situation, talk to your local fire department before hanging up any flue pipes! 
Improper Flue
The flue pipe is a key structure in your fireplace. It connects your wood-burning stove to your chimney. Without it, there's no way for smoke and gasses to leave the building safely. 
A properly installed chimney is code-approved, which will help prevent accidents. 
Installing an improper flue is a fire hazard and pollutes your home environment with all the smoke that can't exit your home.
Improper Venting
Maintaining the proper size of venting is essential to preventing damage to your home or neighborhood if something goes wrong with the fireplace installation process. 
Improperly sized venting can create a buildup of carbon monoxide, leading to poisoning and death within minutes of exposure; it's a serious risk that shouldn't be taken lightly.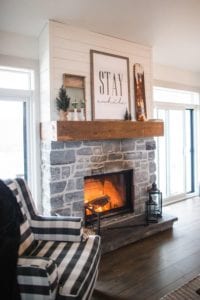 Fuel Inefficiency
If you're planning on building a fireplace, you should also be thinking about the fuel efficiency of your space. In addition, if the plan is to burn a lot of wood, you'll need to consider the life expectancy of that wood in terms of its ability to smoke and maintain heat for long periods. 
Most people install fuel-efficient fireplaces that use gas or propane as their source. However, compared to wood, these fireplaces can be more unpredictable in its ability to stay lit and provide heat for extended periods.
Improper Installation
An improperly installed fireplace can cause a significant fire hazard. Many people think a fire will go out before it truly gets out of hand, but you never know what could happen. 
To prevent something significant from occurring, make sure that the fireplace is installed correctly by professionals and includes the following:
A flue pipe made from non-combustible material

A metal flue pipe with no exposed cuts or seams.
Deciding on Fireplace Size & Shape
One of the most common mistakes people make before getting a fireplace installed is to misjudge its size and shape. 
Fireplaces don't come in standard sizes, so you'll have to choose one based on what you're looking for. Some of the primary considerations include:
Width
This is usually measured in feet and will usually determine the capacity of your fireplace. Most are between 1 and 2 feet wide.
Depth
The depth of your fireplace will depend on what you want to use it for. Some people prefer a deep fireplace, which will look more impressive, but it will be harder to move logs into place since you'll only have room to get them in at one point.
Height 
This is also measured in feet and will usually determine the space available for a mantle.
Location
The majority of fireplaces will be installed on an exterior wall, but some people may have interior walls made of brick. Or you can have an outdoor fireplace or fire pit installed.
Shape
Fireplaces come in all kinds of shapes, from square to round to octagonal. Some people like the look of a perfectly round fireplace, while others want something more unique or different. 
Our trained professionals at Stone Solutions Maine can help you make a better decision!
Not Cleaning Your Fireplace
Not only is it essential to get your research done before installing a fireplace, but you also need to take good care of it afterward to avoid any hazards and keep it functional.
Many people have a hard time remembering to clean their fireplaces, but it's imperative. If you want to stay in the living room with your friends and family for hours of idle entertainment, but your fireplace is covered in ashes and soot, then that can be somewhat uncomfortable for everyone there. So, make sure that the fireplace is cleaned once a week.
If you're cleaning your fireplace, you'll want to make sure that you're protected. That's why it isn't recommended that you wear any loose clothing while cleaning off ashes and soot. Also, if you have long hair, it's best to tie it back before working on the fireplace to avoid any tangles in your hair from flying ash or soot.
Hire Professionals to Install Your Fireplace
Make sure to avoid these mistakes and hire professionals to do your job.
If you want to upgrade your home by installing a fireplace, you should consider getting it built with stone since it looks beautiful and lasts much longer. At Stone Solutions Maine, we offer both prefab and custom-made stone fireplaces and firepits. We also offer outdoor landscaping services in Saco. 
Whether you want to build an outdoor firepit or upgrade your patio, our team of professionals won't disappoint you. Our landscaping services also include stonewalls and veneers, firepit and fireplace building, landscaping, and more. We offer our services in South Portland, Falmouth, and Yarmouth, ME. 
Contact us today to upgrade your outdoor space.