An outdoor fireplace adds aesthetic value to your home. 
Homeowners and their loved ones can enjoy cold winter nights huddled up close to the fireplace and enjoy each other's company. However, the outdoor fire should be enjoyed responsibly.
Here are a few ways an outdoor fireplace adds value to your home.
It Offers Immense Aesthetic Value 
One of the most important reasons people choose to add an outdoor fireplace is because it creates an attractive focal point. It's nice to have a place for family gatherings and entertainment. An outdoor fireplace with a distinct ambiance can be a great source of warmth and comfort for you and your loved ones.
Having an outdoor fireplace adds a unique touch to any home. Whether you use it for entertainment or to keep warm on chilly evenings, you and your family will enjoy using it every season.
Adds Value To Your Home
Who doesn't want to make their home stand out? What better way is there to attract potential buyers than with a permanent feature on their property? 
Add value to your property and have a one-of-a-kind conversation piece with an outdoor fireplace.
An outdoor fireplace is a worthy investment if you're looking to sell your home in the future. It makes your home stand out in the real estate market, which gives you an edge to get a better price for it and also a possibility of a quick resale. Moreover, they don't require a permit.
Your property value will also appreciate by installing an outdoor fireplace as it will increase the size and usability of your property. It adds value to your home by increasing the amount of living space you have available both inside and out, which means you can expand into areas you may not have originally thought possible.
Keeps You Warm During Winter
When the temperatures drop below freezing in the winter, an outdoor fireplace can keep you warm while you chat with friends, and it also makes for a very romantic setting without spending a lot of money.
Everyone loves an outdoor fireplace because it gives a great sense of comfort and relaxation. The warmth from an outdoor fireplace is also great for keeping bugs away from your summer party tables. 
However, one should be aware of potential environmental dangers.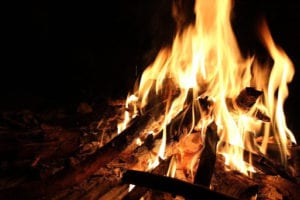 It's Very Functional
Fireplace heat is used to keep you warm whether you are cooking, sitting around the fire, reading a book, or making s'mores. 
It's also an excellent source of light while sitting out in the summer night air with your friends and family while dining, entertaining, or just for enjoyment.
It Offers You A Chance To Escape
While most fireplaces give off a pleasant aura of cozy comfort, an outdoor fireplace provides a private space where no one can bother you if you want to read or write in peace. 
Or if you'd like to have a barbeque on a cold night with some of your close friends without disturbing your family, then it's a terrific option to install one at your home.
Hire Professionals to Install Your Fireplace
You should hire professionals to get your outdoor fireplace installed. If you try to do it yourself, you may end up paying more in the long term for maintenance and repairs.
If you want to upgrade your home by installing a fireplace, you must consider getting a fireplace built with stone since it looks beautiful and lasts much longer. At Stone Solutions Maine, we offer both prefab and custom-made outdoor stone fireplaces and firepits. We also offer outdoor landscaping services in and around Saco, Maine. 
Whether you want to build an outdoor firepit or upgrade your patio, our team of professionals won't disappoint you. Our landscaping services also include stonewalls and veneers, firepit and landscaping, and more. We also provide our services in South Portland, Falmouth, and Yarmouth, ME. 
Contact us today to upgrade your outdoor space and get an outdoor fireplace to add significant value to your lovely home.