Gone are the days when driveways were merely used to take your car in and out of the house. Now, as the value enhancement renovations have become a norm, stone paver driveways are also built to increase the house's curb appeal. A well-designed driveway and patio that complements the front façade is a beautiful addition to your home and an investment that is worth making. 
Available in custom sizes, shapes, colors, designs and textures, stones are a favorite for renovations of dull old driveways made of concrete and gravel. Not to mention, the benefits of stone pavers are worth noticing too.
Easy Upkeep
Maintenance of almost all stone pavers is easy and practical. With a regular cleaning and removal of debris, stone pavers are easy to maintain and last decades.
Durable
Driveways are sturdy and durable. Their aesthetic appeal is secondary to their durability. Stone pavers are one of the best materials for driveway designs due to their longevity and strength. 
Easy Installation
A professional masonry service can install a custom driveway for your property with utmost ease and precision. All you need to do is contact an expert stone paver near you and enjoy the uplift of your curb. 
Useful
Often homeowners hesitate to experiment with the house's exterior due to practical limitations of designing. However, with stone pavers, you can be satisfied with the practicality of the material as it will help you fully use the space without any caution or unnecessary care. 
Our Favorite Driveways in 2021
As the year comes to an end with many new trends set in place, we have jotted down a list of our favorite driveway designs made with stones. Colors, textures and shapes, stone pavers allow versatile designing options that you can choose according to your liking and your house's overall themes.
Bold and Broad
This driveway design showcases large limestone blocks placed neatly together to form a broad entrance. From providing a sturdy base to drive and park the car and adding width to the front façade, this limestone paver is a good choice for both large and small-sized homes.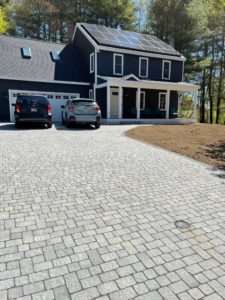 Elegantly Efficient 
Nothing is more pleasing and satisfactory than an organized layout of sandstone pavers installed on a driveway. It speaks volumes of the elegance and contemporary approach of the homeowner and very beautifully complements the wooden exterior panels. 

Rustic Charm
Back in the day, rustic driveway meant cobble pavers unevenly installed in countryside homes. Now, with urban driveways picking up on traditional trends, crushed stones are a popular choice to build rustic-looking charming driveways. A variety of crushed stones such as granite, limestone and cobble are laid down together evenly to create a leveled driveway. This driveway design is practical and has quite a naturalistic appeal to it. 
Minimalist Magic
A subtle style statement can be added to your custom driveway with slate paver stones. Slate, known for its refined surface and soothing hues, has garnered attention in minimalist interior designs for quite a while now. This time around, as 2021 ends, we have a slate paver driveway listed as a favorite for homeowners who are keen on keeping it simple yet long for an unmatched class.
Red and Refreshing
Who says driveways have to be boring and grey only? Look at this vibrant red driveway made with red bricks and granite. The perfect choice for homeowners who like to go a step up with their exterior and design it in a refreshing and unique way. The lush green lawn and abundant trees in this picture are complemented by the exciting, bold colors on the driveway and walkway. Oh, and don't miss the rock arrangement around the stairs and outer wall, a smart way to incorporate natural stones in your exterior design.
Mix and Match
Now you may want to add a few colors here and there in your driveway but not completely go over the board. In case you want to add a little bit of red and stick to the conventional greys or white, a mix and match of stone pavers is the perfect idea for your driveway. This picture showcases one of our most favorite designs, with sandstone and cobblestone taking center stage on the paver design. It's modern and classy with a touch of vibrant too. 
We Can Pave Your Way!
With over 36 years of experience in the masonry service industry, Stone Solutions Maine is an expert stonework installer company. We can help you elevate your curb appeal with driveway installations, garden landscaping, and installation of outdoor fire pits. Get in touch with us today.