As a homeowner, we're sure that you've asked yourself the question before: when should I remove my old patio and replace it with a new one? Well, it's not as simple as you might think.
In general, most people choose to replace their patios if they're more than 10 years old or have sustained significant damage from age or water damage.
Here are some signs that tell you it's time to remove your patio.
Concrete Patio That Looks Old-Fashioned
Maybe you're trying too hard with a concrete patio because it's trendy right now, but your house might not fit into that category. For instance, your home may have an outdoor space that doesn't blend in with the rest of the concrete landscaping. In this case, you might consider a stone patio. You can try adding a more modern look to your patio area by using natural stone pavers or flagstones.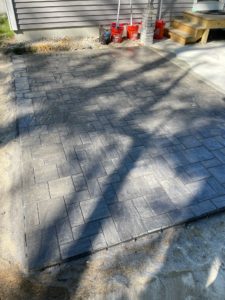 Patio That Doesn't Blend in With the Rest of Your Landscaping
You don't have to introduce features in your backyard or patio area if it doesn't match up with the rest of your house's design. 
If your home's patio doesn't match your backyard's layout, it will lose all its appeal and can appear boring and shabby.
Too Many Accents or Not Enough
If you're considering adding another accent to your patio area, think again because your space might appear unbalanced. 
Oftentimes, placing too many accents can make the rest of the area appear dull in comparison, and this doesn't go well with your home's overall look. This is usually the case if you place decorative pavers on top of a cement slab of concrete patio.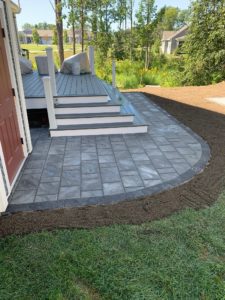 You're Looking to Increase the Value of Your Home
If you're looking to increase the value of your home, replacing your patio is an excellent idea. However, if you decide to do this, make sure that you do it right. In other words, don't just throw up any old patio and call it a day. Instead, give some serious thought about what type of patio will look best in terms of aesthetics and functionality. 
Ideally, this should lead you toward a stone or concrete patio that's surrounded by beautifully manicured lawns and other outdoor features. This type of setup will help boost the value of your home in both the short run and the long run. Additionally, it also allows you to add a multitude of options to your outdoor area.
Your Patio is Falling Apart or Has Loose or Missing Parts
If your patio has fallen apart due to significant water damage, you'll almost certainly need to remove it. In many cases, homeowners can make repairs, but it's not that simple. The biggest problem is that the water damage leads to cracks in both the concrete and sand base.
Additionally, there may also be major cracks in the tiling or other materials surrounding the patio. In the end, it's best that you look at your existing materials and decide on whether this is the right location for a patio.
Another reason why many homeowners choose to replace their old patios is that they've fallen apart. In this case, repairing the patio isn't always an option. The truth is that if your patio has deteriorated because of water damage, it's best to replace it if you can. If not, you're better off looking into options that allow you to create something similar but more aesthetically pleasing than your current one.
It Isn't Safe to Use Your Patio Anymore
If your current patio isn't safe for use anymore, it's best to replace it. In most cases, this will be due to significant water damage as well as fading and/or cracking of the concrete. Additionally, if there are loose joints in the concrete or brick surface of your patio, these can pose a safety risk as well.
If you're looking for a safe and reliable patio removal and demolition service, we've got you covered. We're here to help you improve your property in any way possible. Stone Solutions Maine offers patio and stone steps demolition, gardening landscaping services, outdoor landscaping, stone veneer installation, and outdoor fire pit installation.
Contact us today to learn more about our services.