Nothing adds value to the curb appeal of your house like a well-landscaped yard. Landscaping isn't limited to gardening. It also includes outdoor lighting, flower beds, patios, decks, irrigation systems, walkways, and other outdoor structures. The key to keeping your landscaping well-organized is focusing on texture, color, and line.
Here are some smart landscaping ideas:
Mulching 
Mulching is an easy landscaping strategy that helps you set some contrast between multiple planted beds. By mulching, we mean applying a layer of plastic sheeting, compost, or straw to the ground above the plant level to prevent excessive erosion and soil evaporation. Mulching helps you conserve soil moisture, retain moisture content, suppress weed, and improve the overall plant health.
Since mulching improves the soil's ability to hold water, it also acts as an insulating layer and keeps the ground cool in summer. This way, you don't have to water the plants over and over again. It breaks up the clay and allows water and air to move freely within the soil. You don't need to get in touch with a professional service to mulch your front yard. Mulch is readily available in stores in bags and bulk and is measured in cubic yards.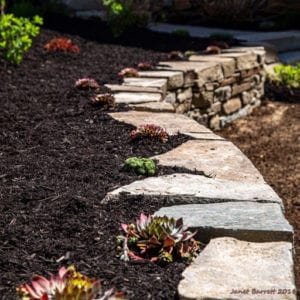 Edging 
On the other hand, edging helps you create crisp, fine lines between adjacent plant beds. It makes the lawn edges look neat, well-trimmed, and well-defined. No one likes a messy and untidy garden. Mowing alone makes the lawn look tidy; however, edging makes it look crunchy. 
You can use edging techniques to help you define the borders between flowers, shrub beds, and multiple trees; in fact, edging also works as an excellent partitioning technique to transition from a patio to the garden. It acts as a visual barrier to prevent people from walking into the landscaped areas.
Since edging makes your lawn look well-manicured, it also enhances the house's overall curb appeal without demanding a lot of money. At the same time, it saves a lot of trimming time and effort too. An added benefit of lawn edging is that it provides a root barrier. This will prevent all sorts of invasive lawn grasses from penetrating the flowerbeds. Edging also helps you keep your mulch, gravel, and other gardening materials in check.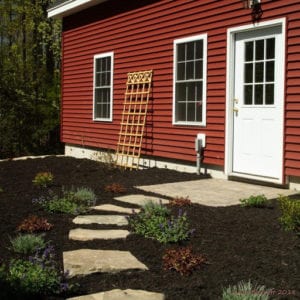 Create a seasonal balance 
When you're planting, make sure you're wary of the fact that all plants have seasonal cycles. Your aim should be to make the outdoor space bloom, irrespective of the season. Try to be a year-round garden planner. The best way to do so is to create the right combination of annuals, perennials, and all-season container plantings. Do your research about which species work well for your region. Always choose at least two different species that will flower together. 
Don't hesitate to opt for four-season container gardens if you live in a cooler climate. They'll help you add a pop of color to your garden all year long. For the most aesthetically pleasing results, mix up some spring-blooming bulbs with fall-blooming plants. Container gardens are also a lot easier to change in case you want to revamp the garden look.
Shape the trees
Your trees need a lot of attention and care too. Don't make them look overlooked and neglected. No one likes a bunch of dead branches in their garden. Keep on trimming any deciduous trees and shrubs throughout the year. Dedicate your weekends to pruning chores.
Other than that, pruning trees also influence the way a tree grows. It makes sure no dead branches are falling off to endanger any nearby individuals or animals. With proper pruning, you can grow your tree into the configuration of limbs and branches that you wish. Pruning also stabilizes the weight distribution and ensures that the tree grows in the desired fashion.
Add some water features
A fountain is like a bird magnet. It's great for the eyes to have a landscaping feature that attracts birds in your yard all day long. It makes your home stand out from the rest of the neighborhood. You'd love to see all of those robins, orioles, and thrushes congregate around your fountain. Keep in mind that a fountain is more than just a structure; the sound of water flowing through your fountain on a calm evening has a meditative effect. Just the sight and sound of flowing water is enough to alleviate stress and add an aesthetic element to the landscape.  
Stone Solutions Maine is your go-to option for all sorts of landscaping solutions, including stone walls, patios, driveways, fire pits, and fireplace construction. Get in touch if you're based in Falmouth, Cape Elizabeth, Cumberland, South Portland, Arundel, or Scarborough.