Transforming a simple backyard into a beautiful extension of your living space is no easy feat. From removing weeds to adding plants, there's a lot that goes into it. But one element that can truly revamp your outdoor space is a patio paver design.
From adding a little character with blended hues to harmonizing your home environment's overall tone, it can tie your whole outdoor space together.
If you're looking for a new paver patio, read on for some useful tips and ideas that will help you pick the right design for your home in no time!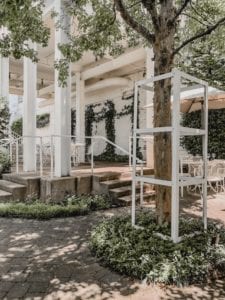 Herringbone Pattern
Known for its durability and strength, the herringbone pattern is recommended for your patio if the space has heavy furniture or experiences a lot of traffic. It's also ideal for driveways and walkways.
The pavers are laid in alternating directions to form a 'V' shape. With a strong visual effect that adds character to your outdoor space, the herringbone pattern is the perfect choice if you want to add nice details to your patio.
Circular Pattern
This pattern is a classic patio paver design that's achieved by layering the paver rows in a circular formation. Well-suited for large patio areas and driveways, this pattern can seamlessly complement other areas of your outdoor space.
While the pavers have small spaces between them, they can be easily filled with mortar and sand. This pattern looks best when mixed with other patterns, like a basket weave or a running bond.
Running Bond Pattern
A common pattern used in residences due to the simple design, the running bond pattern is a perfect option if you want a minimalist look for your patio. The pavers are laid side by side to create the illusion of linear lines, making this pattern the easiest to install.
The running bond pattern is a good choice if you want to make a small outdoor space appear bigger and draw attention to your home's architecture.
Basket Weave Pattern
This is a well-known pattern that gives your house a vintage look; it was a significant part of old English landscape designs. The pavers alternate between vertical and horizontal pairs to create rows and columns with an eye-catching effect.
You can get creative with this pattern by adding complementary or contrasting shades, depending on the look you want for your patio. This design is also durable.
European Fan Pattern
If you want your patio to remind you of the streets of Berlin, then this pattern is just what you need. It's popular all across Europe despite being one of the most challenging paver patterns to lay.
Highly popular in residential and commercial European designs, the European fan pattern is beautiful and flexible, so that you can change the size of the fan and the color of your pavers based on your aesthetic preferences.
Have you picked out the right patio paver design for your home yet? Then don't waste any more time and get in touch with Stone Solutions Maine!
We provide superior quality landscaping and patio installation in Saco to make your home beautiful. Our premier services include hardscape services, driveway installation, stone veneer installation, custom outdoor fire pit installation, custom paver driveways, and walkway design services in Saco.
Contact us for more information today!