A driveway doesn't just link your house to the street, it also ensures the safety of your car and your property. As homeowners, we all want to make sure our driveway is clean and free of any damage. Do you feel like your driveway needs a revamp? Here's everything to consider as you start planning this project.
Looking At Your Finances
Rebuilding your driveway can cost you thousands of dollars, but the price will depend on numerous factors such as its size, layout, geographical conditions, and material costs. 
You can choose from various materials, such as gravel, asphalt, concrete, and pavers. However, your pick will most likely be influenced by your budget, which is why it's important to keep an eye on the finances.

Maintenance Expenses
Each material has its own set of maintenance standards. Some will be more time-consuming and expensive than others. For example, pavers will require less upkeep than gravel. The most prevalent driveway material is concrete. Be mindful of the maintenance expenses that are attached to each material before you decide on one.
Quantity Of Vehicles
The layout and expense of the driveway will also depend on the number of cars you'll be parking. Your driveway only needs to be roughly ten feet long if you only need to drive a car into the driveway. However, if you expect to park multiple cars, you'll need a bigger driveway.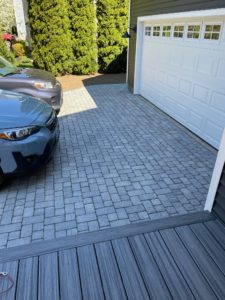 Style Of Your Residence
If budget isn't an issue, choose a pavement material that complements the architecture of your residence to add to its aesthetic appeal. For instance, using ceramic tiles of different colors would suit a custom building well, whereas gravel could go well for a household with a classic architecture.
Environment
While constructing anything, always consider the temperature in your area. In changing climates, various components act differently. Consider the seasonality and how they will affect your driveway:
Masonry

may break as a result of defrost cycles.

Asphalt will withstand temperature swings better than gravel.

Gravel is vulnerable to erosion that can be a concern when you live in a region that receives a lot of rain, snowfall, or hailstorm.
If you are looking for an experienced home renovation service to help you design your home's driveway, connect with us at Stone Solutions Maine. We offer hardscaping, outdoor landscaping, patios and driveways, fireplace installation, stone walls and veneer installation, and more.