Curb appeal is the term used to describe the first impression of your home. If you live in an urban environment, your house may be nestled next to many others, and the curb appeal might come from an elaborate garden, fresh paint on the door or shutters that contrast beautifully with the faded exterior, or a stone veneer wall. 
On rural properties, you may have swathes of land around your house with flowers and trees. These are all features that can improve curb appeal. In general, curb appeal refers to how appealing your property looks from the sidewalk.
Here are some ideas to boost your curb appeal.

Keep your home's exterior clean
Scrape off any loose paint, repair any cracks and holes, sweep the front sidewalk and driveway, and make sure the windows don't have smudges or other marks on them. If you're planning to sell your home in the next year or two, having a spotless exterior will make potential buyers confident in their investment.
Make sure the yard is well-maintained
Insects, weeds, and other things can ruin your backyard. As such, it's best to have a regularly scheduled maintenance plan for your lawn that includes raking, weeding, and fertilizing. If you live in an area where it snows in winter, that will be another maintenance routine you need to have.

Plant some flowers or a small tree near the sidewalk or driveway
Change out your flowers with the seasons; for example, you can add colors of fall to your home with chrysanthemums or ornamental kale—it will give people walking by something to admire when they're getting their mail or walking their dog. Add a small tree to make the property look even better.
Here are some flowers you can add to your garden this fall.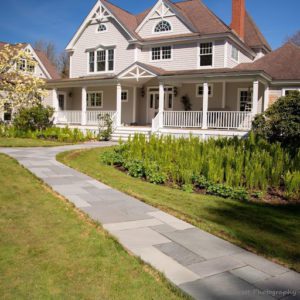 Repaint your house and front door if the paint is chipping off
Repainting your home's exterior can give it a new life. Rain and UV light from the sun can severely damage the paint and its new look. If the paint on your exterior walls is fading, make sure to get it painted as soon as possible. And while you're at it, go for weatherproof paint that lasts much longer.
Get rid of any "eyesores" near the sidewalk
This can include anything from a wheelbarrow to snow piles to trash cans. It's not worth trying to sell a house with eyesores nearby if potential buyers feel uneasy about looking around your property. Even if you're not reselling, it still affects the perception people have of your home, and ultimately you.
Upgrade your sidewalks
If you have the extra money, consider upgrading your sidewalks and your driveway to something more attractive, like brick or stone. It will definitely add more value to your home.
Also, if you have creeky front steps, consider replacing them with something better—think grand entrance!
Consider Outdoor landscaping and Gardening 
Gardening around the property or outdoor landscaping can immensely increase your home's curb appeal. A landscaper can come out and help you with any consulting or design needs.
The aesthetic value of landscaping can lead to improved property values and increased property values in general. Outdoor landscaping can also offer a psychological boost and lending homes an aura of class and sophistication. But the most important thing is that it improves curb appeal by giving your home a professional appeal. With this in mind, let's review some ways you can make sure you have the perfect landscape for your home!
First, it's best to be as specific as possible when looking for a gardener or a landscape designer. This will ensure you're working with professionals familiar with your area and have dealt with that type of landscaping before. 
Second, make sure to investigate the cost of landscaping in your area and how this might affect you financially. By inquiring about potential costs before anything is done, you can ensure that you'll be getting the best possible value for your money. You'll also be able to find out who provides the best possible value in your area and who will do the job for the lowest price while still providing optimal quality!
Finally, if you're planning a large renovation project, it's always a good idea to plan with landscaping so that costs are kept low. By planning early, you can save a lot of money spent on things like construction.
If you're looking for the best landscaping to boost your curb appeal, look no further! We're here to help you improve your property in any way possible. Stone Solutions Maine offers gardening landscaping services, outdoor landscaping, stone veneer installation, and outdoor fire pit installation.
Contact us today to learn more about our services.