As we enter into fall, many people have and continue to enjoy their time outdoors. Whether you're hoping to plant a garden or just landscaping your backyard, there are plenty of ways to spruce up your outdoor space without breaking the bank. 
Even though the outdoor landscaping industry is estimated to be worth more than $100 billion in 2021, that doesn't mean there arent any low maintenance and eye-catching ideas for outdoor landscaping; here are some ideas that will help you get started.
Dig A Pond
Ponds and pools make great additions to any outdoor space because they add natural beauty and create a relaxing and tranquil space where you can sunbathe and just relax. 
Plant A Tree Or Colorful Flowers
Trees can transform your backyard's look. They offer plenty of shade to everyone and keep the space nice and pleasant.
Just about any kind of flower or plant will add color and personality to your yard or garden, providing the perfect setting for small outdoor gatherings or even just an enjoyable evening spent relaxing outdoors on a warm evening in the company of friends. Many flowers and plants can fit in with nearly any kind of landscape.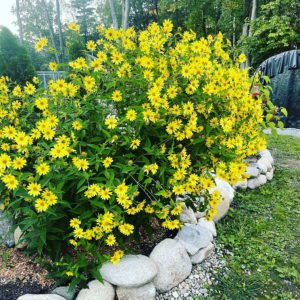 Install A Fire Pit Or Other Outdoor Fireplace
Using a fire pit can be an effective way to add character and ambiance to your yard without using a great deal of money. Not only will you be able to enjoy sitting around and relaxing in the evenings, but you can also keep yourself warm during chilly nights. 
The benefits of having an outdoor fireplace extend beyond simply providing warmth, as they're also great for entertaining guests with potluck dinners and are even safe for use with small children and pets.
Build An Outdoor Shed
Whether you're trying to save money or just making something unique for your yard, an outdoor shed can help give it a distinctive look. It can even serve as a great place for storing items that you want to keep handy, either indoors or outdoors. They're also perfect for storing supplies such as barbecue grills, tools, and other household items that you may need at home but don't want to store inside.
Add A Seating Area
You don't have to spend money on expensive patio furniture or even buy new chairs. Instead, buying and building some simple wooden benches or just places to sit around your fire pit or outdoor kitchen can make your yard look more polished and inviting. You don't even need much in the way of seating: just some comfortable cushions should work for lounging around in the sunshine outdoors.
This would bring a great atmosphere to your outdoor space where you can invite friends and family over the weekend to have a light dinner or just hang out with a couple of drinks.
Create A Solar-Powered Fountain
For those concerned about the harmful effects of chemicals in water, a solar-powered fountain can be a great way to keep your water safe. It's also relatively inexpensive (unevenly so, depending on if you buy the components separately or all at once) and can save you from having to deal with the expense of replacing the batteries every few months.
And, obviously, it's appealing to the eyes and makes your outdoor space more attractive to the guests and potential buyers!
Beds And Borders
An average household spends $500 on gardening every year. It's worth spending some bucks on multi-leveled gardens; beds and borders are ideal for enhancing flowerbeds or any site that needs some extra color. While wood may not be the first thing that comes to mind when planning outdoor landscaping, there's no reason you can't use it. 
Stacked logs or different kinds of wood are classic ways of framing your garden. You can also use them as walls to surround your garden for privacy or add interest to the space.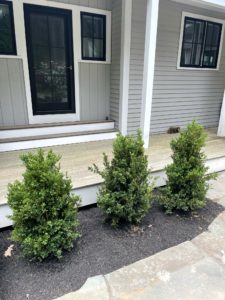 Stone Walls
Stone walls are easy to build and relatively inexpensive; you can have a beautiful, personalized wall in no time flat. There are countless ways to decorate your stone walls. One week you may prefer simple but stylish flat stones; the next week, you may want to construct a brick-lined wall that looks even more striking.
Looking for something purely decorative, you can cover the stones in moss or artificial flowers (however, don't forget the birds). If you need privacy from passersby, outline your yard with stones, and it will look like a castle from the old times!
If you're looking for outdoor landscaping services in Saco, ME, Stone Solutions Maine can help you. They offer gardening landscaping services, custom-built outdoor fire pits, stone veneer installation, and much more.
Contact them today to learn more about their services.