Your house is one of the biggest investments you'll make. If you're looking for a way to maximize this, the answer is right outside! Yes, that's right. Your outdoor space offers an array of possibilities to improve the value of your property. While your interior furniture may dull or wear off over time, the flowers and trees you plant outdoors will continue to bloom for years to come. 
Landscaping is an important aspect of all outdoor spaces. When a potential buyer walks into a property, the first thing they notice is the outdoor area. As they say, first impressions last, it's important to do your best and design your outdoors in an aesthetically pleasing manner. 
Here is everything you need to know about landscaping and how it affects your property:
Research Says…
Landscaping can add up to 14% of the resale price of properties? A well-designed and regularly maintained landscape can also reduce the selling time by days and weeks. 
Research by Virginia Tech Horticulturist Alex Niemiera also shows that a house with a proper landscape had a price advantage over homes without it. This ranged from 5.5% to 12.7%.  
Moving on, according to The American Society of Landscape Architects (ASLA), homeowners should invest 10% of the home's value in landscaping. This doesn't simply mean plantings but also includes special structural features such as stonewalls, lighting, garden paths, fire pits, swimming pools, and more. Fire pits and fireplaces have a 94% popularity rating, the survey notes.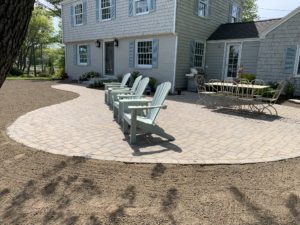 How Does Landscaping Benefit a Property?
Now that we've got a clear idea about the numbers, let's dive into some ways your property can benefit from landscaping:
Maintains Privacy 
If you have a wide-open space, it's easy for neighbors or intruders to enter. Your home should be a safe place for you and your family to relax without any disturbance. Planting tall trees or building stonewalls around your outdoor space can block their view and access. Enjoy your time at home in peace with proper landscaping.
Reduces crime
As mentioned above, planting tall trees can limit entry access for intruders or thieves. Landscaping also includes lighting; a place that is well-lit is never an option for criminals. You can rest assured all spaces in your house are well-guarded from any sort of theft or burglary. 
Creates Boundaries 
If you have children or pets at home, it can get tough to constantly keep an eye on them while they're outdoors. A purposefully designed landscape can restrict them from certain areas such as the electrical connection or plants. They can spend their time outdoors in an allotted area, safe and sound.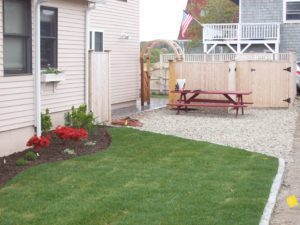 How To Improve The Value of Your House with Landscaping
Make Sure the Landscape Works in Sync with the Architecture 
When designing your landscape it's important to keep your house's architectural style in mind. If you have a minimalistic theme going on, make sure the outdoors follows that as well. After all, the outdoors is an extension of the indoors. Go for similar color schemes, designs, and decor to ensure that it blends in seamlessly.
Choose A Year-Round Style
If you're in a place that experiences all four seasons, the landscape design should be a mix of all. The outdoor areas should be available throughout the year for maximum practicality and functionality. If you have a swimming pool for the summer months, don't forget to add a fireplace for when the cool winds start blowing in.
Increase privacy
Look for ways to increase privacy. This can include building higher walls, adding more trees, creating a specific entry pathway, adding more lights, and so on. Homeowners always look for a place that provides security and privacy, and landscaping is a great way to do that. 
Make Your Space Low-Maintenance 
The last thing to keep in mind is to avoid all high-maintenance details. In today's modern world, not many have the time and energy to maintain a yard. This is why you should focus on creating a clean, clutter-free, and low-maintenance design. You and future owners can enjoy the yard come rain or storm.
Expert Landscaping Designers in South Portland
Now that you know how landscaping can significantly increase your property's value,reach out to us! Our experts at South Solutions Maine offer premium landscaping services including stonework and custom fireplace installations.We're a trusted name in Maine and are known for our landscaping services. We can help you install a patio or a fireplace, in Saco South Portland, Falmouth, Cape Elizabeth, Scarborough, Yarmouth, Arundel, Cumberland, and Freeport.