Fireplaces can be very tricky to manage. They're messy, high-maintenance, and come with heaps and piles of ash and wood. At the same time, they're a great addition to your home. Fireplaces offer a very cozy and romantic setting that adds a touch of comfort and architectural vitality to your home. Gathering around the crackling fire with the family on a winter afternoon can really cheer you up. 
Fireplaces are also a dreamy escape for anyone to spend some time with their significant other. If you're planning a housewarming present for a newly married couple, make sure it's got something to do with the fireplace!
Housewarming Gifts For Fireplaces
If you have a friend who has a fireplace, you might want to gift them something that helps make it easier for them to light and simpler to manage. 
Here are some ideas that will be welcomed warmly: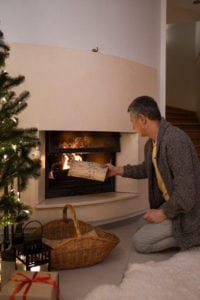 Color Cones 
Who says the fireplace has to be a dull shade of red and orange? You can amplify the aesthetic effect of the fire by adding some vibrant blue and green hues. Don't worry—color cones are entirely safe. 
All you need to do is add a cone to the fire, let it burn for 10 minutes, and wait to see the magic unveil. Each cone will add a unique blend of appealing colors to the flames. They're also very versatile. You can add a color cone to an indoor fireplace, wood stove, outdoor fire pit, and wood-burning fire. On top of that, they're neither messy nor create a lot of ash. You can pleasantly arrange a stack of color cones right next to the fireplace, and it won't look out of place at all.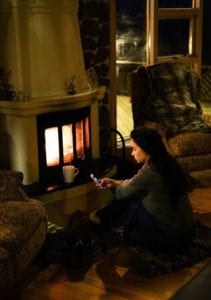 Fireplace Gloves 
These are paramount  for safety and a 'must-have.' Your friend is definitely going to thank you since it'll help them move around the logs without worrying about burning themselves. Just make sure the gloves are long enough to reach their elbows so they can poke inside the stove and reload the fireplace safely. Fireplace gloves also protect from splinters and other discomforts associated with handling firewood since they're totally fire-resistant. Your friend will be glad to see how much you care about them. 
A Moisture Meter 
This handheld device helps you measure the moisture content of firewood by pressing against it. The key is to prevent excess moisture buildup to ensure the safety of the inhabitants. You can also split a few pieces of the firewood for more accurate readings and insert the meter deep inside. You can store firewood for as long as you want to, and it won't degrade. You just need to be careful about keeping it dry. A good-quality moisture meter won't cost you more than $30.
Ideally, it's recommended to only burn wood if the moisture content is below 20%. Any moisture levels above this percentage will give off harmful chemicals and lead to creosote formation in the chimney.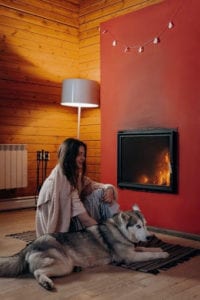 A Hearth Rug
Nothing makes your fireplace experience more comfortable and cozy than a nice warm rug. Other than keeping your feet warm, a hearth rug will also protect the flooring beneath.
When buying a hearth rug, make sure it's fire-resistant and heat-resistant. This is important because wood-burning fireplaces tend to crackle and pop quite frequently. At times, the flames also throw small pieces of embers out on the floor. Normal carpeting and traditional wool will easily catch fire. On the other hand, the fibers in hearth rugs are made up of fire retardants, making them safer. 
Just like traditional wool, hearth rugs are also available in a wide range of colors and patterns. You can always match them up with your friend's interior décor and home design to add some visual charm. The added benefit is hearth rugs work for wall-to-wall carpeting or just covering a limited flooring area. If your friend has a pet, make sure the rug is big enough to accommodate the two of them for some afternoon playful time. 
All of these are great housewarming gifts for a friend who loves their fireplace. And if you or your friend don't already have one, you can always get in touch with us Stone Solutions Maine. 
We specialize in the custom construction of patios, walkways, and fireplaces in Greater Portland and Southern Maine. Our main man Rob has over 25 years of experience in the field and is known for his extraordinary attention to detail, customer service, extensive knowledge, and use of premium quality construction material. We also offer landscaping, stone veneer installation, paver driveway installation, and masonry services.
Schedule a free consultation by getting in touch today.