People across the U.S are keen on transforming their houses, and stone veneer installation is one sure shot way to improve the interior. Gone are the days when stone walls were limited to the patio and backyard. With many artificial and natural stones choices now available, the finishing material has become a favorite of homeowners and designers alike. 
Contemporary, rustic, natural, or trendy, stone walls can make your living space look how you want it to. You can either go about the remodeling yourself or hire a reputable stone wall installer in your area to design and install a stone veneer wall.
Benefits of Stone Veneer
Easy Maintenance
The downside of other finishing materials for interior design is that they require maintenance and a rigorous cleaning routine. Often, these materials are vulnerable to heat, water, and mold, which makes the upkeep expensive in the long run.
Stone wall installations are heat resistant, protect against seepage and prevent mold in the walls. Depending on the type of stone you use for the wall, the cleaning can be easily done with a detergent, water, and a sponge. 
Value Addition
According to research, remodeling with stone veneers yield the second-highest return on investment for residential owners. This means that the stone wall not only adds to the comfort and look of your home but also adds substantial monetary value. 
Multiple Uses
Stone walls are not limited to a specific area in the house. Since there are limitless options of stones to be used for interior walls, they are multi-functional and easily available. From fireplaces to television walls, you can use them in many interesting ways.
Types of Stone Walls
Depending on your budget, purpose, and style preference, there are several stone walls that you can choose from.
Fieldstone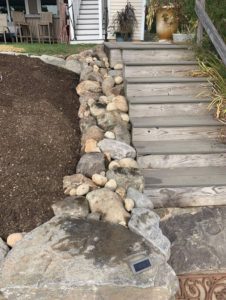 Italian fieldstone has been common for driveways and patios. It is only recently that homeowners have started to pick it for interior walls as well. Available in different shapes, colors, and sizes, fieldstone can be stacked to create a unique design.
Limestone
One of the lightest available stones, limestone is the perfect material to add a contemporary look to a home. Whether you install a kitchen wall of cream limestone or add a grey limestone backdrop to your television screen, the look of your home will be enhanced elegantly.
Sandstone
Another versatile option is sandstone, which comes in light hues and red tones. Available in a variety of sizes and soothing colors, light sandstone gives a modern and stylish touch to the interior. The red sandstone is somewhat similar to bricks and adds a vibrant pop to an otherwise dull space.
Slate
Slate is one of the most popular stones for balcony wall installation, living rooms, and kitchens. Available in an array of colors, slate provides a sleek and chic look to any living space. It's also easy to maintain and can be installed easily.
Veneer Installation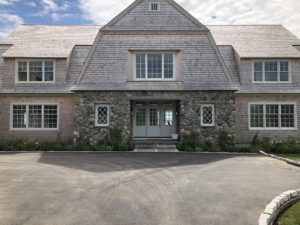 If you want a cost-effective yet equally appealing option, stone veneer is your best bet. Made of real stones, bricks, and cement, stone veneers can be given a variety of shapes, textures, and almost any color. This is a great idea for people looking to improve their living areas in a budget-friendly way.
How to Pick a Stone?
Before we talk about five of the most popular stone walls, you need to understand how to pick one that's best suited to your requirements.
Style
Presumably, the biggest factor in deciding which stone to pick for stone cladding depends on the look you want to give to your home. For a more rustic look fieldstone is preferred whereas limestone is used to add a contemporary soft look. Discuss what you have in mind with a stone veneer installation company and they will recommend it.
Uses
The place where you want the stone wall installed is also important when picking a stone. For example, cobbler stone and coral are popular choices for bathrooms due to their dark colors and ability to absorb watermarks. 
Budget 
One can not overlook the importance of budget when it comes to remodeling. Natural stone walls cost around $25 to $80 for the material, add the labor and designer's charges, and you will have an idea of the total. Or you can also reach out to a reliable masonry service in your area for an estimate.  
Hire an Expert
Stone walls require precision and experience. An untrained mason with no experience in stone veneer installations can mess up your interior walls and do a poor job. If you are in Maine, get in touch with us at Stone Solutions Maine. We are a renowned name for stone veneer installation, masonry services, and landscaping services.