After a long day at work, comfortable outdoor living space is extremely inviting. After spending time indoors all day working, you deserve some fresh air under the stars. A sanctuary in your home means you can take a break whenever you like.
Here's how you can go about creating your mini sanctuary:
Comfortable seating 
To actually spend time outdoors, you need to have comfortable seating. Make sure there's enough for the whole family. If you have guests over often, ensure there are enough seat options for them too. There's nothing more awkward than having guests in the garden and having them stand the entire time. 
Invest in good-quality and comfortable patio furniture. If you have the space, some permanent seating is also great for that garden-like feel. 
Add a swing 
Whether you have kids or not, a garden swing is always a great addition to the backyard. Imagine sipping your morning cup of coffee while taking in the morning rays or relaxing on this swing after a long day at work. If you have kids then you will rarely find this swing vacant!
A pergola is ideal for larger backyards 
Some homes have a large garden or outdoor living area and it's essential you make the most of this space. Adding a pergola to your backyard will enhance its overall appearance. The pergola can be accessorized with drapes, outdoor lighting, and a dedicated pathway as the perfect finishing touch. Add comfortable outdoor seating and tables so the area can be used to entertain guests and serve meals and refreshments. 
The style of pergola you opt for is entirely your choice. For a more traditional home with vintage accents, a wooden pergola with flowy drapes is perfect, along with some vintage-inspired lighting. As for more modern homes, a minimalist pergola with furniture to match will do. 
A mini play area for the kids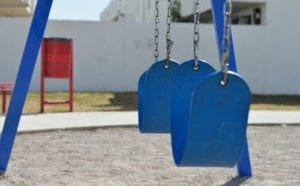 Work on developing a play area for your children in your backyard. This means that the kids won't have to go to the park every day and can safely play in the comfort of their home. A play area also makes play dates with their friends more fun too. 
A play area at home can really help with the physical, emotional, and mental development of your children. For example, a sandbox can help them learn many science concepts, while also helping motor skills. Using a swing, on the other hand, increases special awareness and improves balance. Climbers and slides help a child exercise and utilize their energy, while also building strength. 
Having a play area of their own in the backyard means that you as a parent can relax and be sure that they are in a safe space. 
Add more flowers or start your own vegetable garden 
How about adding some more color to your garden with more flowers or a vegetable patch? Having your own vegetable garden is incredibly fulfilling and you learn to appreciate fruits, vegetables, and herbs much more, in addition to becoming more self-sufficient. Gardening is also a fun activity to take up as it's so productive. 
Add some shade for the scorching days 
While we look forward to summer days, the sun can get quite bright, causing sunburns and headaches. Have some shade incorporated into your outdoor living area. Invest in something that allows you to adjust the shade and remove it for the night. 
Consider having a cocktail pool or spa 
A cocktail pool or spa is ideal for smaller backyards. It creates a vacation-like atmosphere at home. You don't need too much space; it's all about utilizing the space you have to create that oasis you want.
A fire element is always welcoming 
No outdoor space is complete without a fire element. Fire pits are ideal for smaller backyards, while outdoor fireplaces are recommended for larger backyards. 
Have your home's deck and hardscaping upgraded by the experts at Stone Solutions Maine. We are a leading landscaping service in Saco and use high-quality materials to complete a client's projects. We help residents achieve the perfect outdoor living space and enhance the curb appeal of their properties. No matter what your vision, we can help you achieve it. Our services include fire pit and fireplace building, stonewalls and veneers, patios and driveways, and landscaping. We service areas include Falmouth, Yarmouth, Cape Elizabeth, Scarborough, Arundel, Freeport, Cumberland, and South Portland too. View some of our past projects and see how much we can help you!.