Are you planning to renovate your entertainment area before the summer season kicks in? Why not invest in a new patio fire pit as part of your revamped backyard? 
A fire pit can be a great addition to your property. Creating an outdoor oasis right in your backyard will allow you to utilize your outdoor space to its full potential.
If you have a landscaped yard with a patio and retaining walls, a fire pit can serve as the final missing piece of the puzzle that will make your backyard whole.
Picture this: you're sitting in your backyard's patio on a cold night, with a fire pit by your side letting off radiant flames, you can feel the warmth on your body.
Sounds intoxicating, right? It can actually create a hypnotic affect. Still not convinced? Here are some benefits of having a patio fire pit you should know: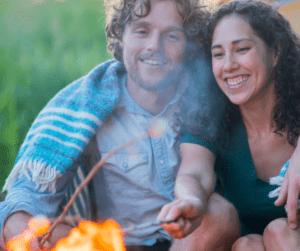 A cozy atmosphere 
A patio fire pit can be the ultimate focal point of your outdoor space, creating a cozy and relaxing atmosphere. It can serve as a perfect spot to relax and unwind. 
Sitting by a fire can be very comforting. It promotes relaxation and can even reduce your blood pressure. The fire pit also adds a unique appeal to your patio space.
Whether you want to grab a beer and chill out after a long day or hang out with your friends, watching the dancing flames in your backyard can be a soothing experience. 
A social hotspot
A patio fire pit in your backyard can create an inviting space for guests. Your place will become a hub for gatherings and serve as a perfect centerpiece of parties.  
There's something about the fire pits that draws people to it. They create a perfect setting for deep, meaningful conversations with family and friends during long winter nights. 
The fire has a calming effect that brings everyone closer. It brings serenity and a sense of belonging, helping people to bond and get along with ease.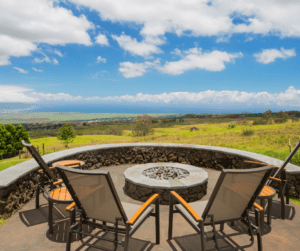 Year-round pleasure
Patio fire pits give a warm and comfy feeling because they are often protected from the chilly winds at night. But don't mistake it as a seasonal amenity reserved only for winter times.
While nothing beats the comfort of sitting by the fire during cold nights, fire pits are also a perfect backyard companion during mild springs and summertime. 
They can be the main attraction of your outdoor parties, illuminating the yard with flames. A warm element by the patio creates a pleasant experience year-round.
Romantic ambiance
Patio fire pit not only makes an excellent hub for social gatherings but creates an intimate environment to spend quality time with your significant other. 
Invite your honey to savor a cup of coffee with seductive flames by the side. The romantic ambiance can set the mood for the rest of your night. 
You can cuddle up and have in-depth conversations with the warmth of the fire teasing the sentiments. It can be spellbinding and indicative of intimacy.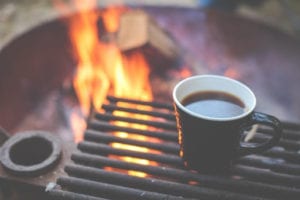 A Second kitchen 
Having a fire pit by your patio allows you to put your outdoor culinary skills to the test. It can serve as a second kitchen to your home. 
We're not only talking about toasting marshmallows to create s'mores or shish-kebabs for a BBQ party, but proper meals, including appetizers, main courses, and desserts.
You just need to grab some cooking equipment like grills, pots, stainless sticks, and you're all set to unleash your inner Gordon Ramsay.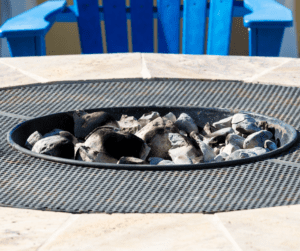 Does a patio fire pit add value to your house?
Yes. Adding a patio fire pit indeed increases the value of your property. On average, you can get around 67% return on investment. 
For instance, if you spend eight grand on a fire pit, then you can expect an increase of roughly five thousand dollars in your home's value. 
If you have a landscaped yard, you can even push the price higher. If you have a beautiful, well-maintained patio by the side, it will also contribute to the extra value. 
Final words
A patio fire pit in your backyard can be the highlight of your property. It can improve the curb appeal of your home and provide you a comfortable outdoor space. 
Whether you're throwing a party, seducing a date, or hanging by yourself, a patio fire pit sets the right ambiance. 
If you've decided to install a patio fire pit in your backyard, get in touch with Stone Solutions Maine. We specialize in the custom construction of patios and outdoor fireplaces in Saco and Southern Maine. Our extraordinary attention to detail, extensive knowledge, and a focus on customer service ensure the best results. We serve Saco, South Portland, Scarborough, and the surrounding areas. Get a free quote for your project today!