Hardscaping refers to the addition of solid landscape materials to your backyard and garden. They serve the purpose of adding an aesthetic to your home while adding a bit of functionality. Compared to setting up a traditional garden, hardscaping provides a great deal of convenience, which makes it a more compelling option for most people. 
Here's why you should consider getting hardscaping services for your home:
Added Functionality
Hardscaping allows the area outside your home to be put to good use. Got a dull-looking backyard? Why not set up a patio back there? It'll act as a place to enjoy the blessings of the great outdoors without ever having to leave the comfort of your house.
Other ideas include outdoor firepits, beautifully crafted out of rustic stones, or a pizza oven to cook some delicious food. All of these installations turn your bland old exterior into space you can utilize for several occasions and spend your time.
Easy Maintenance
The materials used in hardscaping include granite, rock, stone, and gravel. The advantage of using these materials is the ease of cleaning they provide, along with a high level of rigidity. They can withstand rugged conditions and take up quite a beating without breaking or cracking in the middle. They also stop a great deal of erosion, and the flowing water will not damage these materials either.
Reduce Water Wastage
The advantage of hardscaped backyards over green backyards is the amount of water you'll end up saving, along with the time and effort it takes to routinely maintain it. Not having to keep grass, plants, and flowers from turning brown will end up saving you a lot of money in the long run.
Added Property Value
Adequate maintenance will fetch you a higher price for your property. With installations such as a patio, custom paver driveways, walkway designs, and stone veneer installations, potential customers will definitely be wooed over. A hardscaped property correctly maintained and furnished will be more valuable than others on the block.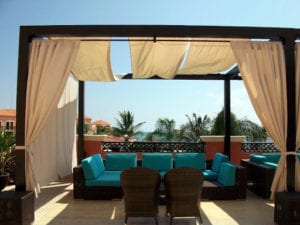 If you happen to be in Saco or South Portland, ME and required someone to help make your house look better, you're in luck! At Stone Solutions Maine, we offer landscaping and hardscape services at honest, affordable prices. We've been in the business for 30 years, helping people bring their visions to life by creating a look for their home exterior that matches their plans. Tell us your plans for your home, and we'll be happy to help.