Fifty-five percent of American adults were gardening during the coronavirus pandemic in 2020. Yes, gardening has skyrocketed in popularity during this crisis. When it comes to gardening, though, not many people understand the ways that their lawn speaks to them. That's right. While they can't express their emotions the way we do, plants and vegetation can communicate their needs through very specific, telltale signs.

Complaining about your plants' squash size or the pest-riddled leaves won't help deal with your lawn problems. Unless you understand their visual language, you won't be able to transform it into a lush, blooming garden. Here are some common lawn problems you should know. 
Brown Spots
If you thought your skin is the only thing susceptible to brown age spots, think again. When your flourishing, green lawn is dotted with brown or dead spots, it can make your garden look unattractive and create a negative impression on your guests. 
When the soil's pH level increases and becomes highly acidic, the grass changes its color to brown. By adding nutrients like sulfur or lime, it can fix the grass's pH balance. A rock or stone buried an inch or more beneath the soil can obstruct water from hydrating the roots, making them appear dry. 
In either case, you need to assess whether the brown spots are restricted to one area. If so, you might need to adjust your sprinkler heads to ensure it covers your entire lawn. But if the grass's condition is beyond repair, you might need to substitute the soil and grass altogether.
Matted Grass
You could also have a fungus problem, a telltale sign of which is matted grass. This is usually caused by excessive wetness during the hot summer months. A combination of warm temperatures and dampness can promote fungi to grow in your lawn. 
To check what's causing this problem, inspect the grass blades closely for fungus or any other problem like inadequate watering. You should also examine the areas that are next to dead garden spots.
Check for any dying leaves, discoloration, lines, or spots across the grass. If there's any fungus, the morning dew will stick to it, making it visible and resembling a spider's web.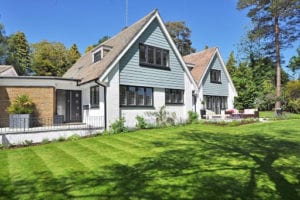 Insect Invasion 
Lawns generally host several types of bugs and pests that can cause multiple problems. But if your garden is dehydrated, overheated, or suffering from a disease, it can be more vulnerable to pests. 
Armyworms, cutworms, and Japanese beetles usually camp out on roses and trees. When the larva emerges, it can target your grassroots and worsen the state of your lawn. Consulting a specialist is essential to know which type of insecticide you should use for the kind of insects you have in your garden.
Looking for an expert landscaping service in Saco? With 26 years of experience, Stone Solutions Maine offers premium landscaping services, outdoor fireplaces, stone veneer installation, custom paver driveways, and more in Cape Elizabeth, Falmouth, Yarmouth, Scarborough, South Portland, ME, and other areas. Get in touch with us today to transform your lawn from drab to fab with high-quality, locally sourced materials!