If you live around Saco, you know just how important an outdoor fire pit is.  And if you are looking to renovate your backyard, a new outdoor fire pit addition can be just what you need. Traditional outdoor fire pits have a metallic design that tends to get rusty over time, giving them an antique look. However, there are several other materials you can choose from to create a custom fire pit that would last longer and fit perfectly in your backyard. Here are some ideas to get you started:
Retaining Wall Blocks
Retaining wall blocks are easily available at local home improvement stores. The slightly curved sides of these blocks make them easier to stack in a circle. You wouldn't need to create a base for this pit as the floor of your backyard can be easily used for that. Cut one block in half and place these halves near the bottom rings on either side of the pit to create a working vent so that the pit receives sufficient oxygen flow. 
Garden Ponds
If you have an old garden pond in your backyard, you can effectively reuse it to create a fire pit. Make sure that the pond has been lined with non-combustible rocks, stones, or concrete. It may not be suitable for use as a fire pit if it's lined with a PVC or a synthetic rubber material. The garden pond fire pit is an interesting option as the fire pit would be on the ground level and create an unconventional cozy spot in your backyard.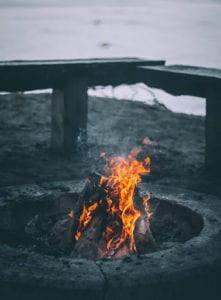 Metal and Glass 
A fire pit made of glass and metal is a combination that looks modern and smart. You can easily create it using sheets of glass and a metal planter, which are also available at your local stores. A rectangle or square-shaped metal planter would be best to use. You can use marine silicone to glue the glass sheets on the side of the planter and add a metal grate inside. 
Ultimately, any custom fire pit design you choose would have to blend in well with the existing items in your backyard. While this is an interesting DIY project, you can always seek an expert's opinion too. If you are interested in exploring more ideas for a custom outdoor fire pit or garden landscaping in Saco, reach out to us at Stone Solutions Maine. We provide gardening, landscaping, driveway installation, and masonry services in Falmouth, Yarmouth, and nearby areas.