It's common for people to want and stay huddled up within the comfort of their home in the winter, but the outdoors have too many positive aspects to not be a part of one's routine. It's best for the mind and body to spend some time outside the home regularly, and what's better than an outdoor living space in your backyard to do that?
Here are some benefits of a good outdoor living space in the winter:
Better Metabolism
A common problem that people suffer from during the winter is unexpected weight gain. Sure, staying inside and having warm food and drinks are important, but you develop a better, faster metabolism when your body is exposed to the outdoors in the winter. 
You can take a walk in your garden or backyard. Engage in some sports and activities while staying within the boundaries of your home. This gives you a chance to have a great time while getting enough activity to reduce that weight gain.
Fight the Winter Blues
We've all felt the winter blues kick in, making us feel a bit down and out. But don't worry, you've got your outdoor living space—spending some time in nature has positive effects on the body that can make a difference. Serotonin, the chemical used to regulate joy and happiness, is influenced by vitamin D from sunlight. 
Exercises in the backyard under the gentle rays of the sun could be the dosage you need to feel better during the chilly winter days.
A Wide Range of Activities
A well-furnished outdoor living space gives you ample opportunities. You could set up a fireplace to stay toasty while you enjoy the outdoors. You can also get other installations, such as pizza ovens and barbeque pits to cook delicious food outside the house. 
You can invite others to enjoy all of these activities with you, making your backyard the place for parties. Having some company around can be good for your mental health sometimes.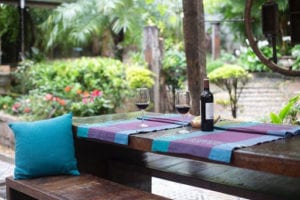 Planning to make the most of your outdoor living space this winter and happen to be in Saco or South Portland, ME? Consider yourself lucky! Stone Solutions Maine provides landscaping and hardscape services at affordable prices, offering outdoor firepits, custom paver driveways, and walkway designs.
Share your plans and projects for your home with us, and we'd be happy to help you bring your visions to life with our expert stonework and craft.