Hot summer days and nights call for a dip in the pool. It's the perfect way to start your day, and a refreshing end as well. Now that it's officially pool season, is your backyard ready? 
Here are some ways to update the pool deck and improve its appeal: 
Replace the patio 
Whether your home's patio surrounds the pool or just provides a base for the furniture, it's the foundation of the hardscaping of your home. If you've invested in an in-ground pool, elevate the look of the area with a stylish patio. Patio pavers, treated wood, cement, and even concrete will wear out over time, particularly if you're using the pool regularly. The moisture increases wear and tear, and it won't be long before your pool's deck looks worn out and old.
Spring and summer are the best seasons to have a new patio installed to match your taste and style. With more materials, colors, and textures now available on the market to redo the patio, you can find something to suit your style. 
The materials to redo your pool patio range from brick to natural stones, pavers, concrete, and custom materials. These pool deck options are water-resistant. If you're unsure about which one to opt for, our team can help you make the best decision that takes into account the aesthetic you're going for, in addition to your budget and durability.
Expanding your patio 
When having your patio upgraded, consider any expansion you would like. You might want more space to be able to entertain guests or your family has expanded over the years and you require more space. When having this work done by a professional, you can use this opportunity to add unique patio patterns and designs while creating a custom poolscape to enhance the visual appeal of your home. 
Change up the coping 
The coping of the pool refers to the perimeter between the water and the deck. This area will get wet, particularly when the pool is in use. You have to be very careful when choosing the materials for it. You will most likely have to change it up every few years, too, due to the wear and tear. 
Changing the coping alone can really improve the look of the pool deck. It's one of those changes that aren't glaring, but it freshens the look of the whole space very subtly. Use this opportunity to add a new design or change the color of the stone or brick. It's an easy way to change the look of the pool without doing too much.
Consider adding an overhang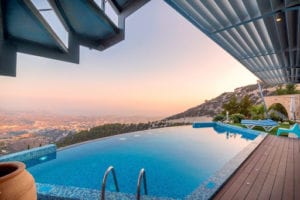 To really transform the pool deck and make it an enclosed oasis for your family, have an overhand installed. Not only will this completely transform the pool, but it will add value to your property too. The glass enclose makes it seem like you're swimming in a luxury infinity pool. Have a pergola added for added privacy and design.
Add tiles 
For homeowners that love colors and patterns, adding tiles are the easiest way to update the pool deck, while adding so much personality to your outdoor living space. Incorporate tile within the pool deck scheme, adding fun and playful patterns between the brick to tie in the look. Brick and stone on their own can look boring after a while, so this is a great way to keep things looking fresh. 
Another option is to have an elevated coping built that's adorned in tile to enhance or bring attention to the pool's shape or outline. You do have to consider using a tile that won't become slippery when wet. 
Incorporate big designs
Most pool decks are made with smaller, stacked pavers or bricks. To truly upgrade your pool deck, incorporate large natural stones and pavers for a unique and modern look. This one change alone can elevate the look and appeal of the entire area. 
Stone Solutions Maine is a leading landscaping service in Saco. We use high-quality materials to complete our client's projects. We help residents achieve the perfect outdoor living space, despite the size of their backyard. No matter what your vision, we are able to help you achieve it. Our services include fire pit and fireplace building, stonewalls and veneers, patios and driveways, and landscaping. Our service areas include Falmouth, Yarmouth, Cape Elizabeth, Scarborough, Arundel, Freeport, Cumberland, and South Portland too. View some of the projects we have completed over the years.