Are you thinking about changing your patio setting? Take a look at these unique and impressive patio setups filled with creative ways you can make your patio appealing to your guests.
Patio Lighting Ideas
With the correct external lighting, you can enjoy your patio even after the sun has set. After dark, lighting systems hanging over a concrete patio can assist in warming up the outdoor settings. 
Outdoor Patio Bar 
Install a bar on your patio, and then you can relax with a chilled cocktail on bright sunny days. Even though this idea may sound expensive, there are DIY ways to install it at home easily. Finish the look by adding furniture and an umbrella.
Incorporate a Fire Pit
Install a fire pit to provide a warm meeting space for friends and family. In your concrete patio lounge area, add flower pots loaded with vivid flowers and cactus to make it elegant. Gazebo chairs with accent cushions provide a comfortable place to sit and enjoy while grilling burgers.

Patio Designs for Unused Areas
Transform unused portions of your yard into attractive decks. With elegant furniture, vivid drapes, and wonderfully potted vases, you can create a pleasant atmosphere for your guests. You only require some cushioned seating to create a functional patio, and adding new furniture can revamp your patio's look completely.
Ideas for a Relaxing Patio
Patios must be pleasant havens away from the hustle of regular life. Use pastel palettes, minimal seating designs, and abundant greenery to create calm sceneries. You can also keep it functional by using waterproof furnishings and growing an easy-care pot garden.
Patio Decorations in Bright Colors
A dash of color can promptly add character to your patio. To bring diversity and liveliness to the environment, try refinishing antique furniture with a suitable color choice. Select primer and acrylic, which are designed for outdoor use for the smoothest results.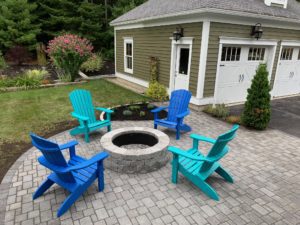 Stylish Patio Accents
Add elegant accessories to a patio to increase its beauty and functionality. Ornamental tables in complex shapes and embroidered fabrics in vibrant colors may provide a more polished and trendy appearance. You can also add decorations like statues or lanterns to add beauty.
Patio with Small Gravel
You don't need a big garden to build a patio of your choice. Make a little corner by setting inexpensive pebbles. To eliminate weeds and mud, set down the gardening cloth first, then sweep the substance on top. To finish your unique gravel patio, add a couple of seats and barstools.
There are some amazing ideas for your patio, but you need expert advice and services to add a finished look to your design.
At Stone Solutions Maine, we aim to give your outdoor space a touch of aesthetic beauty and functionality. Our landscaping services include patio services, driveway installation, stonewalls and veneers, fire pit and fireplace installation, outdoor landscaping spaces, and more. 
We offer these services in South Portland, Falmouth, Cape Elizabeth, Scarborough, Yarmouth, Arundel, Cumberland, and Freeport.  Contact us today.