Patios are practical as they provide a hard standing to walk on and are a great place to arrange your garden furniture. They can also give your home a new look as they transform your garden into a beautiful outdoor room.
However, before you contact landscaping services to install a patio, you might want to consider a couple of things. Read on to find out what those are.
Location
Think about where you're going to install the patio. If you want it to be a place where you can relax, you should consider installing it in a shady spot. If you want one to entertain people, it's best to install it by the kitchen or the outdoor grill. You should consider installing it by a pool or a hot tub if you're looking for a place that complements your patio. It's also important to think about access and convenience because if it's difficult to get to the patio, you probably won't use it that much.
Materials
Another crucial factor you might want to consider is material. Most patios are made with either concrete or wood. Concrete is a good choice if you want a ground-level patio because it has more strength and durability. On the other hand, if you prefer a raised patio, it's best to use wood because it's more structurally sound and lighter. You can also choose from stone or brick for ground-level patios as they offer the same benefits as concrete.
Shape
Your patio doesn't necessarily have to be rectangular. It can have curved edges that blend in with the surroundings and look more appealing. If the idea of cutting slabs puts you off, you can proceed without it, especially if you have irregular edges. Just fill the space around the edges with stone chippings or gravel, and you're good to go. But if mowing will be a problem, you'll have to reconsider.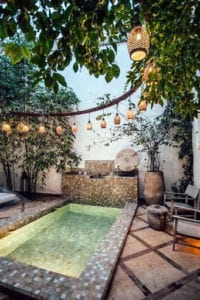 Lighting
You can't enjoy the patio at night unless there is sufficient lighting. Therefore, before installing a patio, you should consider which lighting to put up. Ideally, one high-lumen fixture would be enough to light up a medium-sized patio. Of course, there are other options such as tiki torches, solar lamps, and string lights that you can choose from. So weigh all the options before deciding on one. If it's possible, speak to your local electrician as they can guide you better. 
If you want to install a patio for your backyard, contact us at Stone Solutions Maine. From installing patio to outdoor fireplaces, there are several landscaping services we offer to property owners of Saco. Book a free consultation now!