A stone wall is a showstopper to any home's aesthetic, quite a sight to behold. But being exposed to the outside, it is bound to catch some filth mucking up its beauty. Fortunately, maintaining a stone wall isn't that difficult and you might even have a lot of things within your home to get started on cleaning it. Here's how you can keep your precious stone walls pristine and clean:
Washing the Walls
Dust, dirt, and debris are usually floating outside in the wide-open exterior, so it's bound to land on your walls. It'll certainly have some effect on the appearance of the stone walls, but fear not, as the effect is rather temporary. Giving it a mild wash will be enough in most cases but make sure not to use pressure washers at high intensity. High pressure can damage the mortar between the gaps, which helps keep the individual stones stay in place.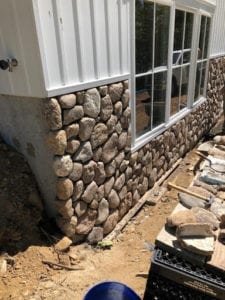 Using Chemicals
Generally, you should avoid using chemicals on your stone walls, unless you have any natural stone cleaning chemicals available. Otherwise, you run the risk of damaging the stones physically or aesthetically, causing them to lose rigidity or discolor. The mortar can also be affected by chemicals leaking into the gaps, which can cause a lot of problems if you let it settle in for too long.
Cleaning off Mold, Mildew
Mold and mildew consist of small spores that can land on a wide range of surfaces, sticking onto them and feeding off of moisture. As it grows, it causes black discoloration over surfaces. Apart from aesthetic degradation, a lot of people are also sensitive to the effects caused by mold, which causes breathing problems, inflammation, red eyes and runny nose.
Using a brush or a scrub, gently try to remove it off of the surface of the wall, making sure to give it a thorough cleaning in between the cracks as it can find a habitat in hard to reach spots.
Planning to get stone wall installation and veneer for your home in Saco or South Portland, ME? You're in luck. Stone Solutions Maine provides landscaping and hardscape services at honest, affordable prices, offering outdoor firepits, custom paver driveways, and walkway designs.
Share your plans and projects for your home with us, and we'd be happy to help you bring your vision to reality with our expert stonework and craft.