If you've updated your landscaping but still think your home could benefit from a facelift, it's time to consider an external makeover. You may drastically improve the appearance and value of your property by using stone veneer and granite.
Fitting stone veneer on the outside of your home is a wise investment. Here are some unique ideas for using stone veneers to give your home a new look;
Completely Upgrade Your Home's Facade
Houses built from natural stone add a medieval touch to your design. If your house isn't made out of natural stones, fine stone veneers can do the trick.
They are designed to appear like natural stone, with the same colors, forms, and surfaces, allowing you to have a completely new look in a short amount of time. They are popular in present times as its cost-efficient.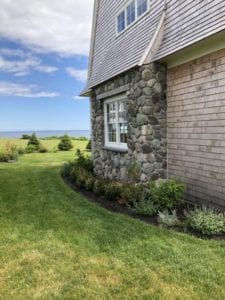 Outdoor Television Setup
This is the most modern use of stone veneers. Now you can set your LED TV in your backyard, but call a professional as this job requires special tools. The professional will install the stone veneers, leaving the space for your TV. Add some couches in front of it to complete the setup.
Outdoor Fire Pit
Just like an outdoor television setup, you can also install a fire pit. As winter approaches, it can limit your visits to your backyard. By installing a fire pit, you can get cozy and enjoy the snowfall simultaneously.
Cover The Entire Front Door Area
Stone veneers can give your house an artistic look. One way to make your house unique in your compound is by covering your doorway with stone veneers, which will add contrast to your house's overall look.
Giving New Look To Your Chimney
A chimney is a feature of your home that usually has no appeal; it only serves its purpose. But by applying stone veneers to your chimney wall, you will add a new feature to your home design. 
Cover The Garage
Covering the entire garage front with stone veneer, including the doors, is a useful technique to decorate your garage. You can add aesthetic points by using the color of your garage stone sidewall in your home.

Pillar Caps
Stone veneers are also used to make pillar caps; it adds details to the pillar and style. In most cases, granite is used to make pillar caps as it gives thermal finishing to the pillar.
Giving The Bathroom A Spa Look
A bathroom is where you can relax by drawing yourself a warm bath. Still, people feel the need to go to a spa. What if you could bring a spa home? With stone veneers, you can add a stone wall near your bathtub and place scrubs and other products to do the trick. 
If you're looking for stone veneer installation for your home, Stone Solutions Maine, the best stone veneer service provider in Maine,  offers walkway design, outdoor fire pit, patio, custom paver driveways, among other additions. Visit our website for more information, and our experts will help you with your requirements.