Is your Maine home's curb appeal feeling a bit lackluster? Looking for ways to increase its value? Sprucing up your porch and steps can do wonders for your home's overall aesthetic and worth. With endless options at your fingertips — from playing with textures and hues to adding some greenery and lighting — the possibilities are endless. So, let's take a look at some ideas that will breathe new life into your front entry and boost home value.
Elements to Consider in Front Entry Design
Designing the entrance to your home is an opportunity to make a lasting impression on your guests and neighbors. It's not just about the front door, though — there are various elements to consider that can transform the look and feel of your entire property. From the hardscaping to the landscaping, and even the lighting, each aspect plays a crucial role in elevating your home's curb appeal and creating a warm and inviting atmosphere. 
Front Door:

Select a door that complements your home's exterior, in a color that creates a striking focal point.

Hardscaping:

Choose materials for pathways that match your home's style, focusing on texture and color.

Landscaping:

Soften hardscapes with well-planned landscaping using climate-appropriate plants and symmetrical designs.

Layout and Design:

Create visual interest and balance by carefully arranging pathways and complementary features.

Lighting:

Install outdoor lighting for aesthetics and safety, highlighting architectural details.

Color Palette:

Coordinate colors across the front entry to maintain a cohesive and appealing look.

Seasonal Adaptability:

Consider elements that can be adapted for changing seasons, such as wreaths or versatile lighting.
With careful consideration and a touch of creativity, these elements come together to create an inviting and stylish introduction to your Maine home.
Styles of Front Doors
Your front door is the first thing people see when they approach your home, so why not make a statement with your personal style? With so many different styles to choose from, you can enhance your curb appeal and create a lasting impression.
If you're a fan of classic and timeless looks, a solid wood entry door is the perfect choice for you. Not only can you customize it with various stains or paint colors to match your home's exterior, but it also adds warmth and charm to your front entry design ideas. 
For those who prefer a more modern aesthetic, a sleek and minimalist front door made of high-quality materials like steel, glass, or wood is the way to go. These doors often prioritize energy efficiency and security, incorporating advanced locking systems and insulation. With their clean aesthetics and bold color choices, modern front doors serve as a stylish focal point for the exterior of your home, blending seamlessly with the overall architectural design.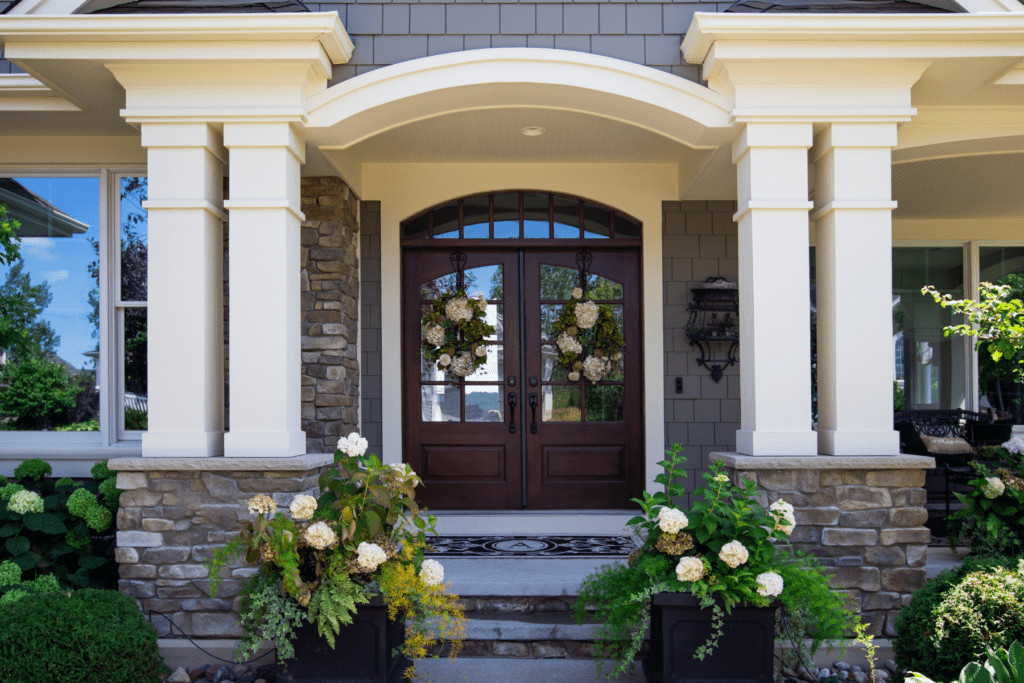 If you're looking to add a touch of elegance and sophistication to your entry, consider a front door with decorative glass panels. These doors come in a variety of designs and patterns to suit your taste and can elevate the look of your home.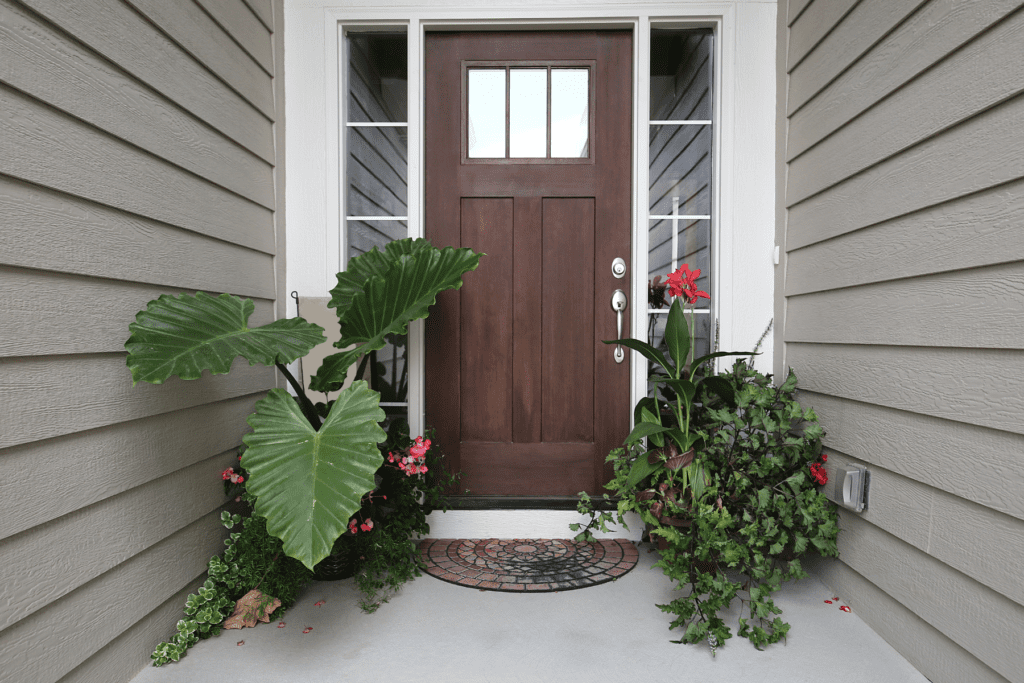 Front Steps
Don't let your front entry fall flat! Your front steps are the perfect opportunity to make a statement and elevate your Maine home's curb appeal. With a variety of design options to choose from, you can customize your front step materials to match your personal style and home's aesthetic.
For a timeless and durable option, natural stone like granite, bluestone, or fieldstone can add elegance and value to your property while also providing safety.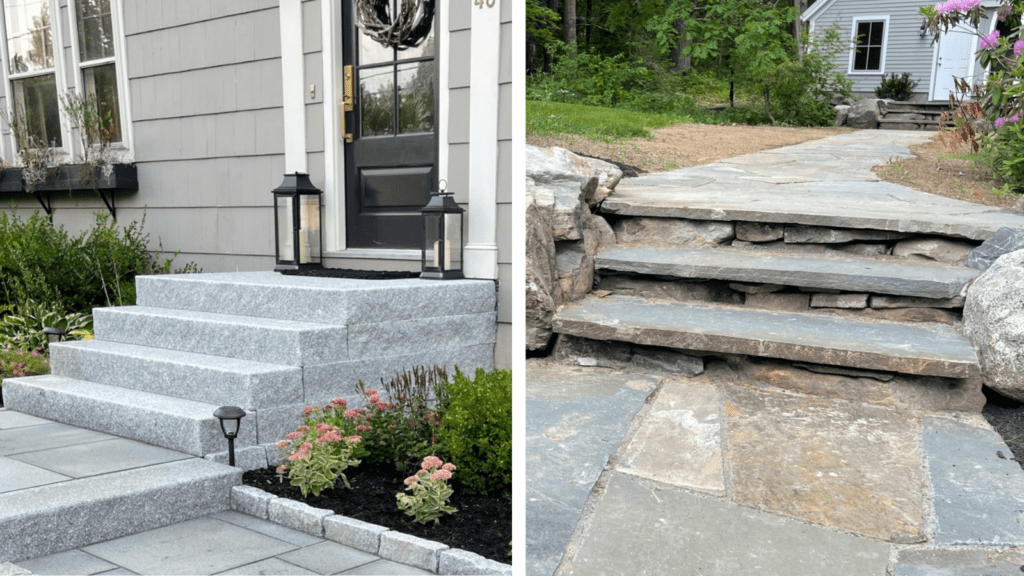 On the other hand, brick steps can create a classic and traditional feel with endless pattern possibilities to add charm to your front entry.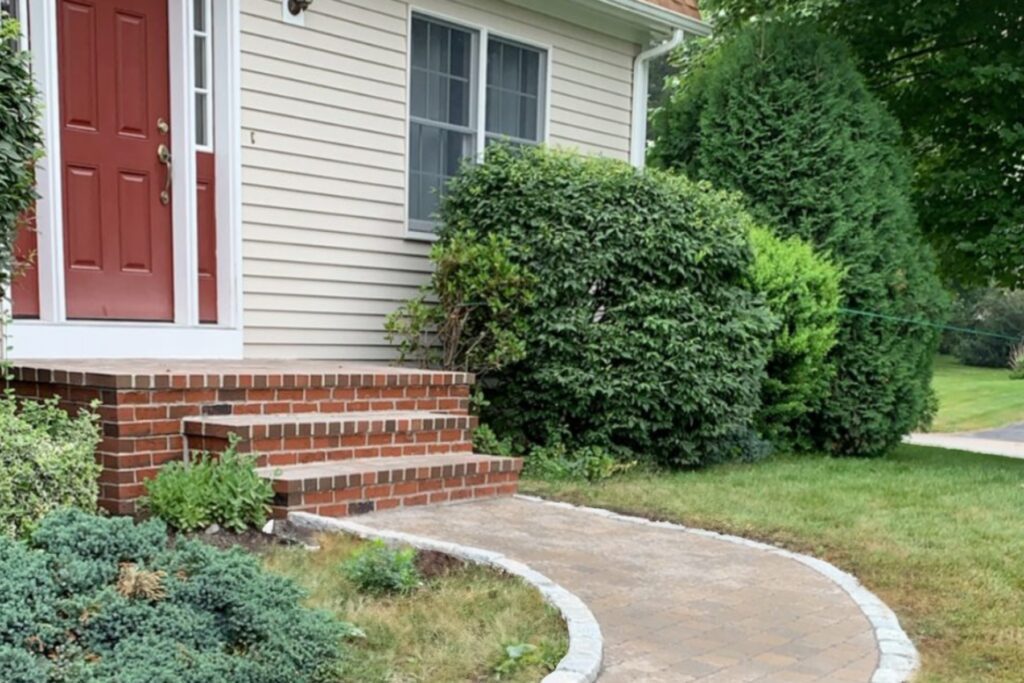 No matter which material you choose, make sure it can withstand Maine's harsh weather conditions. And don't forget the details! Adding handrails or decorative risers can take your front steps to the next level and make a big impact on the overall look and feel of your home's entrance.
Front Walkway 
The walkway leading up to your front door serves as a guide for visitors and sets the tone for your home. It's essential to choose a design that not only complements your home's architecture but also adds visual interest to your front entry. A winding walkway that meanders through your front yard adds a touch of charm and creates a sense of exploration as guests make their way to your front door. You can also incorporate different materials, such as stone and brick, to create a visually appealing pattern or mosaic effect.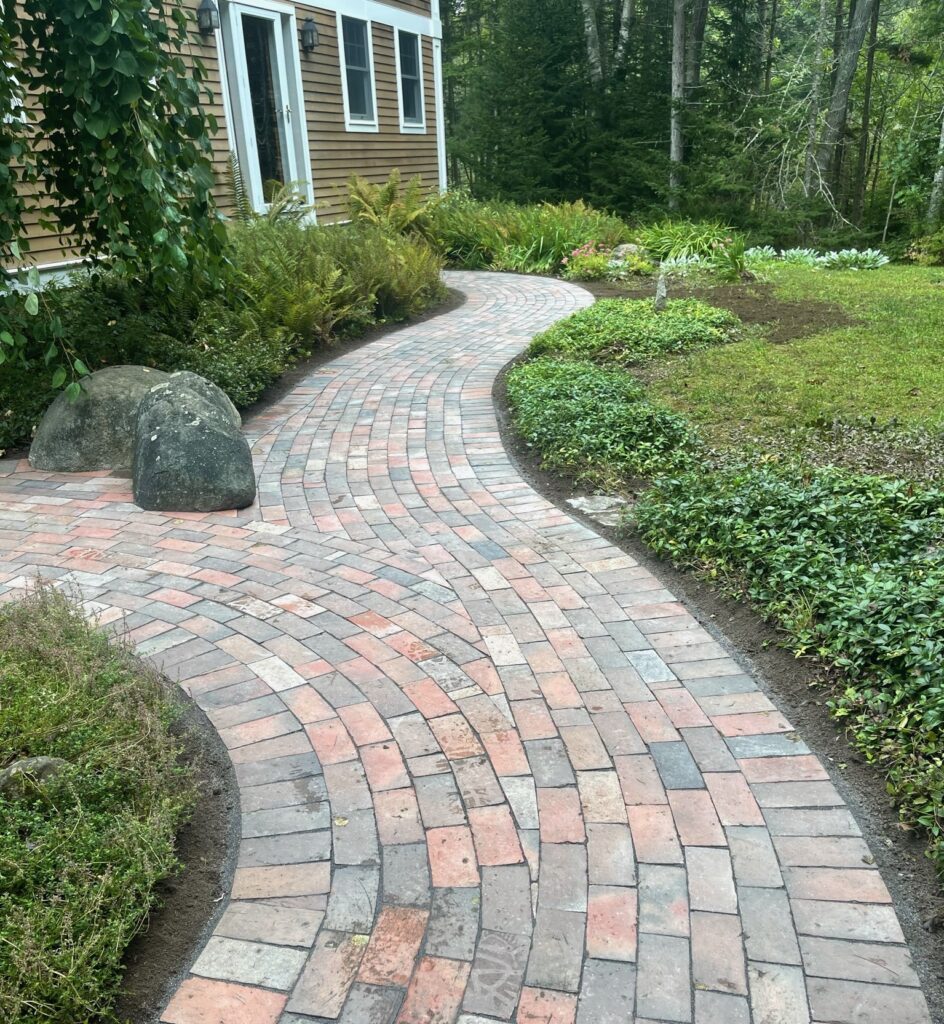 For a more grand entrance, consider a straight path with formal symmetry that exudes elegance and sophistication, particularly when flanked by manicured hedges or flowers.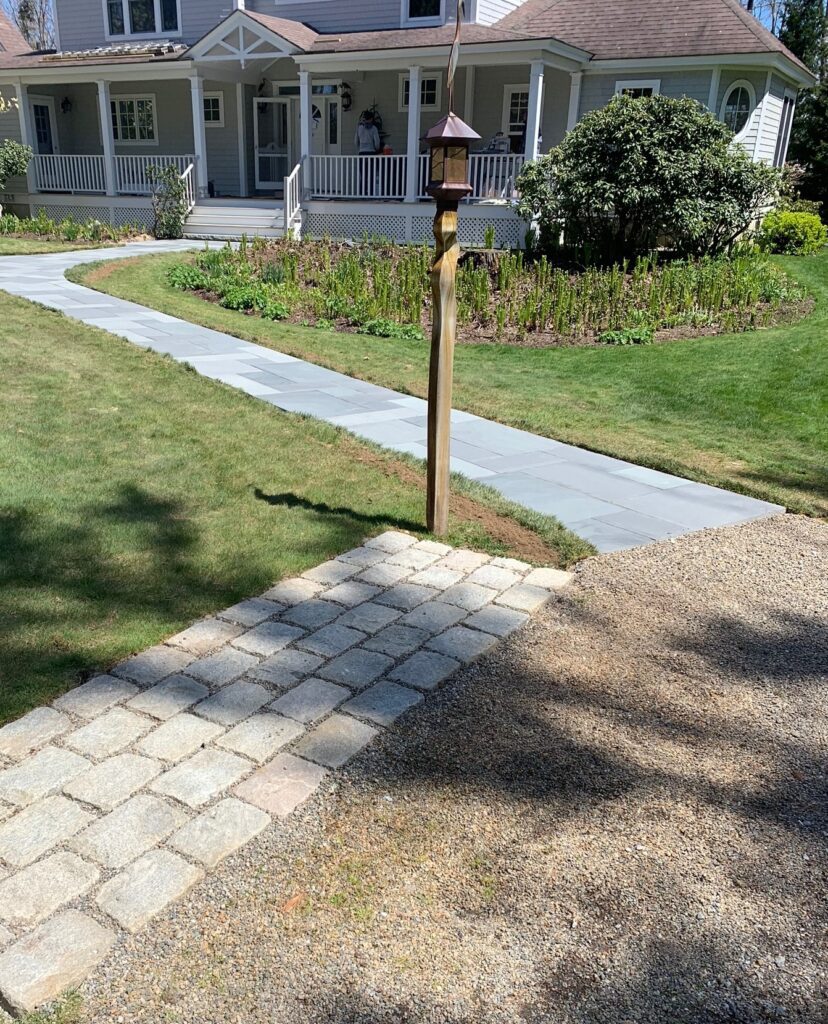 Adding a stepping stone path is a great way to elevate both the visual appeal and practicality of your front walkway. By strategically positioning these stones within the walkway layout, you can effortlessly create a delightful and welcoming ambiance. The materials for these stones are diverse, ranging from natural stone to concrete pavers.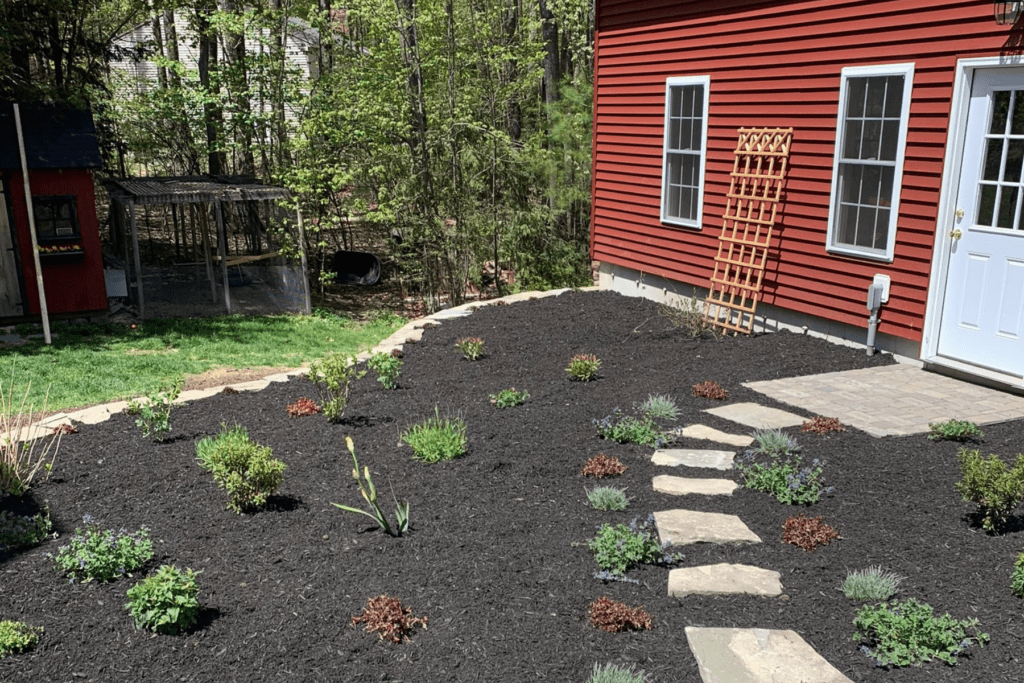 Whatever design you choose, ensure your front walkway is well-maintained through regular cleaning, weeding, and repair to keep it looking its best and enhance your home's overall curb appeal.
Landscaping and Lighting 
Creating a stunning front entry is about more than just designing the steps and walkway. It's about creating an experience that captivates and invites. And that's where landscaping and lighting come into play.
Imagine a front yard that bursts with life and color, perfectly complementing the style of your home. Whether you're a fan of formal gardens or prefer the untamed beauty of wildflowers, carefully selecting and arranging plants can add depth and charm to your front yard. And don't forget to choose plants that thrive in Maine's climate, so your front entry can look its best all year round with minimal effort.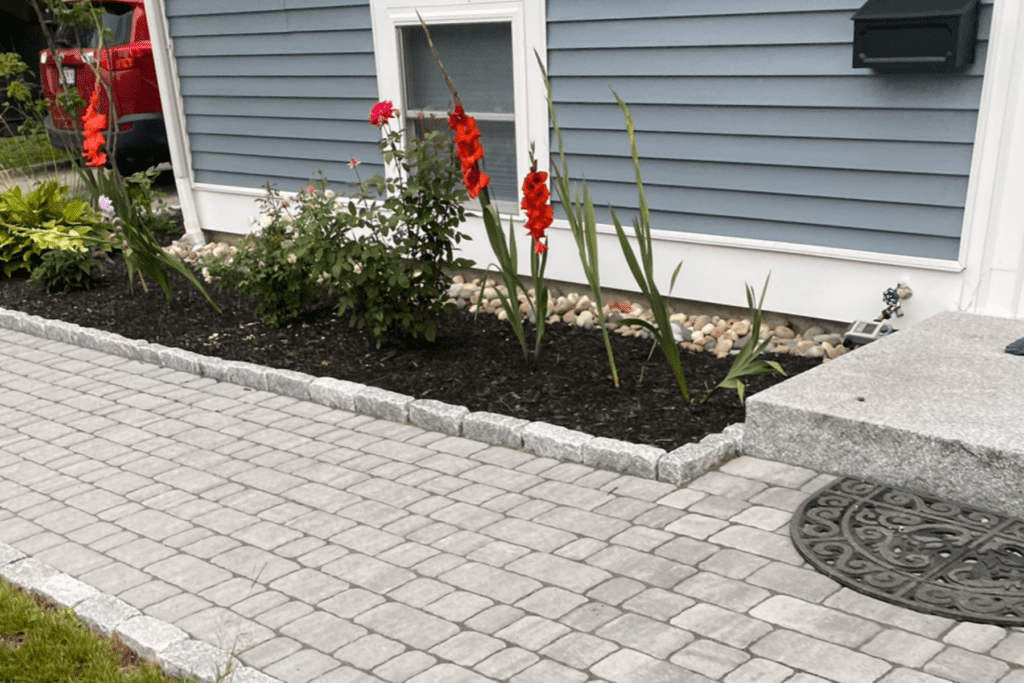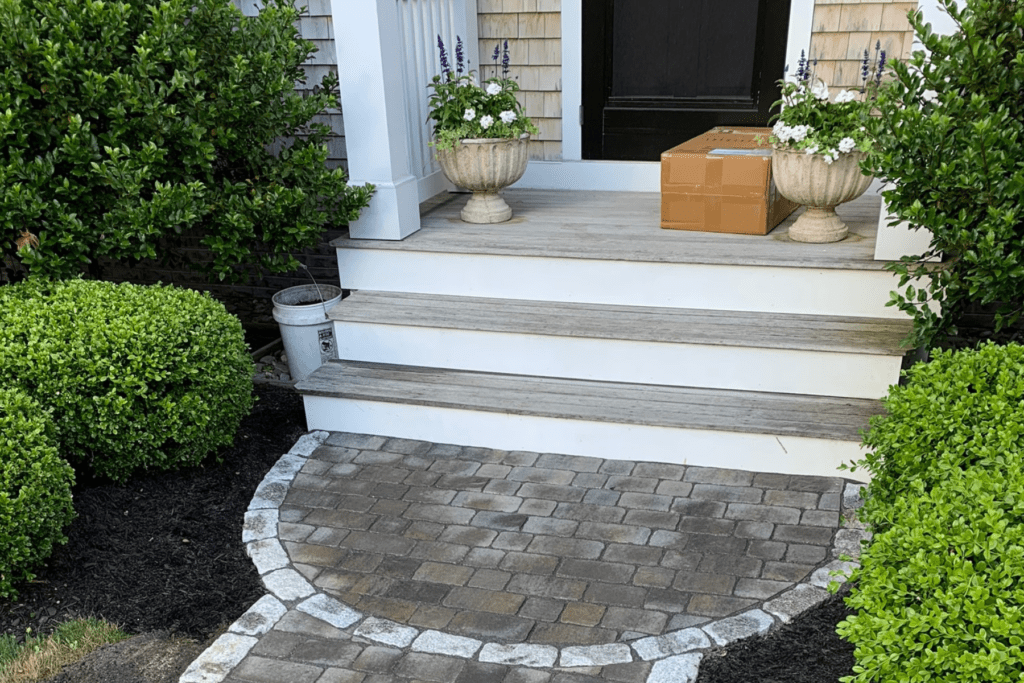 In addition to landscaping, strategic lighting can make a world of difference in showcasing your front entry at night. Thoughtfully placed lights along the pathway and around the front door can create a warm and welcoming ambiance. Use lighting fixtures that complement the style of your home and consider adding accent lights to highlight architectural features or focal points.
Investing in landscaping and lighting for curb appeal is more than just a cosmetic upgrade. It's about transforming your front entry into a breathtaking space that sets the stage for your Maine home. 
If you're unsure of where to start or want to ensure that your front entry design upgrades are done right, consider working with Stone Solutions Maine. We can help you choose the right materials, and provide expert advice and guidance throughout the process, helping you make the best decisions for your home and maximizing its value. Contact us today to start planning your project!