It's never too late to update your home's hardscaping. After a while, your home's hardscaping can begin to look quite boring and uninspiring, making it essential to make changes and update it whenever possible. 
Here are some easy steps to sprucing up your home's hardscaping, without having to demolish or spend a fortune:
Upgrade the patio 
A cement patio can look quite basic, so instead have pavers installed for a stylish look. Pavers are easy to work with and can instantly upgrade a plain patio, transforming the entire hardscape. 
Pavers come in a wide variety of colors, materials, shapes, sizes, textures, and prices. There's something to suit everyone's needs. Since concrete pavers can be added on top of your cement patio, it's relatively quick to install too.
Opt for natural stone 
Natural stones are a great option for redoing the hardscape floor. Since it's natural, it comes in a variety of shapes and sizes, giving your hardscape a bespoke look. It's important to remember that stone is much heavier, so it can be difficult to install. Hiring professional experts can ensure the project is completed properly.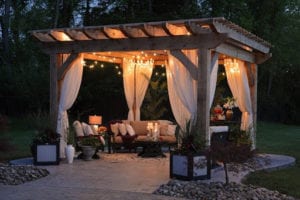 Additional seating
Additional seating is always welcome in every space, particularly outdoors. However, we don't mean adding lawn chairs to your outdoor living space, instead, invest in a variety of seating options so friends and family can choose one they prefer. Furthermore, adding a variety of seating options can help the area come together better. If you're in favor of permanent seating, custom benches can be created with stone, brick, and cement. Then you can make it more comfortable with cushions and throws. The benefit of such seating is that it's weatherproof and you don't need to move it around based on the weather or season.
Stone Solutions Maine is a leading landscaping service in Saco. We use high-quality materials for our client's projects. We help clients achieve the perfect outdoor living space. No matter what your vision, we are able to help you achieve it. Our services include fire pit and fireplace building, stonewalls and veneers, patios and driveways, and landscaping. We service many areas in Maine that include Falmouth, Yarmouth, Cape Elizabeth, Scarborough, Arundel, Freeport, Cumberland, and South Portland too. View some of the projects we have completed over the years.