Natural stone is one of the most beautiful and versatile materials used in landscaping. Using rocks can add natural texture and contrast while providing structural benefits as well. 
But homeowners are often confused about how to use rock creatively. 
Since rock is usually used for hardscaping, it can enhance living elements like plants and add structure. Moreover, using rock in landscaping can give a well-balanced look that makes it seem an original part of the site. 
Here are our favorite ways to use rock in landscaping:
Patio Construction
A patio is one of the most popular landscaping projects. You may choose to bind rocks with mortar in some cases, and in others, you may prefer using concrete, tile, or brick instead. 
The nature of your project ultimately decides which material should be used. 
Patios are a great way to extend the indoor living space to the outdoor area. An extended patio can also be used instead of a grassy lawn. This can save you lawn maintenance and watering costs.
Using Boulders To Anchor Plant Beds
If you have a small lawn with a large planting bed, you can use stone boulders to give it a grounded look. 
It works even better if you incorporate stone in other design elements of the house. Put together, they can help the whole look tie together very nicely.
Stone Walls
Stone walls can add a rustic, beautiful look to your yard. 
They can be used to line the sides of your driveway, mark property boundaries, or separate your lawn from the street, create a boundary for flower beds and edible gardens and prevent erosion from affecting your landscape. 
There's much more you can do when you incorporate a stone wall, depending on your personal preferences.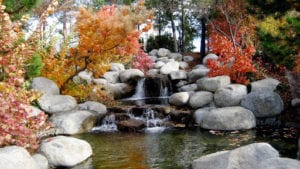 Incorporating Water
Rock and water complement each other perfectly in landscapes. 
The trend of Japanese gardens has quickly caught on, and most Americans want one in their homes. 
If you want to create the feel of a Japanese garden, using a stone fountain is your best bet. Even a small fountain can have a significant impact as long as you use it strategically.
Walkways
Stone walkways can look stunning if done right. To prevent it from looking monotonous, choose multiple elements when building a path in your garden. 
If you're using cobblestones, for example, compliment them with ground cover in between the cracks. You can incorporate small plants like moss and creeping thyme for this.  
For more landscaping tips, get in touch with Stone Solutions Maine. With various solutions, including landscaping and masonry services in Saco, we've got everything you need to spruce up your outdoor space. Contact us now for your free quote!