The landscaping industry has reached the mark of $105 billion in 2021. There are many landscaping options for your yard, but you shouldn't be limited to just the occasional flower pot. Rocks are a versatile and cost-effective way to transform your outdoor space with easy beauty.
They're also more natural for some regions where the ground is rocky or covered in snow for much of the year—like Maine!
Here are a few reasons you should consider using rocks for outdoor landscaping:
Beautiful Effects
Rocks can add a great deal of beauty to your landscape or garden. They're also one of the best ways to create your unique garden style and make it yours. Rocks range in a variety of colors, textures, and shapes, and they give you lots of options for creating visually stunning aquascapes, desert terrariums, or even waterfalls. 
You can add rock features such as benches, shelves, planters, staircases, and water features-everything you need for the perfect outdoor space. You can also use rocks in winding paths within your yard. These are especially effective at leading people from one place to another.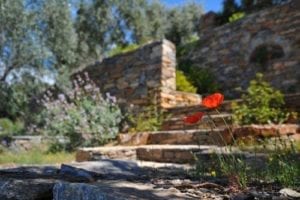 Versatility
The versatility of rocks is an essential factor in their appeal. You can use them to create different styles, from bold and dramatic to subtle and straightforward. You can also use them in a wide range of sizes and shapes. 
Rocks make great borders or dividers and they're excellent for highlighting and adding emphasis to certain parts of your yard. 
Using rocks as accents allows you to get the most out of your outdoor space while creating a look that's individualized just the way you want it to be. And with different shapes and textures, you can be sure that rocks will fit perfectly into your outdoor space no matter how unique it is.
Easy to Move
Another reason to use rocks is that they're easy to move around and relocate. For example, if you want plants, furniture, or even a swimming pool in a particular location, you can place rock borders nearby and then move them when you need to. 
It's also very easy to rearrange the rocks. For example, if you want your fence or walls to be placed in a different spot, all you've to do is move the rocks in front of them! This makes for an easy and quick process without having to move everything underneath the fence too. 
You can also quickly redesign your landscape with rocks if you decide later that it needs a change. It always costs less than getting new plants!
They Can Last Forever
Another great reason to use rocks is that they can last forever. They're not going anywhere unless you want them to. Rocks are a very permanent decoration, and they can add a sense of permanence to your yard. 
They're a good choice for people who don't want to make changes frequently as they look good and stay durable for decades! 
They're also great for people who enjoy gardening because the plant life will grow right into the rocks and add another dimension of beauty while still being easy to care for. You'll be able to enjoy your outdoor space all year long with very little maintenance.
Great For Limited Space
You don't need a huge yard to take advantage of rocks for landscaping, and they can be used effectively if you've limited space. In addition, they come in a wide range of sizes, so you can customize them for whatever yard space you've available.
Excellent Drainage
Rocks absorb water well and have excellent drainage capabilities, making them an excellent option for building patios or stepping stones. They also prevent trespassing by keeping people out of places they don't belong.
Hire Professionals to
Rock
Your Outdoor Landscaping
It's important to hire professionals for using rocks and masonry in your outdoor space. Our trained team at Stone Solutions Maine offers outdoor landscaping services in Saco. We ensure that the landscaping is done to perfection and within time.
Our landscaping services also include stonewalls and veneers, firepit and fireplace building, patios, driveways, and more. We also offer our services in South Portland, Falmouth, and Yarmouth, ME. 
Contact us today to upgrade your outdoor space.