Did you know that a well-maintained garden has numerous benefits for you?
It creates a healthy space in your surrounding and offers aesthetic benefits to the people in the vicinity. 
Here we will discuss some of these benefits and tell you why you need a well-maintained garden with the help of expert landscape services in and around Saco, Maine.
Brings You Closer To Nature
In addition to helping you calm down, relieve stress, and fight boredom, gardens make you feel more connected to nature. If you live in an urban setting that can be lonely and isolating at times, this may be the perfect way to break out of that rut. 
Plus, there's nothing better than sitting outside on a warm summer day listening to birds chirping away while you work on your garden.
You Can Garden
Keeping a garden doesn't only have material benefits, but it's also a great way to keep you mentally healthy and happy.
The best thing about having a garden is that you can start gardening! When you're gardening, you experience greater life satisfaction and enhanced self-esteem, which are good for your mental health.
Moreover, research shows that walking in nature has immense benefits for your overall well-being. So next time you're stressed about work, just take a stroll in your garden and see the difference for yourself.
Benefits of Planting Vegetables and Flowers in Your Garden
Vegetables that grow well in the garden include cucumbers, tomatoes, eggplants, asparagus, lettuce, and cabbage. One main reason why these vegetable crops can be grown successfully in a garden is that they require less water than other vegetables. 
You can also grow flowers! The main benefit of growing flowers in your garden is that they add beauty to the surrounding areas and keep the air smelling nice and fresh!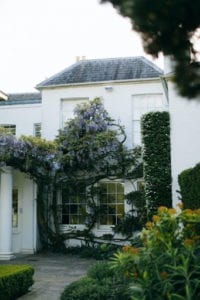 Benefits of Growing Your Own Fruit and Herbs
You can grow fruits like tomatoes, apples, blueberries, strawberries and more.  By growing fruits in a garden, you get your daily dose of vitamin straight from the source!
Herbs such as basil, rosemary, thyme, and mint are grown in gardens for various purposes, such as having the scent of the flowers or leaves in your home. In addition to that, they can be used for their medicinal purposes—for instance, eucalyptus keeps mosquitoes away.
Adds Value To Your Home
Having a beautiful outdoor garden is sure to add value to your property and make it more appealing than one that doesn't have much outdoor aesthetic or function. It's a great way to add additional beauty to your home and improve its overall look. 
It goes without saying that if you have a garden, people notice how well-kept it is when walking by. They'll perceive you as a homeowner who pays attention to detail, is responsible, and a well-groomed gardener.
Those with great gardens often receive compliments from neighbors. You can have friends or family members over for farm-to-table meals where the food is grown right there on-site.
Value addition isn't only for you and your guests; it's also for the potential buyers of your on the market. A home with an attractive front yard is valued at a higher price. 
That takes us to our next point.
It Makes Your Home Easier To Resell
Few things will make a home stand out on the market, but one of those things is a beautiful and inviting front yard. 
It looks good from five or six houses down the block, and people will be able to picture themselves sitting on the patio with a book overlooking their carefully cultivated garden. 
Picturing your home with a beautiful front yard makes it more visible and much easier to sell. 
The first thing that people notice when they're looking for a new home is the front yard. If it's not memorable, it can end up being one of the main reasons that someone doesn't buy your house.
Get Professional Garden Landscaping Services
If you're looking for professional garden landscaping in Saco, you can have your outdoor living space upgraded by Stone Solutions Maine. Their highly trained professionals know exactly what your outdoor space needs. 
We're a leading landscaping service in Maine that ensures that top-quality materials are used for all our landscaping work.
Our landscaping services also include stonewalls and veneers, firepit and fireplace building, landscaping, and more. We offer our services in South Portland, Falmouth, Cape Elizabeth, Scarborough, Yarmouth, Arundel, Cumberland, and Freeport. 
Contact us today to upgrade your outdoor space.