Having a desirable outdoor living space on your residential property has become more valuable than ever since the COVID-19 pandemic. Staying home was the best way to stay safe, and many realized their home lacked this valuable space.  Everyone now understands that their property should be self-sufficient, particularly in terms of entertainment and recreation. 
By working on the outdoor living space of your home, you're not only making it more comfortable, but you're also enhancing the value of the property. 
Here are some outdoor living space trends to consider:
Mixed mediums
You no longer need to stick to one material throughout your hardscape. Landscape and hardscape designers are now more readily using mixed materials to add texture and detail to create a lively outdoor space. By using various paving materials, dark woods, and natural colored cement, you can add dimension and interest to the yard. 
Edible gardens 
Due to the pandemic, many people took up gardening as a hobby to keep them busy during this stressful year. Food shortages also motivated many to grow their own herbs, vegetables, and fruits during this time. As a result, edible gardens have become quite popular. As homeowners are learning their way around growing fruits, vegetables, and herbs, it's being incorporated into their outdoor living space.
Multipurpose furniture 
Since entertaining hasn't been the focal point of our lives anymore due to the COVID-19 pandemic, outdoor furniture has become less about entertaining guests and more about accommodating everyday living. Invest in outdoor furniture that can perform multiple functions for you. Opt for outdoor furniture that has hidden features and that are versatile to use in other spaces of your property too. Modular tables are quite popular as you can pull them apart to accommodate seating and social distancing.
More privacy 
Since we're expected to spend most of our time at home, homeowners are now focusing on developing and designing an outdoor living space that's self-sufficient in every way. However, an important factor to consider is privacy. With building more family friendly outdoor spaces, you also need added privacy so you can use your outdoor space without the prying eyes of others. A mix of landscaping and hardscaping can be used to strategically enhance the privacy of your space. A stone wall is a great addition, particularly if your children play in the backyard or you have a pool. You might also want to consider an overhead structure to provide privacy from neighbors. Outdoor drapery panels are a great option for this purpose as it can be moved away too. 
More elaborate front yards 
While front yards are rarely the feature of a home, more homeowners are now improving the appearance of their front yards not only to enhance curb appeal but to make the most of their property.
Intricate pathways 
A beautiful walkway instantly improves the curb appeal of your home. If there's one hardscaping project you want to take on this summer, let it be installing a pathway. There are many creative pathway ideas and designs you can choose from, from a straight pathway to a winding one. Have them adorned with planters, shrubs, and flowers to enhance the visual appeal. 
Outdoor bars 
Opulent dry and wet bars are currently the most popular trend for the backyard. With people being more comfortable entertaining guests outdoors instead of indoors, an outdoor bar is an amazing addition to your home's outdoor space. This outdoor bar should have a mini-fridge for drinks, snacks, and sufficient seating.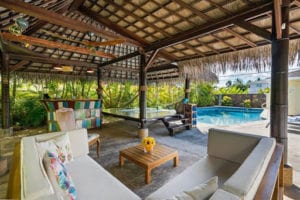 Outdoor kitchens 
With summer upon us, we're spending more time outdoors. Summer is the best time for an outdoor kitchen if you love to grill and entertain guests. Have an outdoor brick oven built for pizzas, get your grill set up, and a smoker for the best summer dining experience.
Stone Solutions Maine is a leading landscaping service in Saco. We use high-quality materials for our client's projects. We help clients achieve the perfect outdoor living space. No matter what your vision, we are able to help you achieve it. Our services include fire pit and fireplace building, stonewalls and veneers, patios and driveways, and landscaping. We service areas all over Maine that include Falmouth, Yarmouth, Cape Elizabeth, Scarborough, Arundel, Freeport, Cumberland, and South Portland too. View some of the projects we have completed over the years.