No matter what the season, a cozy fireplace outdoors is always welcomed. Imagine yourself sipping a hot beverage on a cool night after a long day. It's the perfect place to unwind and something different compared to falling asleep on the couch in front of the TV. 
An outdoor fire element is essential, particularly when you have gone through the time and effort to create a cozy outdoor space. The outdoor fire pit or fireplace is also a great place to end a night of entertaining too. 
Here are some outdoor fire elements you can add to spice up your backyard:
Pizza oven 
Who doesn't love a good pizza that's just come out of the oven? Whether you prefer a thin and crispy crust or a decadent thick crust, pizza is one of the most popular and favorite foods around. This delicious Italian creation can be found everywhere, and while every area has its own version of a pizza, it's well-loved all over. 
Pizza sales here in the United States reach billions of dollars every year, in addition to the frozen pizza industry growing at an exponential rate too. If you've ever tried to make your own pizza, you know that no store-bought pizza can replace it. There's something so refreshing about making the dough from scratch and then adding the toppings to your liking. 
If you're a true foodie, an outdoor pizza oven should be on your list of things to add to your home. It's the perfect addition all year round. A lightly flavored pizza with soft cheese is perfect for spring and summer, while a more decadent deep dish pizza is ideal for the colder months. 
Pizza ovens or brick ovens are very useful to food enthusiasts out there. Prepare some amazing meals in this traditional oven and achieve that amazing flavor that cannot be accomplished with regular ovens. 
You don't have to limit yourself to preparing pizza with an outdoor pizza oven either. You can prepare delicious rib-eye steaks, barbecue ribs, flatbread, other dishes, and even use it to keep dishes warm on a cold night.
Firepit 
If a pizza oven isn't for you, we highly recommend a fire pit. They are very easy and quick to build and install. If you're more inclined towards having a fire pit, there are many you can choose from as well. You can opt for portable ones you can buy at home improvement stores or have one built by a professional. If you're unsure about having a permanent fire pit, speak to your landscaping expert to help you figure out a fire pit that suits your needs. 
Having a fire pit makes entertaining guests a better experience. You can end a night of entertainment outside under the stars with a relaxing cup of tea, hot chocolate, or a nightcap. Having a fire pit also means you can entertain all year round.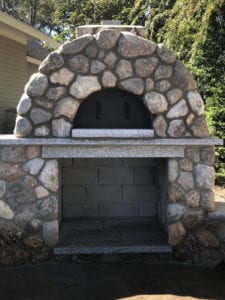 Outdoor Fireplace
If a fire pit doesn't go with the aesthetic you want for your outdoor space, have an outdoor fireplace built. While a fire pit is great all year round, an outdoor fireplace is more of a statement piece in the backyard. It creates a focal point for the backyard, tying in with the aesthetic of your property. It takes more time to build but is very useful when the temperatures drop. Visit our website to see some of the outdoor fireplaces we have worked on to get an idea.
Stone Solutions Maine is a leading landscaping service in Saco, servicing Maine areas that include Falmouth, Yarmouth, Cape Elizabeth, Scarborough, Arundel, Freeport, Cumberland, and South Portland. We use high-quality materials for our client's projects and can help clients achieve their perfect outdoor living space. No matter what your vision, we are able to help you achieve it. Our services include fire pit and fireplace building, stonewalls and veneers, patios and driveways, and landscaping. View some of the projects we have completed over the years.