The great outdoors allows you to experience nature and relax. The best way to do that is to share a meal with friends and family. While dining outdoors is an appealing idea, it should be executed correctly to make the most of it.
Here are some backyard dining ideas that will turn your outdoor space into a cozy and inviting place for entertaining.
Add some patio furniture so you can sit down and enjoy your meal
It's probably best not to eat sitting on the ground or standing up. That's why you must invest in a picnic table, as it also has plenty of space for placemats and napkins.
Add some color and pattern to your seating options with pillows
With the colors and patterns you already have, it's easy to coordinate your seating with your existing décor. If not, look for pillows that complement the colors and patterns of both the tablecloth and chairs.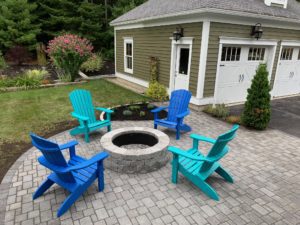 Pick a theme for your yard or garden and bring it to life with tableware and accessories
Bright sunny colors will match the theme of your garden more than darker shades of greens or blues, so pick a color you feel is perfect for the area you live in – perhaps a bright turquoise – or something neutral like black or white.
Use Folding chairs
Instead of bringing out your dining room chairs, add folding chairs instead. These chairs are easy to store indoors when not in use and lightweight if you want to move them around while setting up for your dinner party.
Throw in some games
Turn the meal into an event that includes games, contests, or other activities. It can be as simple as setting out some garden Jenga pieces for guests to play with while they're waiting for the food to be prepared, or it can be part of your main entertainment for the night.
Establish a spot for drinks so they are easily accessible
This is especially important if you have more than one outdoor area where you will be serving food and drinks. Try using some milk crates that are on their side for this purpose, or hang a basket from the porch or deck that guests can use to set their drinks in.
Arrange your tables so they are spacious but not too wide
Shorter tables will not only help with the size of the table, but they'll also allow you to see each person that comes to visit. Be sure that your chairs can accommodate larger groups, as it can be harder to keep everyone comfortable if there is too much space between their plates.
Fill A Chandelier From The Bottom 
Purchase a chandelier and fill it with sand, then hang it from the ceiling of your outdoor patio area. This way, the sand will filter through the fixture and look like water flowing between each light fixture to enhance its natural beauty.
Or install a new patio!
A patio can be an excellent way to enjoy and upgrade your outdoor dining experience. Patios are warm, inviting spaces that bring the outside indoors and offer a unique dining encounter. Following are some of the benefits of adding a patio:
You can invite the whole neighborhood over! A patio allows you to have an outdoor party with all your nieces and nephews without having to worry about them ruining the picnic table.
A patio is a great place for a neighborhood potluck! You can host a party for all your neighbors with a BBQ or sit around and play cards together – just keep everyone out of the kitchen!
You can have plenty of seating on your patio! An entire gathering can comfortably fit on most patios, so having plenty of seating is never a problem for outdoor dining enjoyment.
A patio is a good place to entertain when the weather is too hot or rainy. If the weather is not right for an outdoor gathering, you can have your party on the patio instead! You can have an indoor/outdoor party with your patio set up in the case of bad weather.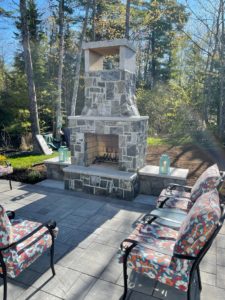 If you want to upgrade your outdoor landscape by adding a beautiful patio or growing an attractive garden, we can help you. At Stone Solutions Maine, we offer a range of landscaping services that'd make your home stand out! 
Our experts can install a custom stone patio or build a classic outdoor firepit! Contact us today to learn more about our services.