Having a patio is a great way to get some fresh air in your backyard. Whether you want to install a jacuzzi or just set up a few lawn chairs to enjoy hot cocoa on a cold winter night, a patio has a ton of benefits.
But your patio won't be a space you want to spend time in unless it's pleasant on the eyes and comfortable to sit­ in—after all, nobody wants to surround themselves with overgrown weeds and chipped wooden floors.
If you've finally decided to revamp your patio, you're going to need all the help you can get. Check out our mixed material patio design ideas to add character to your patio.
Image title: a-gazebo-in-a-patio
Alt-text: A mixed material patio with a gazebo
Paver Patterns Set In Gravel
A loose material like gravel is an easy way to give your patio or hardscape space an instantly rustic yet polished look. It's much easier to install than concrete or a brick-and-sand mix.
A round aggravated paver pattern in assorted sizes, set in the gravel, gives your patio a mid-20th century look that's like no other.
Pebbles and Square Pavers
If you want your patio to look like a posh, green, and attractive LA garden, pebbles and square pavers are the way to go. Set the square concrete pavers in place and fill the spaces in between with pebbles.
You can even add vibrant colors, like aqua or a bright blue, to make the space look fresh. Add a few pots with green leaves and succulents, and you're all done!
Three Patio Floors in One
Why stick to one material when you can use three?
A three-material patio floor combines different flooring material, like decomposed granite, pea gravel, and concrete pavers, to create a flexible and edgy look for your patio. You can create a geometric or non-geometric pathway, depending on your aesthetic preferences.
Brick Pavers and Black Gravel
This is the perfect combination for those looking to give their patio a minimalist and modern look.
The striking contrast between the textures and colors of the rusty brick pavers and the earthy black gravel works great. You can even add a pop of color to your patio with a few plant pots.
Flagstone Pavers with Pea Gravel
Take a step back from the dull, drought-stricken patio and go for a look that screams repurposed and creative sitting space, recycled pathways, and sustainable gardening.
Choose pink flagstone pavers with pea gravel in between for a vintage style look—straight out of a European movie. Add a couple of wooden lawn chairs, and you're all set!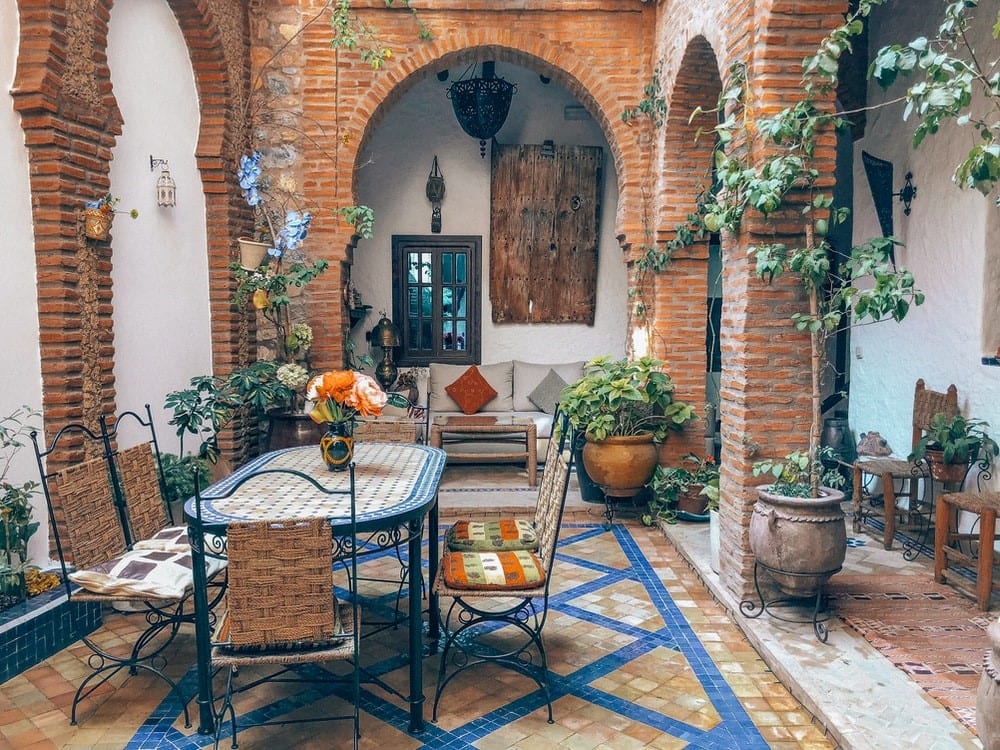 Have you decided which mixed material patio idea best fits your aesthetic needs? Then get in touch with our team at Stone Solutions Maine!
We offer premier quality landscaping and patio installation services in Saco to transform your outdoor living space. We specialize in hardscape services, driveway installation, stone veneer installation, custom outdoor fire pit installation, custom paver driveways, and walkway design services in Saco.
Give us a call for more information today!