A few good
outdoor landscaping
ideas can make you fall in love with your home again
and
increase its value
. So, before you decide on just a few generic shrubs for your front yard, take a few minutes and consider these landscaping ideas to increase your home value significantly.
Planting Trees Around Your House
One of the best ways to ensure you get the most out of your landscaping is by adding trees in as many areas as possible. Trees can be used at points of entry such as driveways or walkways. 
Get creative with the kinds of trees you plant too. If you like to switch things up every now and then, you can plant trees with flowers that change color throughout the year. You can even have one area with pines and another with birch and maple trees for an even more varied setting.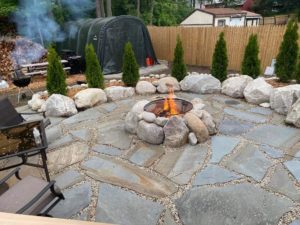 Incorporate A Pond
If a big open space is all that's around your home, consider adding in a small pond or pool in a quiet corner of your yard. Whether it's just a small koi trio or an elaborate fish haven, adding in water features will make your landscape come alive. While the expense may seem daunting at first glance, it's often not as expensive as one might think and can help you get a higher price if you want to resell your home.
Think About The Curb Appeal
Curb appeal is essentially the sightlines that homeowners have from various areas of their property to the street. Having attractive curb appeal makes it more beautiful, and also gathers more value to your home. 
One of the easiest ways to achieve this is by adding well-planted shrubs around your front door, steps, or porch area. You can even put in a small fountain for an elegant display every time you enter or exit your home!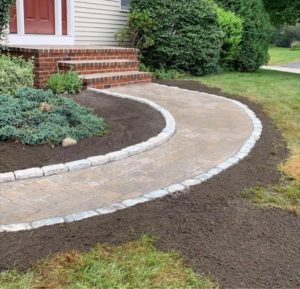 Consider Your Lawn
Plenty of people overlook their lawns, thinking it can be simply left to grow out naturally. While it's your choice to cut your grass in the ways you see fit, you should also consider ways to keep it looking its best. 
You can add various flowers that will attract hummingbirds and butterflies while adding a little color to your yard. Here is a list of some attractive flowers. Buyers are always into homes with a well-maintained outdoor garden!
Install Lighting In The Fall
Whether you buy seasonal bulbs or get creative adding landscaping ideas into the fall, spring, and summer, putting out those warm lights when it gets cooler outside can give your front yard a quaint look that appeals greatly to potential buyers. Most importantly, having these lights will keep your property safe and add a sense of security.
Have One Main Area Of Interest
Having multiple areas of landscaping can be a nice idea, but it's often a lot easier to make the most out of your space if you keep things simple. For those that don't have a lot of land and want to create an appealing look, having just one main area of interest can go a long way.
If you have a large backyard, think about incorporating some stonework or fountains that will help tie all the landscaping ideas together into one front yard that is as pleasant to look at as it is enjoyable to use.
Decorate Your Front Door
If you're looking for a little extra pizazz for your front door, try out these landscaping ideas. Many homeowners decorate their front door instead of having it set up the way they want it to be to make sure that the front looks as nice as possible daily for those entering the home. 
Depending on your home's current situation and needs, you can simply add some decorative elements to a step or a tree that is already planted in your yard. You can even have an entire statue installed right outside your door!
If you're looking for the best landscaping to increase your property's value, look no further! We're here to help you improve your property in every possible way. Stone Solutions Maine offers gardening landscaping services, outdoor landscaping, stone veneer installation, and outdoor fire pit installation.
Contact us today to learn more about our services.