The pandemic has largely confined us to our homes. Although the lockdown restrictions have been lifted, the guidelines still call upon us to avoid social gatherings. As a result, Americans are spending more time indoors. We are here to tell you that you can still gather your family in the outdoor space and have a great time.
Here's how you can make the space stand out:
Clean 
This might not sound like a fun step, but it sets the tone for the renovations and makes the rest of the steps easier. Outdoor spaces become particularly dirty after fall and a big winter snow episode. You can't beautify the outdoor space without getting rid of the dust, dirt, mold, algae, grime, and mildew. 
Other than the patio itself, it also helps to wipe clean all the hanging and potted plants. It's a better idea to wipe everything clean rather than washing it down. If you have a wooden deck, we don't recommend using acidic cleaners and power washers—it'll only damage the wood further. Visit your nearest home improvement store and ask for a wood deck cleaner. If you have a concrete, brick, or stone patio, clean it with some simple soap and water solution. If the stains are tough, you can add a bit of baking soda.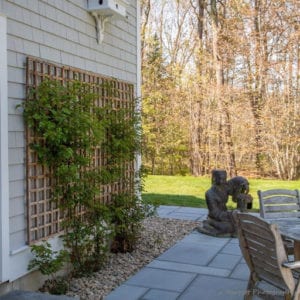 Add some greens 
Well-thought-out patio landscaping will make the entire outdoor space look manicured, well-maintained, and trimmed. However, you need to decide on the kind of trees that you want. Don't opt for big plants or the ones with aggressive root systems. Trees that reach an intermediate height at maturity would suffice. They're also easier to clean and maintain. You can also add some fences and hedges for an added touch of privacy. Adding a vertical element like a pergola to the patio will make the entire space more enjoyable. 
While perennials are a better option, annuals would be great at injecting a punch of instant color. They're a bit short-lived but work well as an aesthetic decision. On the other hand, perennial shrubs will bloom well and give your landscaping a softer touch. Tropical plants like majesty palm, hibiscus, and birds of paradise will help you add some drama.
Create an outdoor party area 
As long as you have a fully functional outdoor space, you can easily convert it into a party area. Add some popping color to the porch, install a set of matching patio chairs around the fire pit, and get a large umbrella to cover the patio. Add a brick pizza oven to bring it up a notch! Adding a private hardscaped area to set up a few chairs will really encourage some conversation. A good patio construction service can really allow you to create your own tiny outdoor oasis.
At Stone Solutions Maine, we really want to be your go-to option for all sorts of landscaping services in Saco, Cape Elizabeth, and Falmouth. Get in touch with us for all your patio, firepit, and driveway installation services.