If you love to watch the stars, go on long walks, or just enjoy the atmosphere sitting outdoors on a perfect summer day, then sitting on your patio and reading your favorite book is arguably one of your greatest pleasures. 
Read on to learn why your patio is, by definition, the most important part of your house!
A patio adds value to your home
When you're looking for a new home, you'll find that the bigger the patio, the better. Similarly, when you're reselling your house with a patio, it gives buyers the impression that they are choosing a home with a larger and more enjoyable space. 
Patio doors and windows also add value to your home and interior as they help make it feel larger and look more luxurious than it would if there were no doors or windows.

The patio is the perfect place for barbecues or bonfires
If you are thinking about having a party or even just a quiet night in with some friends, host them in the open space of your patio to ensure that you have enough room to make it fun. 
Installing an outdoor firepit is great for occasional bonfires during cold evenings and making the most of your get-togethers. People love to chat and catch up with each other while they're outdoors, and it's much more enjoyable when the weather is nice. 
It's the perfect place to do yoga
Many people love to practice yoga, but there aren't always a lot of places to do it inside your home. Sure, you can make room for a yoga mat in your living area, but why not live a little and treat yourself to some fresh air and take that exercise outside? 
Doing yoga in the open air ensures that you're more connected with nature. The air is much cleaner, and you'll feel absolutely at peace!
You'll have somewhere to entertain guests
Whether you're letting your friends in for a nightcap or doing something impromptu with your neighbors, a patio will make you feel like more of an adult and less like a teenager who has nowhere to hang out. In other words: if you have cozy outdoor furniture, you can invite over many friends without worrying too much about the space.It's guaranteed to help you sleep better at night
Everyone loves their bed, but sometimes you want to stretch out and relax for a little bit. However, there isn't always space in your bedroom, and lying on the couch isn't exactly relaxing either. 
Have a nice place to stretch out outside in your backyard, or take a few minutes of quiet time every day on your patio. It'll help you feel refreshed like nothing else! Moreover, relaxing outdoors can reset your biological clock and help you sleep better.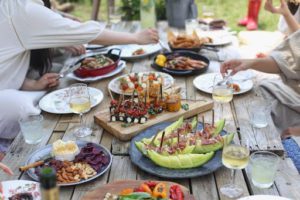 It's the perfect place to get a little bit of your favorite hobby
Maybe you love to draw, play the piano or just like to go outside and watch birds. No matter what it is, you can enjoy your favorite hobby on your patio. There's no better place than an outdoor patio to let your creativity flow.
It's the perfect place to spend some time with yourself in silence
Remember that one time you were sitting at home with your sister or mother, and it just felt so quiet? The silence was nice, but not as nice as being outside in nature. 
This must be one of the best feelings in the world, and if you haven't had it yet, then try spending some alone time on your patio! It's soothing, like nothing else. And yes — do get away from those noisy TV shows at least once!
If you're looking to upgrade your patio or outdoor space in Saco, we can help you. At Stone Solutions Maine, we offer a range of outdoor landscaping services, including outdoor fireplace installation, gardening landscaping, driveway installation, much more.
Contact us today to learn more about our services!