Winter is here and while Christmas decorations may be coming down, a lot of people still like to cozy up their living space during this time.  The fireplace is a great spot to do this! Have you thought of the many ways you can rock your fireplace hearth this winter with stone veneers or ornamental stones? 
If you have not, we'll share five fireplace settings you can choose from this winter season. Whether you want a cozy, rustic corner or a chic and elegant central fireplace for your modern living room, the choices are endless with stone fireplaces.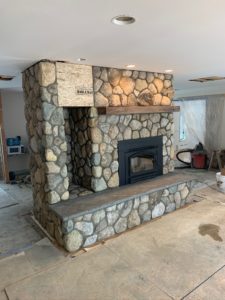 But Why Stone Fireplace?
Stones are known to be the sturdiest of materials for fireplace installations. They also provide the best heat efficiency compared to other materials, and they look absolutely stunning! 
Five Stones to Style Your Fireplace
Natural or faux stones have been used in fireplace installations for quite some time now. However, it is only now that people have started to look at the aesthetic of stones and incorporate them in their decorating themes. Bold, rustic, natural and contemporary, different stones have different appeals. With help from a stonework installer in your area, you can get a practical and impressive fireplace hearth. 
Here is a list of four natural stones and a stone veneer you can opt for this winter to transform your fireplace and the living room itself. 
Italian Fieldstone
Italian fieldstone is one of the most common and oldest stones used for fireplace installations. Large chunks of rugged, brown, grey and sometimes cream fieldstone are stacked together to build a sturdy fireplace hearth and mantle. It adds texture, warmth and a very traditional appeal to the room it's installed in. Pick some warm yellow lights and cream rugs to complement the darker-toned couch in your living room, and you have the perfect setup to enjoy around your fireplace.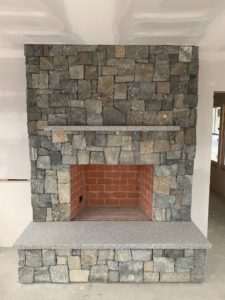 Marble
On the other end of the spectrum are marble fireplaces that are a true reflection of modern and sophisticated living rooms. Often used in lighter tones to complement minimalistic living spaces, marble is not your ordinary fireplace stone. You can turn your old cozy fireplace into a center piece of the living room and enjoy the warmth with elegance. To up your game a little more this season, repair one of your old lanterns and turn it into a decoration piece for a subtle style statement.
Limestone
Limestone fireplaces can be both contemporary and traditional; it just depends on how you want to use them. You opt for large chunks of cream limestones for your fireplace hearth, and you have a good old-fashioned fireplace, or you choose to pick delicate shavings of limestones and make an elegant and modern fireplace mantle. Choices are too many with limestone, and so is the chance to play around with it. This season, limestone will add light hues to an otherwise dark living room, brighten up more with some fairy lights, pick mustard or maroon throws and cushions.
Sandstone
Another one of the picks for traditional living rooms, sandstone in a darker tone, is a bold and naturalistic move. Install a fireplace with a brown or red sandstone to set up a perfect countryside home. The upside to a darker tone sandstone is that it's subtle and easily blends in with the wooden flooring.
Veneer
Veneer fireplaces are a cost-effective yet elegant option for fireplace installation. Made up of cement, bricks and natural stones, veneer is used in many colors and styles to uplift the look of a fireplace. Again, you have the choice to pick a more rustic style or opt for a chic look; veneer will allow you to design and decorate your fireplace however you like. Pick a lighter shade of veneers like grey or beige and sit down next to the veneer stone with hot cocoa in your hand. There, you have it! Your perfect, budget-friendly winter setup. 
What's Your Pick?
This season, you can do so much with stone ornaments that your guests will be super impressed! If you're in Maine and want to transform your fireplace setting, get in touch with us at Stone Solutions Maine. 
We offer a range of masonry services, gardening landscape and fireplace installations, as well as set up outdoor fire pits.