The popularity of outdoor living is increasing as more people now prefer to spend time and entertain guests outside. It has a lot to do with the suffocating effect of COVID-19 lockdowns. 
Adding a fire pit or outdoor fireplace is a great way to use your outdoor space. They add warmth and light, which really enhances your outdoor experience. Moreover, a fire feature can also add character to the outdoor ambiance and allow you to stay outside for longer hours when the temperature goes down. But before you decide which one to install, here are some things you should consider.
How Will You Use It
Are you planning to entertain large groups of people? Perhaps you want a little break from your work life, so you'll want a place to relax. In such cases, it's best to install a fireplace as it's the perfect place to unwind and relax after a hard day. You can also get cozy with a good book or steal some quiet time to recharge. 
On the other hand, if you're looking for an informal setting where you can sit with close friends or roast smores with your family, it's best to install a fire pit. Moreover, if you're planning to sell your house in the near future, install a fire pit as it will add value to your house. 
Safety
With a fire pit, you'll have to be more cautious since it doesn't contain sparks. To protect your loved ones, you'll have to use a screen. If you have children, you'll have to be even more cautious and get a clear windshield to prevent them from being exposed to the embers. 
A fireplace is ideal if you're worried about the safety of your loved ones. The steel grate and doors keep the flames inside the firebox and protect your children from the sparks and embers. The doors of an outdoor fireplace also offer extra protection, so your family is likely to be safer around a fireplace as compared to a fire pit.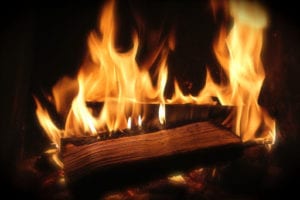 Maintenance
Finally, you'll want to consider the maintenance factor before making your decision. If you have a fire pit, you'll want to ensure there's a proper drainage system so the rainwater won't collect. Moreover, you'll also have to clear out the debris regularly or keep the pit covered. If you don't, the rainwater might mix with the debris and create a bigger mess.
While you still have to clean out debris from an outdoor fireplace, it won't be as visible and isn't likely to become an eyesore if not cleaned properly. Furthermore, a fireplace usually doesn't present an opportunity for rainwater to accumulate because of its structure. 
Whether you want a custom outdoor fire pit or simply install an outdoor fireplace in Saco, we're here to help. We offer some of the best landscaping services and aim to please our clients. You can book an appointment with us here.