When it comes to creating an inviting outdoor living space, nothing beats the charm of a fire pit. The gentle crackling of flames gives crisp evening air a cozy feeling of togetherness and relaxation. Whether you opt for stone or concrete, a fire pit stands as an irresistible addition to your outdoor living experience.
Although us Maine residents endure long and cold winters, it doesn't mean we can't enjoy outdoor living all year long. By incorporating a fire pit, your patio becomes a cozy and inviting space for entertainment and relaxation, no matter how cold it might get..
So, let's discover how you can make the most of outdoor living in Maine by embracing a fire pits
Factors to Consider Before Building a Fire Pit
Before you start building your backyard fire pit, there are several important factors to consider.
Location:

Choose a spot that is level, well-drained, and away from any surrounding structures, such as your home or trees. This will help prevent accidents and keep your fire pit safe to use. Stone Solutions Maine can work with you to ensure your fire pit is safe and complies with local regulations.

Size:

When considering the size of your fire pit, consider the number of people who will be around it, as well as the available space. For larger gatherings, a bigger fire pit is recommended; for smaller gatherings or creating a more intimate atmosphere, a smaller fire pit will work.

Material:

Select a material that is durable and weather-resistant, like stone or concrete. Each material has its own unique characteristics, so consider the budget, desired style, and maintenance requirements when making your choice.

Design:

Take into consideration the style of your outdoor space and choose a fire pit style that complements it. There are various styles available, such as traditional round, square, or rectangular ones, ensuring you can find one that suits your look and aesthetic.

Seating:

You want to make sure there is enough seating to make your guests or family feel comfortable around your fire pit. You can opt for comfortable chairs, cozy couches, or even built-in seating. Keep in mind that you want to select materials that can withstand the weather conditions in Maine. Consider using durable outdoor fabrics for cushions and pillows and arrange the seating in a way that encourages conversation and connection.
By considering these factors before building your fire pit, you can create a safe and functional space that you will enjoy for years to come.
Exploring Fire Pit Materials and Construction
When it comes to building a fire pit for your patio, there are a variety of hardscape materials to choose from. Each material offers its own unique benefits and aesthetic appeal.
One of the most popular options for fire pit materials is stone. Stone offers a natural look to your outdoor living area. Stone exudes an innate and authentic appeal with its organic textures and colors that effortlessly blend into various landscapes. It's a durable, robust material that can withstand the elements and will last for years. Additionally, stones can be stacked in various ways to create unique designs for your fire pit. Depending on the type of stone used, it can also provide better insulation and retain heat better than other materials.
Concrete is another popular option: It's easy to work with and can be molded into any shape or size. Concrete fire pits are also great for those who like to change up their outdoor decor frequently, as they are easy to paint or stain in a variety of colors. Additionally, concrete can be reinforced with steel to provide a more durable and longer-lasting fire pit.
Whether you choose stone or concrete for your fire pit, both options provide a durable and stylish addition to your outdoor living space. It ultimately comes down to your personal preference and budget. Let's explore the options and see which hardscape material best suits your style and needs.
Stone Fire Pits
When it comes to stone fire pit designs, the options are endless. You can select from many types of stone, including granite, limestone, or fieldstone, each offering a unique texture and color palette. Whether you prefer a modern and sleek design or a more traditional and rustic look, a stone fire pit can be tailored to your taste.
One choice is a stacked stone fire pit that features meticulously arranged layers of stones to create a solid and visually appealing structure.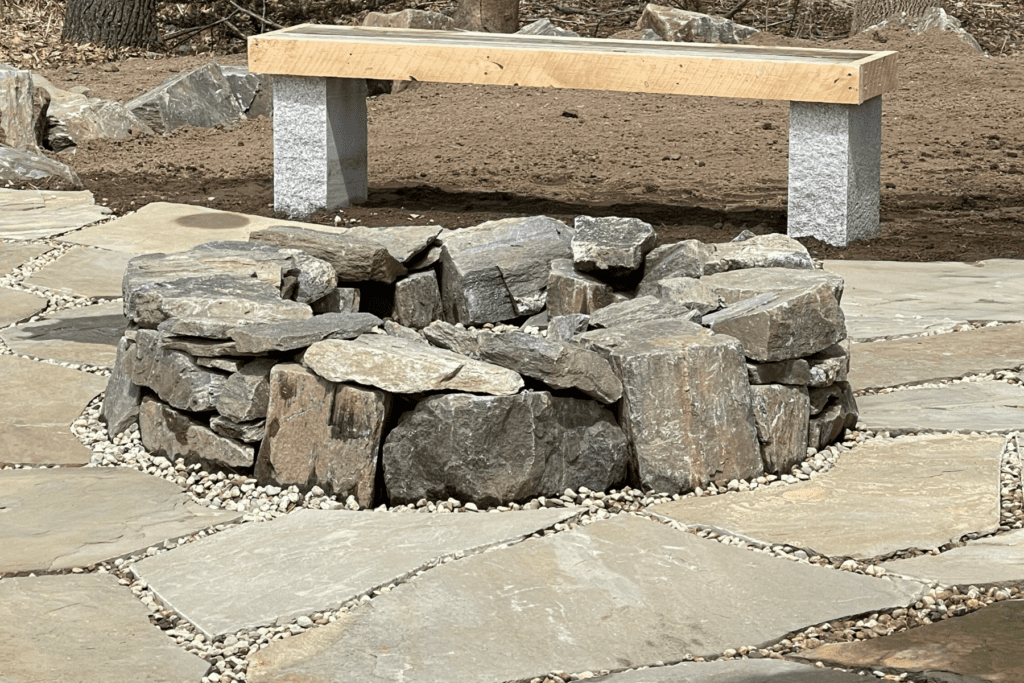 Another option is a stone veneer fire pit where thin pieces of stone are applied to a base material, giving the impression of a solid stone structure.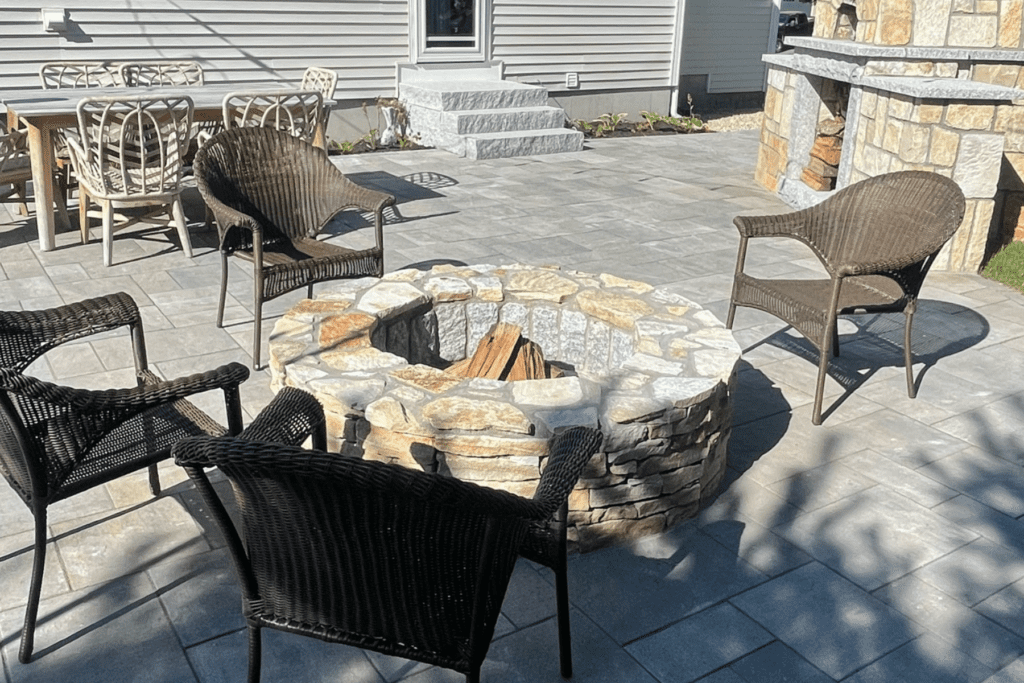 A boulder fire pit design offers a distinctive and rustic approach to creating a warm and natural outdoor gathering space. This style incorporates large and robust rocks as the primary construction material. It blends seamlessly with the surrounding landscape and creates an organic and earthy aesthetic.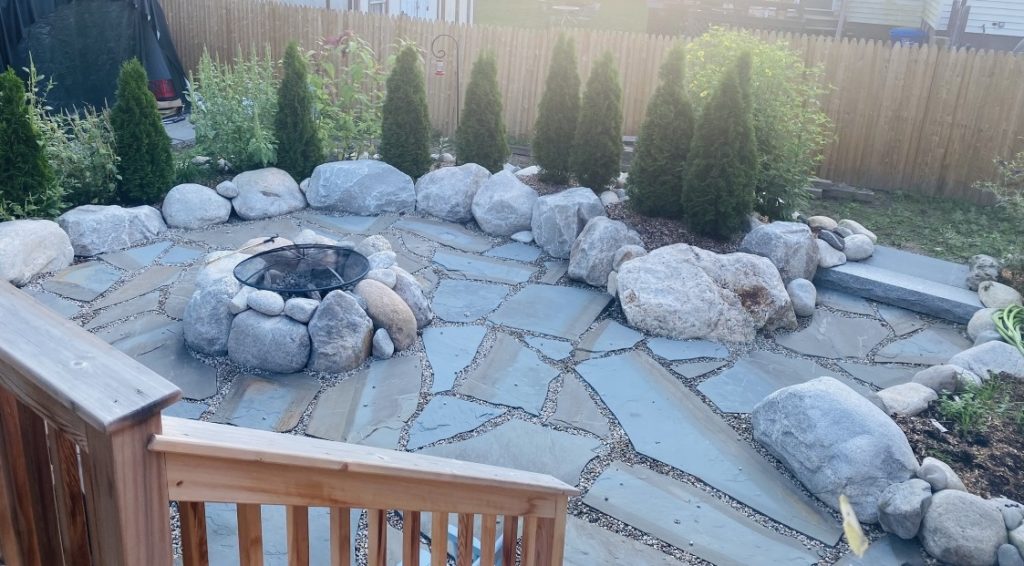 Concrete Fire Pits
Concrete is a great option for homeowners who are looking to build a fire pit on a budget. 
Constructed using durable concrete blocks, which are often available in various shapes, sizes, and colors, these fire pits can be customized to suit different landscaping styles. The blocks are expertly stacked and securely bonded together to form a strong and resilient structure that can withstand high temperatures and the elements.
To protect the concrete blocks from the heat, these fire pits should be lined with a thick steel ring. This will prevent them from drying out and deteriorating prematurely due to excessive heat.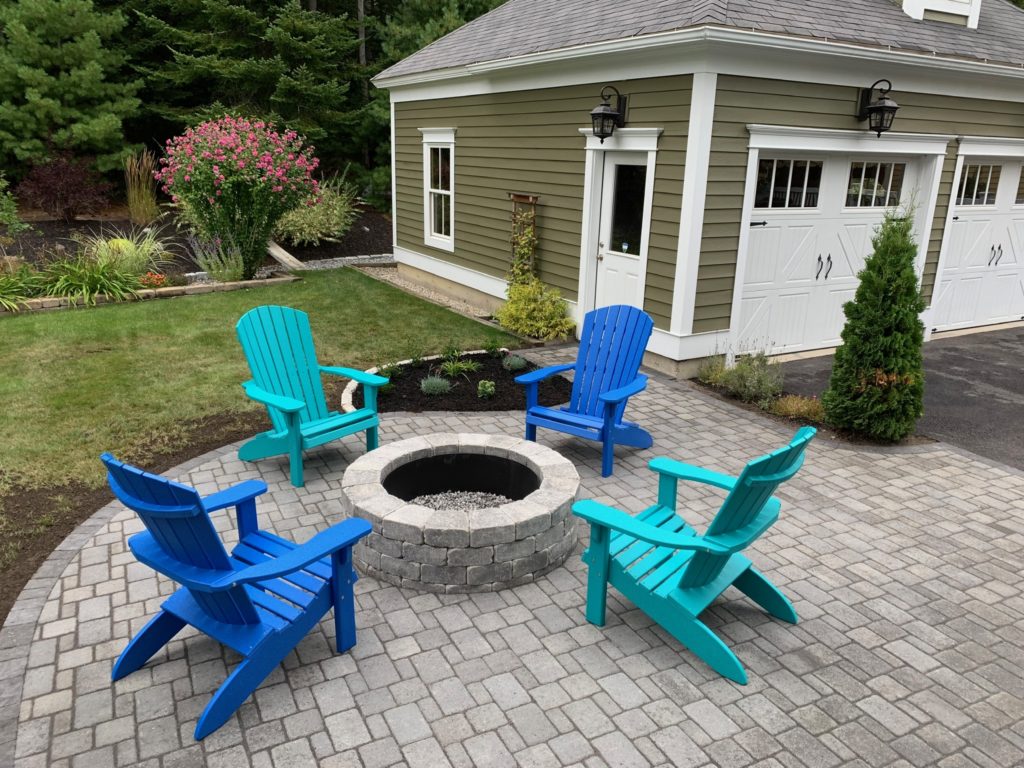 Maintain Your Fire Pit for a Lifetime of Use
Fire pits, like any other outdoor equipment, require consistent upkeep to function optimally and remain safe to use. Neglecting maintenance can lead to various issues and even safety hazards. After using the fire pit, it's essential to clean it thoroughly. Remove any ashes, debris, or leftover wood from the previous fire. Cleaning not only keeps the fire pit tidy but also prevents the accumulation of materials that could obstruct airflow or cause unwanted odors.
Regularly inspect the fire pit for any signs of damage, wear, or deterioration. Look for cracks, rust, loose parts, or other potential issues that may compromise its functionality or safety.
Design Your Dream Fire Pit with Stone Solutions Maine
If you're ready to transform your outdoor living space with a fire pit, look no further than Stone Solutions Maine. With our expertise in hardscape materials, fire pits and patio design, we can help you create the perfect outdoor retreat for your Maine backyard.
Our team of skilled stone masons will work with you to create a design that seamlessly integrates your fire pit into your outdoor space and complements the aesthetics of your home.
Contact Stone Solutions Maine today to get started on your project.