Nothing adds a touch of timeless beauty to your home like natural stone. All it takes is a vision from your end, and a masonry service will convert it into an endearing masterpiece in no time. Other than creating a striking entryway and adding classic elegance to your home, a stone wall also elevates the overall interior space. 
Let's see how:
Benefits of choosing stone wall 
One of the most significant benefits of a stone wall is that it'll pretty much last forever. This is why some of the most ancient human-built structures that still stand tall and strong are made of stone. Therefore, the stone is also a popular choice for wall cladding. 
As far as having them as a part of your interior space is concerned, they require very little upkeep. On the other hand, other construction materials need to be frequently refinished and replaced. They're very durable, versatile, weather-resistant, easy-to-clean, and work well with almost every decoration.
Stones rarely break. You don't have to worry about permanently staining or cracking it. They don't catch must dust. Even if they do, a simple splash of plain water should be enough to wash them off. Other than that, regular sweeping and dusting should suffice. If the stone wall surface is well-finished, you can also use a simple mechanical vacuum. As far as the wet areas like baths and toilets are concerned, you might not need any additional cleaning tools or chemicals. And for exterior walls, you can use strong wipers to get rid of any snow, frost, or rainwater in the winter season.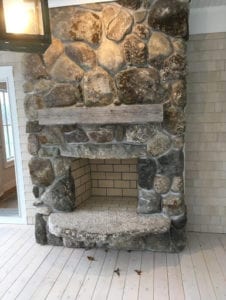 Exterior benefits
Natural stone is generally very calming and relaxing to look at! It gives your property a rustic, cottage-like feel. The best part is that natural stone can make your property look both classic vintage and modern. This is why it plays a significant role in beefing up property value. 
Natural stone works just as well for the home exterior. You can simply elevate your property's curb appeal by applying some natural stone veneer. Choose a big center stone veneer piece and surround it with irregular shapes and flagstone patterns. This could work as a great strategy to beautify the entrance and other adjoining walls. You can always match up the stone patterns with those of your garage walls, driveway, patio, landing space, and other exterior spaces. Use contrasting colors for a better overall impact.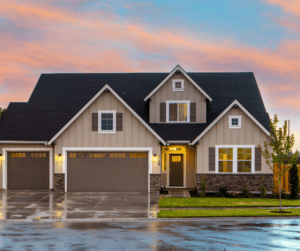 Interior benefits 
Stone walls can be made in a wide range of rustic colors and patterns that can be seamlessly incorporated into the walls. There is a stone wall variant for almost every room. As far as the kitchen is concerned, some traditional white wood, a couple of bricks, and a magnificent stone section in the middle will create an eye-catching combo. We also recommend playing some matching and contrasting games and alternating between the colors. Use a strikingly different color for the cabinets and countertops to transform the kitchen space.
Stone walls will also make your bathrooms look warm and comfortable. It adds a touch of freshness, simplicity, and minimalism. Turn your main wall into a stone wall, and you'll end up with an oasis-like decor in your bathroom. The entire experience of being surrounded by natural stone in the bathroom makes you feel closer to nature. You can also incorporate stone walls into your terrace, living room, balcony, and even the fireplace area.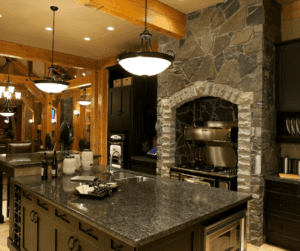 Design benefits
When you approach a masonry service for stone wall installation, they'll present plenty of finishing and design options. There are multiple ways to add a personalized touch to the walls. You can add a 3D effect on the stone wall cladding to make your entryway look more welcoming. It's a great idea for the living room to have vertical linear stone cladding walls with slate stones here and there for a sophisticated look. Add some depth to the study corner by adding a pattern of classic irregular shaped stones. You can also make the TV area stand out by going for a customized pattern wall. 
Most homeowners prefer using a stone cladding between plain wall space to create an elegant spatial separation element. Stone cladding can add up to the dining room ambiance and offer the right amount of depth and warmth to the fireplace area.
Natural stone installation is effortless, precise, and looks neat. If you're based in Greater Portland and Southern Maine, no one does it better than Rob from Stone Solutions Maine. With over 25 years of experience, Rob specializes in landscaping, stone veneer installation, paver driveway installation, and masonry services. He will also be glad to incorporate some natural stone into your fireplace. Get in touch for a free consultation.