There's nothing like gathering around the grill on a bright summer's day, waiting for some delectable cuts to be prepared. The flavor and excitement of having barbeque cannot be compared to anything else. 
A functional outdoor kitchen makes such plans more convenient and easy to execute. With the right setup, you can prepare a wide variety of foods outdoors. 
Here's how you can work on achieving an outdoor kitchen this summer: 
Consider a pizza oven 
Other than the traditional grill for a barbeque outside, consider having an outdoor pizza oven built. When done by a professional, it's completed quickly, and it's very effective for baking bread, flatbreads, keeping food warm, and preparing other dishes too.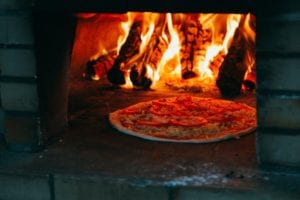 You need space for an outdoor fridge
Constantly getting in and out of the house to grab drinks and snacks on a hot summer's day is a surefire way of letting bugs into your home. Invest in an outdoor fridge if your family spends a lot of time outdoors. If an outdoor fridge isn't in your budget, get a cooler that can be stocked up with the drinks and snacks you can take outside instead.
Countertop space is essential for prep
Just like any indoor kitchen, an outdoor kitchen requires sufficient countertop space too. A common mistake homeowners make with their outdoor kitchens is that they just make space for the grill and use the outdoor table for prep. This makes the area messy and cluttered, particularly when you're entertaining guests. Instead, have countertops built for your outdoor kitchen. It doesn't need to be very fancy and stylish, as long as it's functional. 
Outdoor sinks 
Level up your outdoor grilling setup with a wet bar. Outdoor kitchen sinks make the area more convenient to use. It's useful for those preparing the food and when you're entertaining guests too. They also make cleanup super quick. 
A complete dining area 
Other than a comfortable kitchen to prepare the food, you also need a well-designed dining area to serve up all the delectable food too. The dining area should have comfortable seating and tables to match. You can opt for the traditional tables and outdoor chairs or opt for a more "outdoorsy" vibe with benches. Benches give the feeling of being outside with the family at a campsite. It's ideal for more laidback outdoor living areas. However, if you plan on developing a really chic backyard, consider having a more traditional dining setup. We even recommend having a pergola added for that regal feel. 
An outdoor fireplace to keep warm 
Whether you plan on entertaining guests or just using the space for family members, an outdoor fireplace can really improve the charm of your outdoor kitchen. It keeps the area warm, while also adding a beautiful touch to the space. An outdoor fireplace means that you can entertain the backyard all year round too.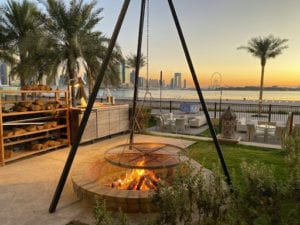 If you want a more casual heating arrangement in the backyard, a fire pit is another great option. You can get fire pits of various sizes to suit your requirements. A seating area can be developed around it, offering more options for your guests.
Stonewall for more of an outdoor feel 
For smaller backyards, we recommend a stone wall to enhance the look of the outdoor kitchen. It helps tie in the look of the patio with the brick oven, outdoor fire place, and outdoor kitchen in general. 
There are many types of stones you can opt for this stone wall, according to your budget and preference. Our team can help you select the best one for your needs. 
Stone Solutions Maine is a leading landscaping service in Saco. We use high-quality materials for our client's projects. We help clients achieve the perfect outdoor living space. No matter what your vision, we are able to help you achieve it. Our services include fire pit and fireplace building, stonewalls and veneers, patios and driveways, and landscaping. We've created amazing outdoor kitchens for our clients and built fire pits and fireplaces. Our service areas include Falmouth, Yarmouth, Cape Elizabeth, Scarborough, Arundel, Freeport, Cumberland, and South Portland too. View some of the projects we have completed over the years.