Your backyard is supposed to be a private retreat—a place you can escape to when you want to de-stress, relax, unwind, and have fun. 
Is your backyard more like a place you want to stay away from instead of a place where you want to spend time? A cluttered backyard that's stuffed with lots of furniture, hardscape elements like fountains and gazebos, and playing equipment is not a relaxing or fun place to be. 
Fall is here— a prime season to spend some quality time in your backyard. Here are some ways you can convert your backyard into a relaxing spot for your family.
Comfy Seating
If you want your backyard to be a place where you can kick back and relax, it's ideal to opt for a deep seating arrangement with lounge chairs or chaise loungers.  This allows you to stretch your legs and relax under an umbrella, on the deck, by the pool, or even on your balcony. 
If you have comfy seating, you're more likely to sit back and have a relaxing time outside. If not, you'll sit on the patio table, have a grilled burger, and go back inside to relax. 
How about you add a hammock for some great time?
Strategic Landscaping
If you plan your landscaping strategically, you can have an aesthetically pleasing backyard where you can relax. You must carefully select the plants to ensure a natural setting so that your backyard follows a theme—maybe one inspired by your favorite holiday destination, perhaps?
Who wouldn't mind stepping into their yard and reminisce about Sedona, Maui, or Tahiti?
Also, remember to choose plants that can adapt to the climate you live in. If you live in an arid region, dying tropical plants won't remind you of Aruba. If you aren't sure what plants to use in your yard, you can visit the local nursery. 
You can also hire a professional landscape designer or ask for suggestions from your local garden store.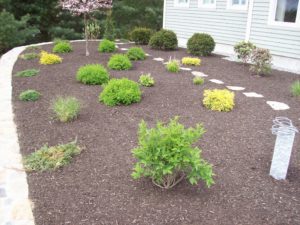 Create Privacy
Maintaining privacy is a crucial part of designing an outdoor space. Dividing the area with strategically placed walls, screens, or fences can give you privacy and make your backyard look neat and organized.
Overhead roofs and arbors can also provide a sense of seclusion and shade. If you're interested in a natural-looking space, you can go for thick bushes, tall shrubs, or even bamboo. 
Design an Inviting Patio 
A concrete floor with a charcoal grill and some plastic chairs will not make for an inviting patio. You need to create a space that makes you want to spend time outdoors. You can add flowers, blankets, pillows, and lanterns to make the space more inviting so that you can relax in the sun, read as you lounge, practice yoga, and hang out with your buddies.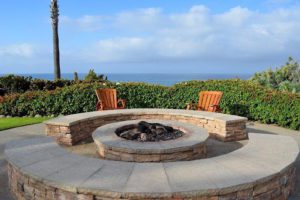 Shade
While an umbrella offers you shade, it gives your backyard the look and feel of a resort or a sandy beach. The round shape and vibrant colors of the umbrella above the outdoor furniture look inviting and fun to sit under and relax with an icy beverage. 
If you aren't interested in the aesthetics of an umbrella, you can create shade in your backyard using gazebos, awnings, pergolas, or different leafy trees.
Water Feature
The sound and sight of water have a restorative and calming effect. The best water feature to install in your backyard is, of course, a swimming pool. It enables you to cool off on a hot summer day and enjoy a lazy Sunday by the pool in your own backyard. 
However, the majority of people don't have the budget or the space to have a pool made. If that's the case with you, you can go for smaller and affordable features like a small waterfall, a fish pond, or a fountain.
Add Fire
A chiminea, fireplace, or fire pit can instantly add a feeling of coziness and warmth to your backyard, especially during the winters. There's nothing more relaxing than hanging out with friends or family by the fire or cuddling with your beloved as you gaze into the flames. 
With different fireplace and fire pit models available in the market at affordable prices, it's very easy to make a sitting area that rings the fire.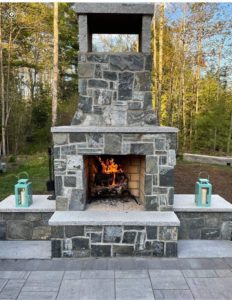 Looking for A Stunning Patio?
You should hire professionals at Stone Solutions Maine for top-of-the-line masonry. Our trained team offers outdoor landscaping services in Saco, Maine. We ensure that the landscaping is done to perfection and within time and your budget.
Our landscaping services also include stonewalls and veneers, firepit and fireplace building, patios, driveways, and more. We also offer our services in South Portland, Falmouth, and Yarmouth, ME. 
Contact us today to upgrade your outdoor space.