Coastal living in Southern Maine is a dream come true for many, but it also comes with its own set of challenges, especially when tackling home improvement projects. Hardscaping, in particular, requires careful consideration and planning to make sure your home stays both stunning and sturdy against the test of time. With high humidity, salty breezes, and those ever-so-frequent storms, picking the right materials is essential for keeping the sweet in your home sweet home.
From the rugged natural charm of stone to the down-to-earth appeal of gravel and concrete, there are many options on the table. Let's take a look at each one, so you can make the right call for your coastal home project.
Natural Stone: Coastal Charm Unearthed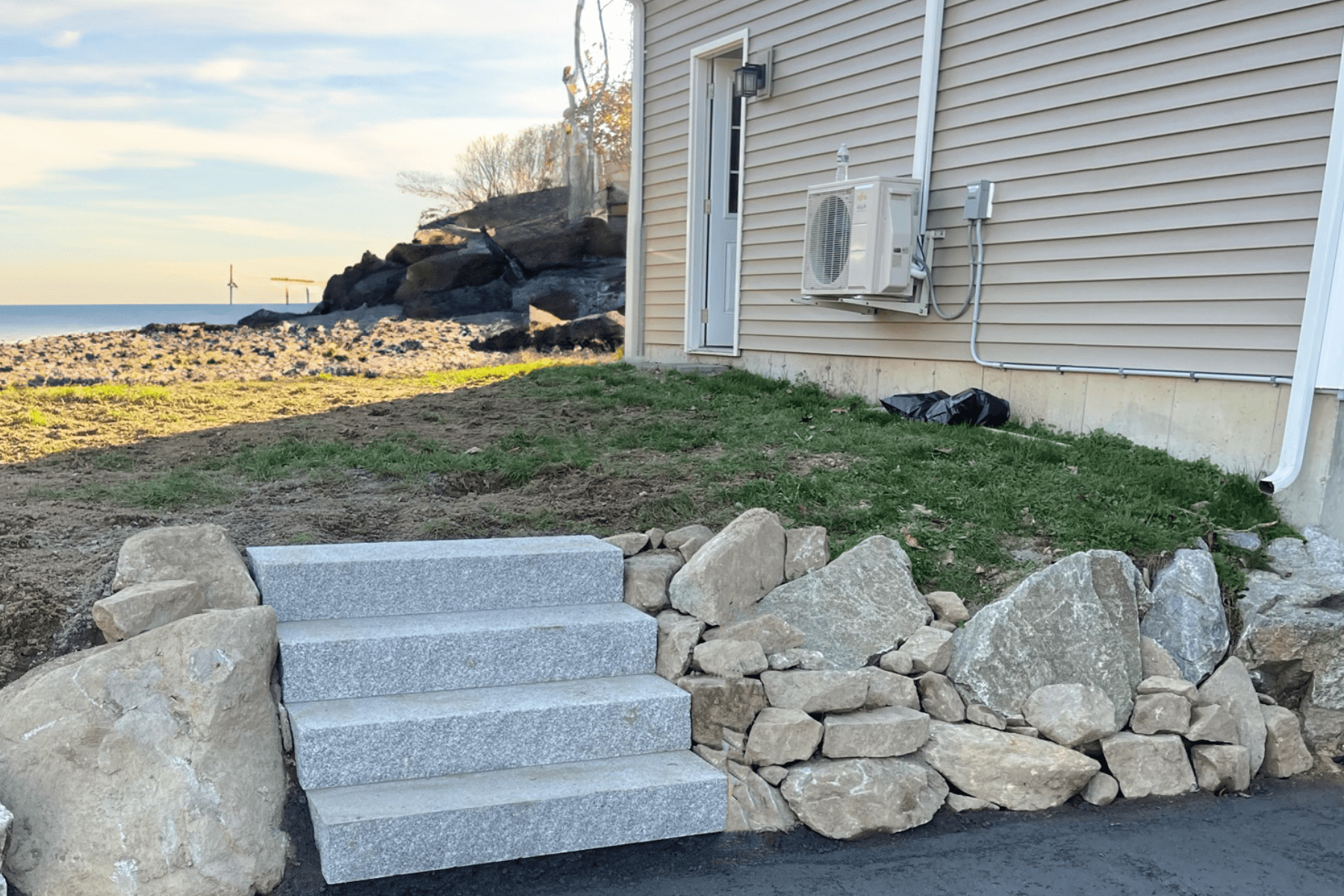 When it comes to hardscaping, natural stone reigns supreme. Not only does it seamlessly blend with the coastal style and landscape, but it's also renowned for its exceptional durability in the face of harsh weather, like our coastal climate. It can effortlessly withstand the salt air, high humidity, and frequent storms that often batter coastal Maine. Whether you're envisioning steps, pathways, patios, or outdoor living spaces, natural stone is the top choice.
Natural stone offers boundless advantages beyond its durability and aesthetics. The wide array of colors, textures, and sizes allows you to craft a hardscape that harmonizes perfectly with the surroundings. Whether you opt for the timeless sophistication of granite or the rugged allure of bluestone, natural stone provides endless opportunities to create an awe-inspiring outdoor oasis by the sea.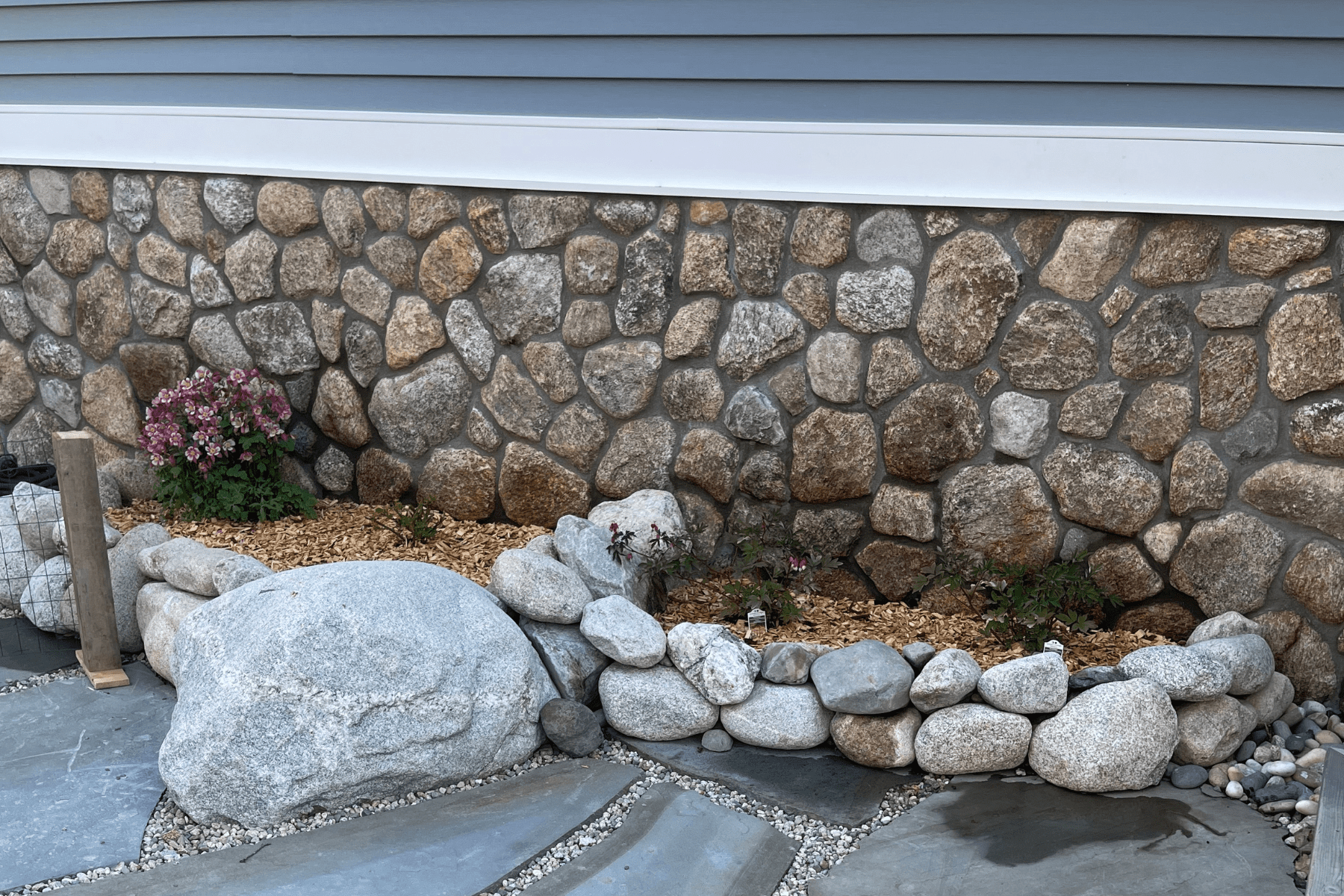 Choosing natural stone, including versatile options like stone veneer, is a wise investment that will unquestionably enhance your home's curb appeal and overall aesthetic for many years to come. Stone veneer offers the added benefit of flexibility, allowing you to achieve the look of natural stone with ease and precision in various hardscaping projects.
Boulders and Rocks: Nature's Sculptures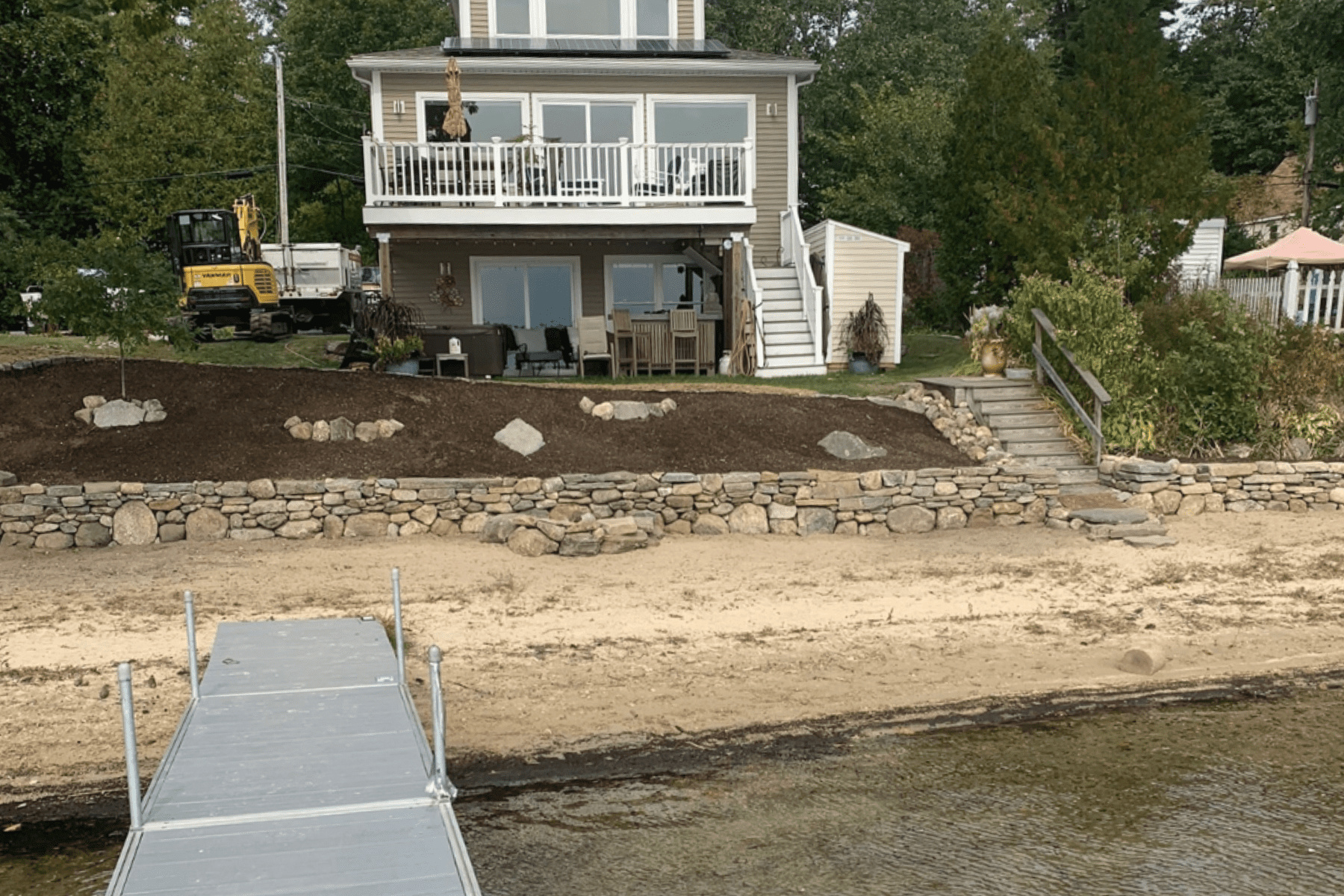 Boulders and rocks are another excellent choice for hardscaping, capable of enhancing the natural and rugged charm of your coastal Maine abode. These materials are visually appealing and incredibly resilient, making them perfect for outdoor areas that must endure the notorious coastal weather.
They also offer endless possibilities for customization and creativity in hardscaping projects. Whether you want to create borders, retaining walls, or striking standalone features, these versatile elements can elevate any design.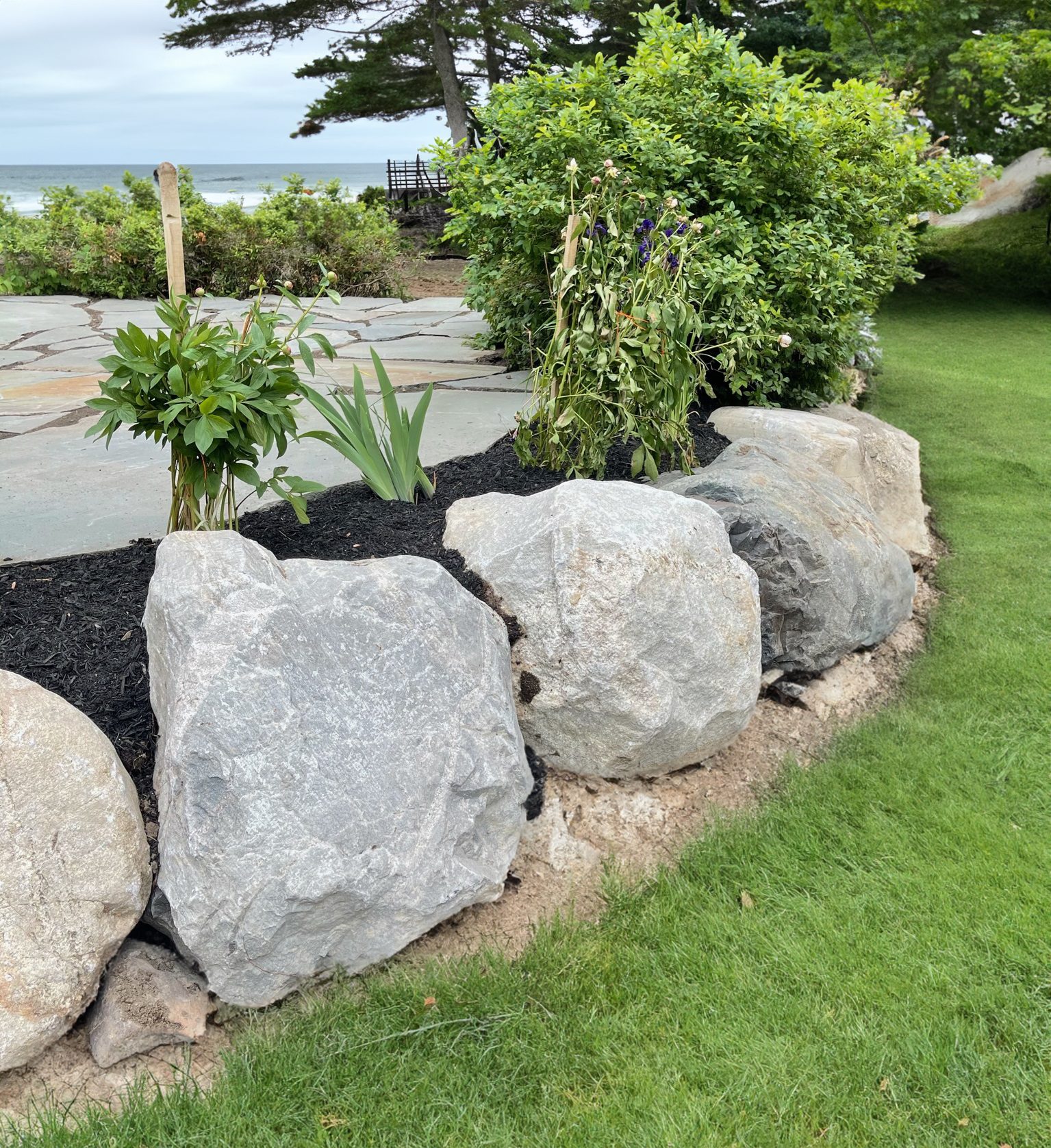 Boulders and rocks also provide functional benefits like erosion control and act as a natural barrier against storm surges. They require minimal maintenance, making them a low-maintenance choice for your coastal Maine home.
Gravel: An Accessible and Affordable Option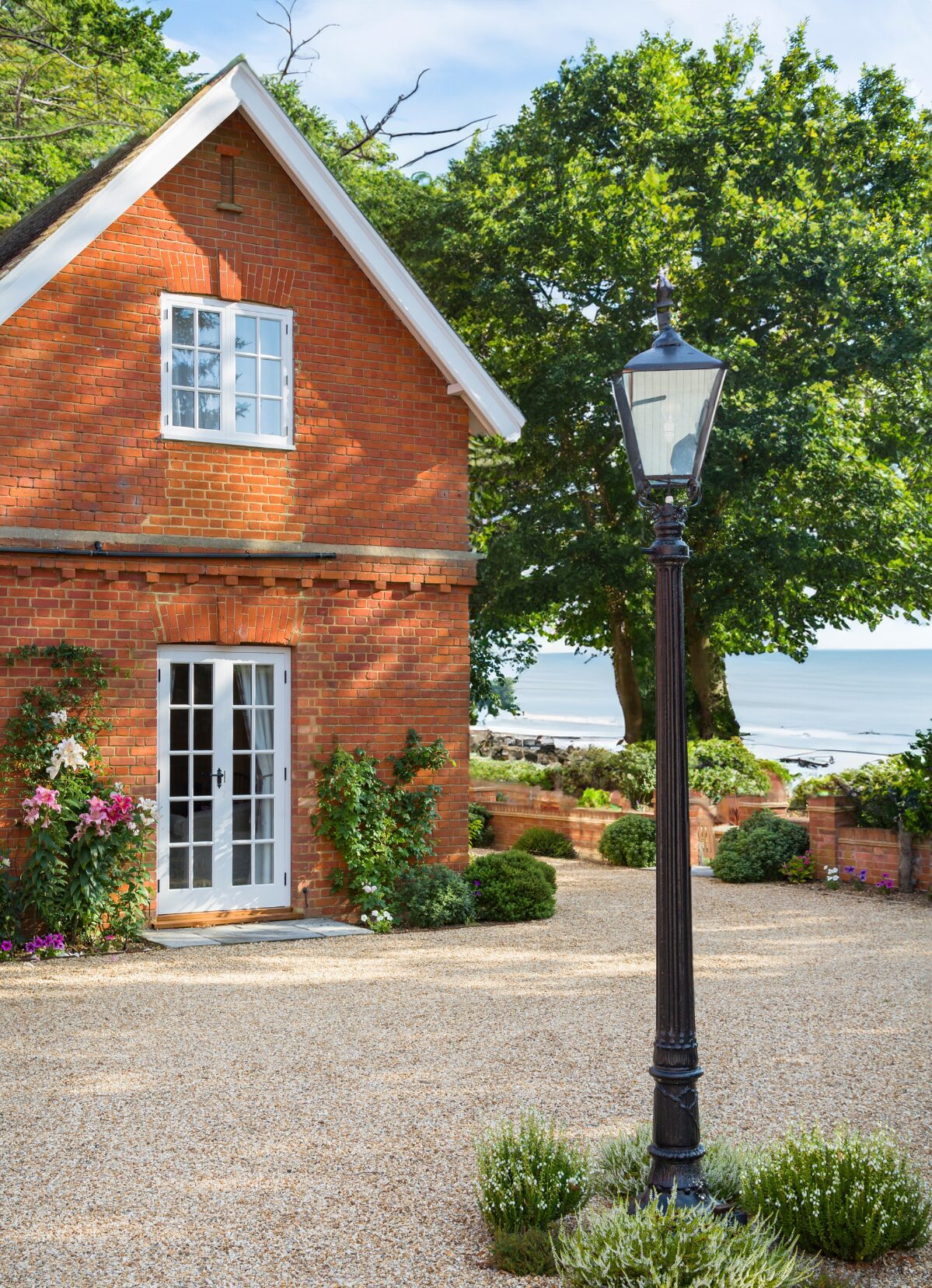 Gravel, often underrated, is a highly advantageous hardscaping material. From traditional gravel to charming pea gravel, it's a material that doesn't discriminate based on budget but still delivers beauty, durability, and versatility. 
Gravel, including the smooth and rounded texture of pea gravel, might be more subtle than natural stone or boulders, but it still packs a punch. Plus, it brings its own unique benefits, making it a smart and cost-effective choice for any hardscaping project. Whether you're dreaming of pathways, driveways, or decorative accents in garden beds, gravel has you covered. It's a breeze to install and requires minimal preparation compared to the alternatives. And let's not forget its ability to stand strong against the coastal climate, handling heavy rains, salt air, and more, all while excelling in drainage. With its low-maintenance nature, you'll spend more time enjoying your coastal oasis and less time worrying about upkeep.
Beach Pebbles: Coastal Character at Your Doorstep
If you want to add a touch of genuine charm to your coastal home, beach pebbles are an excellent choice. These natural treasures can be sourced from the very shores of your coastal paradise, making them not just hardscaping materials but also a piece of the local landscape. Beach pebbles, with their weathered and time-worn appearance, bring a unique character to your outdoor spaces. Whether you're using them to create borders, add a touch of coastal flair to your pathways, or even as eye-catching accents, beach pebbles effortlessly enhance the natural beauty of your coastal haven. They not only blend seamlessly with the environment but also have the resilience to endure the coastal climate's challenges. From salty air to unpredictable weather, beach pebbles are as tough as they are picturesque, making them a true asset for your coastal hardscaping project.
Cobblestone: Old-World Charm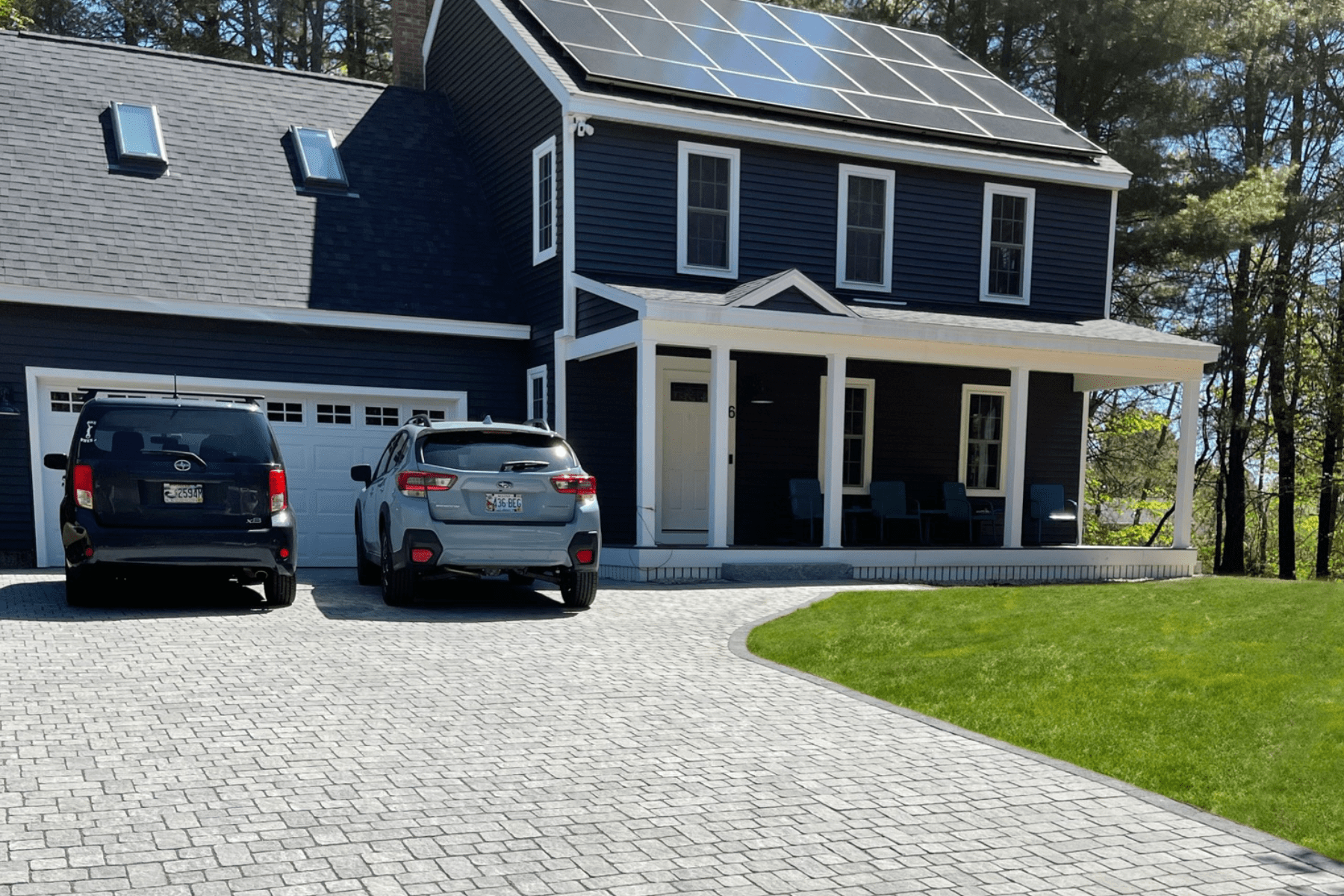 Cobblestone adds a touch of old-world charm to your coastal Maine home. Its unique texture and variety of colors create a beautiful and inviting outdoor space, whether you're aiming for a classic or contemporary look, perfect for creating pathways, driveways, or outdoor patios.
One of the key advantages of cobblestone is its durability. These stones are incredibly sturdy and can withstand the harsh coastal climate, including salt air, heavy rain, and fluctuating temperatures. This means that your cobblestone hardscaping will remain intact and maintain its beauty for years to come.
Cobblestone also offers excellent traction, making it a safe choice for pathways and driveways, especially in areas prone to wet or icy conditions. Additionally, cobblestone requires minimal maintenance, saving you time and effort in the long run.
Concrete: The Versatile Choice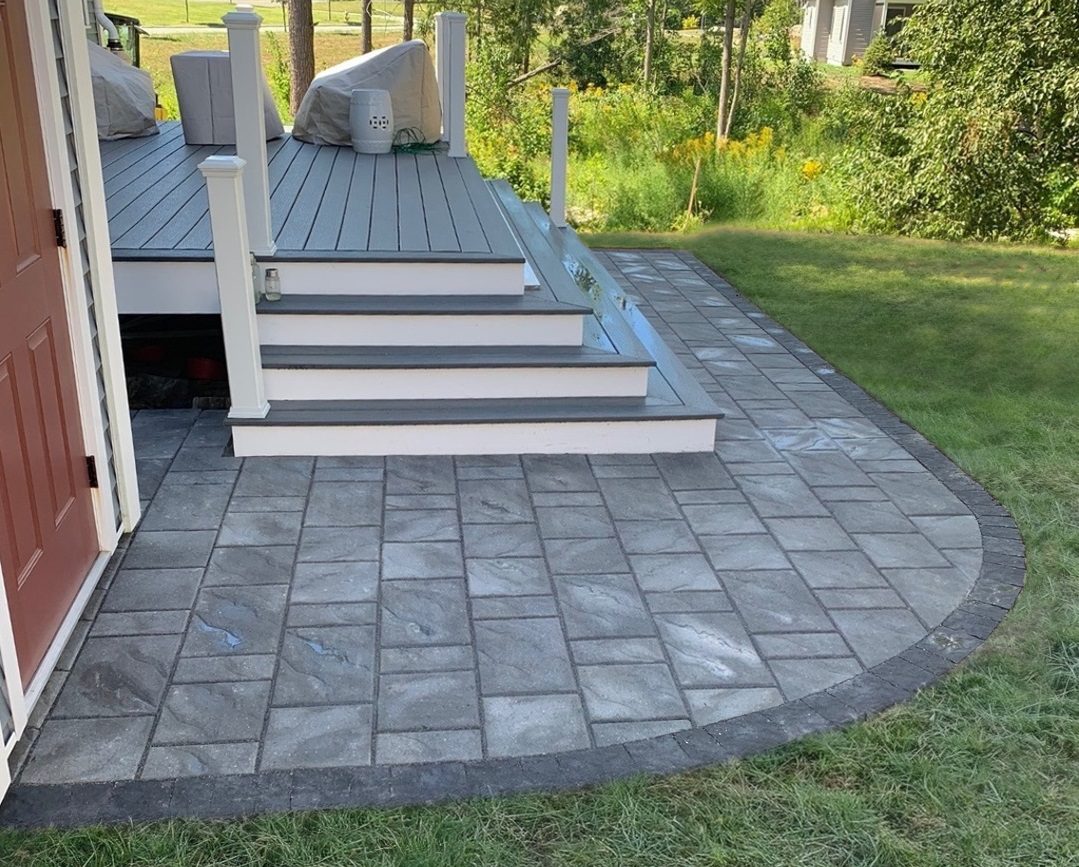 Concrete is a versatile and durable hardscaping material that can be a great option: Its strength and resilience make it suitable for a wide range of outdoor projects, including patios, pathways, and driveways. One of the key advantages of concrete is its ability to be molded into various shapes and sizes, allowing for endless design possibilities. You can select from a variety of finishes, such as stamped or stained concrete, to create a unique and personalized look for your outdoor space.
In terms of maintenance, concrete is relatively low maintenance, only requiring occasional cleaning and sealing to ensure its long-lasting durability. This makes it a practical option for homeowners who desire beautiful and resilient hardscaping material without the need for extensive upkeep.
Expert Guidance for Your Coastal Hardscaping Project 
When it comes to hardscaping your coastal Maine home, having the right expertise and knowledge is crucial. This is where Stone Solutions Maine can assist you — with our familiarity with the local environment, we can help you find the right materials to meet your specific needs. As Maine hardscapers, our expertise is rooted in the local landscapes. We understand the coastal climate's distinct challenges and are committed to suggesting durable, fashionable, and cost-effective solutions.
By working with Stone Solutions Maine, you can trust that your hardscaping project will be completed to the highest standards. We will help you unlock the full potential of your outdoor space by offering expert advice on design, layout, and functionality. The result will be a stunning space that truly enhances the beauty of your coastal Maine home and complements your lifestyle. From beginning to end, we will collaborate closely with you to ensure that your vision becomes a reality and that your hardscaping project exceeds your expectations. Contact us today to get started on your project!